Broadley Vineyards Celebrates 35 Vintages

The 2021 growing season was characterized by an unusually warm spring, the driest April on record, several days of over 100ºF during the summer. Since the Broadley Estate Vineyard is dry-farmed, the vines struggled somewhat. Clusters were small leading to small yields. The result was lush fruit, medium acid and medium to low alcohols.
The Pinot Noirs crafted by owner and winemaker Morgan Broadley have been consistently top-notch. I have had the pleasure of reviewing multiple vintages since 2005. The three wines reviewed here are available on the winery's website at www.broadleyvineyards.com, with special reduced pricing during November.
2021 Broadley Willamette Valley Pinot Noir
13.3% alc., $23. Released July 2022. A blend of grapes from the Broadley Estate Vineyard, and Malliris, Button Field, Sunny Mountain, and Walnut Ridge vineyards. Aged 9 months in neutral French oak barrels. · Moderately light garnet color in the glass. Aromas of cherry, raspberry, rose petal and wood spice lead to a lighter-styled wine with flavors that echo the aromas. There is a slight confected tone of red licorice. Silky in the mouth with refreshing acidity and just a hint of oak backing. A solid daily drinker at the right price. Score: 89
2021 Broadley Estate Willamette Valley Pinot Noir
13.1% alc., $29.75 (November only). Current release. This wine is composed of a variety of blocks containing older and newer vines. 15% whole cluster fermentation. Aged 11 months in French oak barrels,10% new. · Moderately dark garnet color in the glass. The earth-bound nose also offers scents of black cherry fruit and red rose petal. There is a plethora of luscious red and black fruits framed by a herbal tone. There are some untamed tannins. The finish is noticeably longer than the WV bottling. Score: 90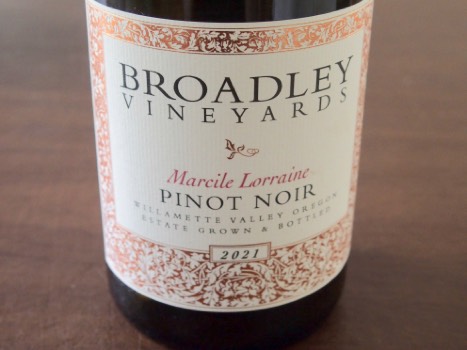 2021 Broadley Marcile Lorraine Willamette Valley Pinot Noir
13.1% alc., $46.75 (November only). Current release. This wine is produced each year from the same distinctive block of old vine Pinot Noir (Pommard and Dijon clones). 30% whole cluster fermentation. Aged 11 months in French oak barrels, 20% new. · Dark garnet color in the glass. This mid-weight plus styled wine is clearly a step up in quality. Inviting aromas of blackberry, baking spices, and dark red rose petals. Impressive fullness and length on the mid-palate that features black raspberry and blackberry fruit flavors. The wine's balance is impeccable and the length of finish is impressive. Score: 93