Spy Valley Wines
This small, single-vineyard estate located in New Zealand's Marlborough region, has a great story, an intriguing label, and produces terrific wines. Spy Valley Wines is named after a nearby United States "cold war" era satellite monitoring station situated in Marlborough's Waihopai Valley (below).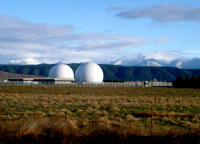 All of the Spy Valley wines are sourced from the 360-acre Johnson Estate Vineyard planted in 1993. Originally the vineyard supplied Corbans Wines (now Montana Wines). Eight varieties are grown in fertile, free-draining stony soils. Spy Valley Wines produced its first vintage in 2000 using consultant winemaker Alan McCorkindale. The wines are now made by Ant MacKenzie, who has a special interest in aromatic wines such as Pinot Noir. He has more than ten years of experience in both New Zealand and abroad. General Manager Blair Gibbs and Vineyard Manager Adam McCone round out the remarkably young management team.
The winery is one of New Zealand's best family-run wine companies and in a short time has become known world-wide for consistently high quality wines. The winery's motto is "under-stating and over-achieving." Starting from 5,000 cases, they quickly reached 80,000 cases by 2004 and expect output will climb to 120,000 cases by 2007. The 2007 vintage is much anticipated because the winery can release their wines with an eye-catching label: "Spy Valley 007."
A new winery was completed in 2004, the largest in Marlborough. Attached to the winery are a luxury accommodation, Timara Lodge, which is recognized as one of New Zealand's most luxurious private lodges set amongst 25 acres of beautiful gardens. There are very few wine companies that can offer a luxury lodge with a winery attached, all under single-family ownership. The winery's tasting room is open daily during the summer.
The winery also has a substantial planting of Italian Frantoio, Minerva and Pendolino olive trees on estate land considered too compacted for grapes. The first harvest yielded an impressive 20% extra virgin olive oil.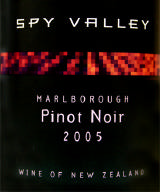 2005 Spy Valley Wines Marlborough Pinot Noir
13.5% alc., $29, screw cap. Crop was reduced in 2005 but overall quality was good. Four separate blocks were hand picked and gently crushed into 5-ton open-top ferment tanks. After a short cold soak, fermentation was carried out with wild yeasts and the wine aged in oak barrels for 12 months. Tasted twice with consistent notes. · The wine has a dark violet robe. The alluring nose features dark spicy cherries. On the palate there are copious black currents, plums, and hints of graham cracker and licorice. The mouth feel is plush and the finish lingering. This is a richly endowed and generously fruity style of Pinot Noir that is beautifully balanced. If you have an interest in New Zealand Pinot, this would be a fine example to cut your teeth on.
Spy Valley Wines, Rd6 Lake Timara Road, Marlborough, New Zealand. The website is www.spyvalleywine.co.nz. The phone number is + 64 3 572 9840. Spy Valley Wines are distributed in the United States by Broadbent Selections, Inc., 2088 Union St, San Francisco, CA 94123. The wines are widely available through retail stores and the internet.