Pinot Paradise
They call the Santa Cruz Mountains a "paradise for Pinot Noir," and this annual event celebrates the bounty from the many small wineries scattered throughout the appellation. The region has been receiving considerable recognition recently for its distinctive Pinot Noirs. (see PinotFile, Volume 5, Issue 30).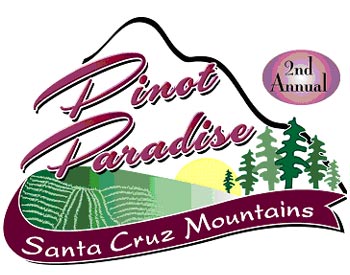 On Saturday, March 17, 2007, from 11:00 AM to 5:00 PM wineries will be open for tours and tasting. Called the Pathway to Pinot Paradise, this event is only $25 per person. Many of these wineries are small, family-owned affairs that are not usually open to the public. It is a great opportunity to poke around the mountain landscape and discover hidden tiny wineries that specialize in Pinot Noir. Participating wineries include Bargetto Winery, Beauregard Vineyards, Burrell School Vineyards, Domenico Winery, Generosa Winery, Hallcrest Vineyards, Martin Alfaro Family Vineyards, Nicholson Vineyards, Pleasant Valley Vineyards, Roudon-Smith Winery, Silver Mountain Vineyards, Sonnet Wines, Thomas Fogerty Vineyards & Winery, Vine Hill Winery, Windy Oaks Estate Vineyards & Winery.
On Sunday morning, March 18, 2007 there are Technical Sessions at Villa Ragusa in Campbell ($65 per person including lunch). Featured speakers are John Haeger, author of North American Pinot Noir, Prudy Foxx, vineyard consultant in the Santa Cruz Mountains, Jim Schultze, proprietor of Windy Oaks Estate Vineyards & Winery, Jerome Aubin, representing Tonnellerie Rousseau in Burgundy, France, and Jeff Bareilles, Sommelier at Manresa Restaurant who will lead the group through a comparative tasting of Pinot Noirs from Santa Barbara, Santa Lucia Highlands, Santa Cruz Mountains, Russian River Valley, and the Willamette Valley. Lunch will be next door at the Sonoma Chicken Coop.
On Sunday, March 18, from 2:00 PM to 5:00 PM the Grand Cruz Tasting ($65 per person) will be held at Villa Ragusa with over 26 producers (many listed above) pouring their Pinot Noirs.
For reservations and tickers call the Santa Cruz Mountains Winegrowers' Association at 831-685-8463 or visit the website, www.scmwa.com. A Paradise Pass for both Saturday and Sunday events is $125 per person. Useful lodging and restaurant information is also available on the SCMWA website.