Littorai Wines Age Gracefully
There is an old saw that has been floating around for years that California Pinot Noir doesn't age. This has been propagated in part because Americans have little experience drinking aged Pinot Noir. The current vintages of Pinot Noir are often made to be consumed within a year or two of release and wine enthusiasts are encouraged to drink up before the next vintage. Upon release, Pinot Noir often heads straight to restaurants where thirsty consumers quickly deplete them from the wine lists. When have you seen any older vintages of American Pinot Noir on a restaurant wine list?
The key to age ability for Pinot Noir is balance. If a wine doesn't have balance to begin with, it will never develop it, and the wine will age poorly because the elements that are dominant become even more preponderant over time. Balance does not refer to aromas or flavors, but rather the relative levels of acidity, alcohol, tannin, and roundness that are felt in the mouth. A harmonious or wellbalanced wine has all of these elements in equal amounts with no one element dominant. Balance is a sign of quality and wines that are complete must have impeccable balance.
The winemaking of Ted Lemon at Littorai is focused on balance and harmony. This can allow the wines to improve and blossom with cellaring. Lemon's winemaking style avoids high alcohol levels and overripe flavors. Modest use of new oak is used for aging the wines as an element of complexity, but never leads one to think "oak" when tasting a Littorai wine. At Littorai, the goal is wines of elegance, length, and finesse and wines which gain in complexity as they age. With polished balance and proportion, the wines are uniquely suited to the dinner table at any stage of their evolution. Although Lemon honors the Burgundian tradition, he does not attempt to imitate Burgundy. He seeks the path between the excesses of many modern California wines and the vacuousness of others.
Ted Lemon's story is quite unique among California winemakers. The origins of his interest in wine can be traced to a study-abroad program at the University of Dijon in Burgundy while still a high school student. The director was so impressed with Lemon, he offered him a job if ever decided to take up winemaking. After graduating from Brown University, he was awarded a fellowship to return to France in the fall of 1980 to study viticulture and enology. He apprenticed in several famous Burgundy domaines including Dujac, Roumier, and Bruno Clair. When funds ran dry, he returned to the United States where he worked with Josh Jensen at Calera Winery.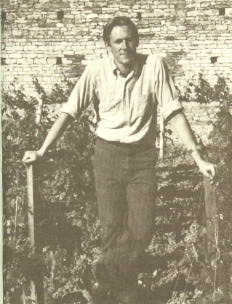 In 1982, while at Calera Winery, he was surprised by a phone call from Jacques Seysses of Domaine Dujac who asked him, "How would you like to make Meursault?" At Domaine Guy Roulot in Meursault, one of the oldest and most traditional wineries in Burgundy, Guy Roulot had died and his family was searching for another winemaker. The Roulot family sought the advice of Jacques Seysses. "Of all the apprentices I have had, and I have had many," Jacques Seysses told Madame Roulot, "none have been as bright and as capable as Ted Lemon. He has so many fine qualities, but there are two problems. He is 25-yearsold, and he is American." Although Madame's first reaction was "impossible," after consulting with Aubert de Villaine, Patrick Bize, and others, she offered to make him the first (and to this day, the only) American winemaker and vineyard manager in Burgundy's history. Lemon arrived at Domaine Roulot in 1983 (photo right).
Because lemon spoke French fluently, he was able to assimilate and overcome the initial surprise and skepticism of the village people. He said, "At first I had to prove myself physically to the cellar and field help. I had to prune as quickly, drive a tractor as well, and work as hard as they could. And I had to prove to Madame Roulot, who was so devoted to Guy, that I could keep up the reputation of his wines." Lemon made very good wines and quickly became accepted by the locals.
After two years at Domaine Roulot, he was lured back to the United States by a French family that had purchased a vineyard on Howell Mountain above the Napa Valley. Their intent was to produce a French-style Chardonnay in California. The land here had been first planted in 1877 with vines from the Medoc region of France. Jean Adolphe Brun and W. J. Chaix were the original French owners and they built the Howell Mountain Winery on the property in 1866. It became Chateau Woltner in the mid-1980s and it was here, in 1985, that Lemon oversaw renovations of the aging winery and became the vineyard manager as well as winemaker. Chateau Woltner's Chardonnays soon became a favorite among American wine connoisseurs.
With his winemaking skills honed and assured, Lemon and his wife Heidi founded Littorai in 1993. He had spent a summer with his wife driving up and down the Pacific Coast tasting local wines and learning about the soil and history of the local vineyards. Lemon had a firm belief in terroir inspired by his years in France. According to Lemon, "I believe soil is of major importance in a wine's character. It's clear there are tremendous differences between wines made from vineyards right next to each other even if they are vinified and treated exactly the same way." Finally, Lemon settled on sourcing his grapes from vineyards in western Sonoma and western Mendocino counties. He believed the finest Pinot Noir and Chardonnay were grown along the true coastal zone of the continent. He was convinced that the geology and mesoclimates of the extreme western portion of the continent north of San Francisco were diverse enough to create a series of unique terroirs, each with its own characteristics. He named his new venture Littorai which is a pleural noun formed from the Latin word litor-, which means the coasts. The word Littorai, with its reference to geography, reminds us that wine, the noblest agricultural product, arises from the weave of place (vineyard), time (vintage), and man.

Since the beginning, Lemon has sourced his grapes from independent growers and most on a "by-theacre" basis Littorai was the first modern California winery to create a "by-the-acre" contract for grapes. In these contracts, growers are paid for the quality of what they grow, not the quantity, The first contract was written in 1993 for One Acre Vineyard Pinot Noir in Anderson Valley. Such contracts have now become the norm for the greatest vineyards in California.
Lemon closely supervises all aspects of vineyard management: pruning, composting, irrigation and crop yields. In 2003, 40% of Littorai's producing acreage was estate grown (either under ownership or long term lease) and this percentage will increase in time. Beginning in 2003, over half of Littorai's producing acreage is farmed using biodynamic and agro-ecological methods. Lemon has planted 3 acres of Pinot Noir behind his home in the Sebastopol hills (Dijon 667, 777 and California heritage selections) and has plans to plant 8 more. His first vintage from his home vineyard will be 2007. Lemon is a true winegrower, in that he is intimately involved in the entire winemaking process from planting and managing vines to corking and labeling bottles.
As Lemon finds vineyards which have exciting potential, he plans to add them to the family and make them vineyard designates if they are truly unique. If he finds nothing new to excite him, he will simply not grow. By the same token, if he is dissatisfied with the quality of fruit from a given vineyard in a certain year, he simply will not produce it. Called declassification, it is a practice widely accepted and practiced in France. As Ted says, "This philosophy requires that our clients understand, as we do, that fine wine is not a commodity. We cannot simply invent more of it to satisfy demand. Indeed, that is what distinguishes it from its less expensive brethren." In 2005, there were 924 cases of vineyard designate Pinot Noir and 720 cases of appellation Pinot Noir. Chardonnay production was 675 cases. The 2006 vintage was more giving and it is anticipated that there will be a total of 4,500 cases produced.
Lemon does not own a winery, but manages the Black-Sears Winery on Howell Mountain in Angwin, Napa Valley. At this shared facility, he oversees the making of wines for Howell Mountain Vineyards, The Black Sears Estate, Reverie, and Littorai. He plans to eventually build his own winery on his 30- acre estate in Sebastopol which will put him closer to his vineyard sources in Sonoma and Mendocino. Lemon is beginning to build a legacy of younger winemakers who have apprenticed under him. These include the current winemaker at Saintsbury in Carneros, Jerome Chery, as well as Scott Wright of Scott Paul Wines in Oregon and Sam Tannahill of A to Z wines and Archery Summit also in Oregon. Doug Wisor, the head winemaker at Craggy Range, was one of Lemon's protégés prior to his untimely death.
The winemaking style at Littorai employs minimal intervention, long lees contact, and gentle handling of the fruit and wine at all times. Pumps and filtration are avoided as much as possible. All of the Chardonnays are barrel fermented. After a cold soak, the Pinot Noirs are fermented in traditional open-top fermenters containing from 800 to 1500 gallons. At least some proportion of whole clusters are utilized as dictated by the vintage. Punch down is by hand. All of the wines undergo native yeast fermentation and complete malolactic fermentation, as long as nature does not dictate otherwise. Aging is done in 30-50% new oak with medium toast for 16-18 months. I think patience is the key word here, as Lemon is a patient winemaker who works with the juice at hand, an artist guided by his taste more than science who avoids using new technology only for its own sake.
Ted is a life-long winemaker passionately committed to his craft. He has not come into wine as a second career and this fact is essential to understanding Littorai. Littorai produces wines which adhere to a personal and passionate esthetic sensibility. Lemon is not motivated by competition, ratings or trends, or by the lure of publicity. He does not submit samples for scoring. Basically, his wines speak for themselves. His latest newsletter had this quote from Max Leglise at the top: "Good wines need no press secretary."
I recently had the distinct honor of interviewing Ted Lemon for a podcast to be broadcast on Grape Radio (www.graperadio.com) in the near future. I enjoyed meeting his family (3 children all under 10 years of age) and his lovely wife, Heidi (she runs the business side of Littorai). To commemorate this event, I sat down with the crew from Grape Radio (Jay Selman, Brian Clark, and Eric Anderson) and tasted through several older vintages of Littorai Pinot Noirs. I think you will be able to acquire a feel for our enthusiasm for these wines in the podcast as well as in my tasting notes that follow. Without exception, the wines had all aged extremely well and exhibited the lovely bouquets of Pinot Noir that can only come with aging: barnyard, dark chocolate, tobacco, exotic woods, and mushrooms. Every wine was balanced, understated (power with velvety softness), and had a certain Burgundian sensibility (good acid structure). The terroir really came through and individual vineyard differences were quite apparent. There was consistent excellence from vintage to vintage that was impressive. Not a bad wine in the lineup R.I.P for the old saw about a perceived lack of age ability of California Pinot Noirs.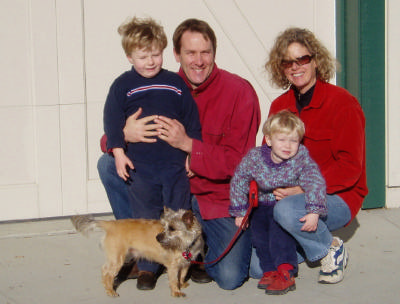 Littorai Tasting January 29, 2007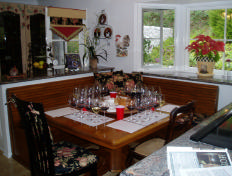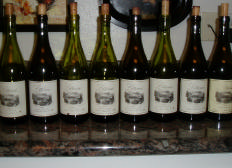 Littorai wines are sold only through a mailing list. As a testament to their quality, they are on the wine lists of America's most prestigious restaurants. The website is www.littorai.com and the phone is 707- 823-9589. The 2005 Pinot Noir releases include: Sonoma Coast and Les Larmes Anderson Valley (both $42), Savoy Vineyard Anderson Valley($60), Hirsch Vineyard Sonoma Coast ($65), Mays Canyon Vineyard Russian River Valley ($65), Cerise Vineyard Anderson Valley ($65), Roman Vineyard Anderson Valley ($65), Thieriot Vineyard Sonoma Coast ($70), The Haven Sonoma Coast($75), and Summa Vineyard Sonoma Coast ($80). The three Chardonnays include Charles Heintz Vineyard Sonoma Coast, Mays Canyon Vineyard, and Thieriot Vineyard (all $60). Older vintages rarely come up for auction, but Littorai periodically releases previous vintages from the winery's library, a practice that is rarely seen in today's financial climate where wineries infrequently hold back significant amounts of previous vintages.