Walt's Wharf: Wine Lover's Dream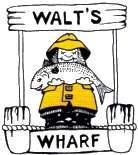 My buddy and I had lunch today at one of our favorite spots in Orange County, Walt's Wharf on Main Street in Seal Beach. As usual, we sat in our favorite corner table in the bar next to the large windows looking out on the activity on Main Street. Walt's is a shorts and Hawaiian shirt type of place that fits in beautifully with the laid back California lifestyle in this sleepy beach town. For those not familiar, Seal Beach is a throwback to the 1950s with a beach community that has never bought into the ritzy and showy Orange County way of life. You won't see one Lamborghini parked on Main Street. Once Zorro (so-called because he has been known to dabble in Zinfandel) and I had settled in, our waitress brought us the wine list. Obviously wine-fluent, she politely offered to assist us in our choice. Now when was the last time you went into a restaurant and your waiter really knew something about the wine list?
The wine list is a wine lover's dream with beautifully chosen whites and reds that pair well with the restaurant's oak-grilled fresh fish and steak preparations. Once you know the background on Walt's, the comprehensive and well-chosen wine list is understandable. Walt Babcock was a successful Seal Beach dentist when he and his wife Mona started Walt's Wharf in 1970. At that time, if you wanted fresh fish, you had to travel 10 miles to Newport Beach to the south or 25 miles to San Pedro to the north. Initially, Walt used his own fishing boat to procure the fresh fish for the restaurant. Later, he established contacts with fisherman so there was always an extensive choice of fresh fish on the menu. By 1978, the rigors of running a dental practice and a restaurant had sent Walt and Mona looking for a retreat. Upon finding 110 acres of land in the Santa Rita Hills region of Santa Barbara County, they sold Walt's Wharf in 1979 and devoted themselves to winegrowing. Within a few years, several producers were making compelling wines from the Babcock's 25-acre vineyard.
In 1984, son Brian was attending the University of California Davis majoring in food science and enology. He joined his parents as winemaker and a winery was built. With Brian's first harvest, he was awarded a double gold medal for the 1984 Babcock Estate Sauvignon Blanc, and Babcock Winery was off and running. Today Babcock Winery and Vineyards is a 20,000-case-a-year winery with 80 acres planted to multiple varietals including Pinot Noir. The wines feature estate fruit as well as grapes from other select California vineyards. Brian Babcock has won multiple winemaking awards including being named one of the "Top Ten Small Production Winemakers in the World," in 1995 by the James Beard Foundation (the only American so honored).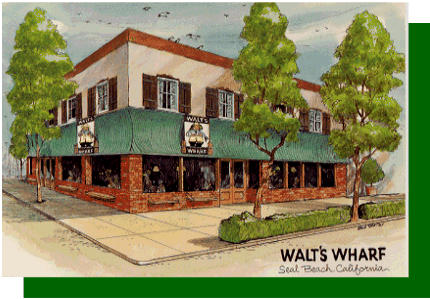 After the Babcocks had sold Walt's Wharf Restaurant, Walt and Mona decided to reacquire it. They installed a live oak fire, put in an oyster bar, and added an extensive wine list. Along with organic produce from his own farm, Walt sought out growers of specialty vegetables to supply the restaurant. The restaurant is now a landmark in Seal Beach and wildly popular. As has always been the case, no reservations are taken.
When you are at Walt's, the temptation is to order a wine from Babcock Winery & Vineyards since the entire lineup of Babcock wines is available. But through his connections, Walt is able to acquire an impressive variety of primarily California offerings. The prices are very fair for restaurant standards. Say you want to start with some fresh oysters or the incredible oak-grilled artichoke. How about a Sauvignon Blanc from Ferrari-Carano, Geyser Peak, Mason, Duckhorn, Merry Edwards, Rochioli or Spottswoode ($24-45)? Oh, you only want a half-bottle? How about a split of Conundrum, Fiddlehead, or Merry Edwards Sauvignon Blanc. If its evening and you want to kick things off with Champagne, you can't go wrong with Duval Leroy 1996 Brut ($58). When you move on to caramelized Alaskan King Salmon, it has to be Pinot Noir. But there are sixty Pinot Noirs to chose from on the list. Close your eyes and point or ask the waitress. The list includes standbys like 2005 Adelsheim Willamette Valley, 2005 Babcock Tri Counties Cuvee (see below), 2004 Buena Vista Carneros, 2004 Domaine Alfred Chamisal Vineyard Edna Valley, 2005 J Russian River Valley, 2004 Landmark Grand Detour Sonoma Coast, 2004 Stephen Ross Edna Valley, 2004Witness Tree Willamette Valley, and even a choice from New Zealand and Australia ($30-43). Ok, you have had all of these and you want something really special. Out comes the Reidel Vinum-styled Burgundy glasses. How about the entire 2004 lineup of Babcock special Pinot Noirs, three of which are not even available yet on the winery's website? (The Grand Cuvee; Cargasacchi Vineyard, Santa Rita Hills; Oceans Ghost, Santa Rita Hills; Mount Carmel, Santa Rita Hills). The Grand Cuvee ($24) is so wildly popular it is already sold out at the winery. Or maybe your taste drifts to something else, like say, 2003 Calera Ryan Vineyard Mt Harlan, 2002 Wild Horse Cheval Sauvage Santa Barbara County, 2004 Davis Family Vineyards Russian River Valley, 2003 DuMol Russian River Valley, 2004 Etude Carneros and 2003 Etude Heirloom Carneros, 2002 Fiddlehead 728 Santa Rita hills, 2003 Goldeneye Anderson Valley, 2003 MacMurray River Cuvee Russian River Valley, 2004 Merry Edwards Olivet Lane Russian River Valley, 2004 Sea Smoke Ten Santa Rita Hills, 2004 St. Innocent Seven Springs Vineyard Willamette Valley, and more ($46-100). Wine service is perfectly orchestrated and the waitress actually returns over and over to refill your glass to the proper level.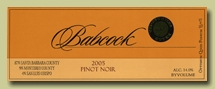 The workhorse Pinot Noirs for Babcock are the Grand Cuvee ($24- 30) and the Tri-Counties ($22). I have written about the Tri Counties before in the PinotFile. It has been available for less than $20 at some retail stores and I consider it one of a handful of really satisfying California Pinot Noirs priced at less than a Jackson. Now in its fifth vintage in 2005, the Tri-Counties is 87% Estate fruit, 9% Viento Vineyard from Monterey, and 4% Rabbit Ridge Vineyard from San Luis Obispo. It is aged for 10 months in 20% new French oak, with 14.0% alcohol. 4,300 cases total with good retail distribution.
2004 Babcock Mount Carmel Vineyard Sta. Rita Hills Pinot Noir
14.5% alc., $72 (on wine list). · This was a terrific wine and even Zorro liked it. This was saying a lot, for it was a wine of finesse and elegance, so frequent in Pinot Noir, but unheard of in a Zin. It was beautifully balanced with a lengthy finish of hi-tone juicy cherries and cinnamon delivered with perky acidity. Amazingly pure and refined and a perfect accompaniment to lunch. I am looking to purchase some.
Babcock Winery & Vineyards, 5175 E Hwy 246, Lompoc, California. The website is www.babcockwinery.com, and the phone is 805-736-1455. A tasting room is open daily. A wine club offers significant discounts to wine purchasers.
Walt's Wharf, 201 Main St, (corner of Central and Main one block north of the Seal Beach Pier), Seal Beach, California. The phone is 562-598-4433. If you go at lunch, sit in the bar and look out the windows to watch the world walk by. You can also peruse the extensive number of white wines in the large wine cooler that lines one wall of the bar seating area. At dinner time, go early or expect a wait of an hour or more. Of course, waiting is rather painless, for you have that dreamy wine list to explore that really gets your appetite primed for what is to follow.