Santa Maria Valley Wine Country Passport Event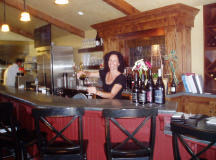 Explore the wineries of California's Central Coast, the "Hidden Jewels" of the Santa Maria Valley on Saturday, December 1, 2007 from 11 A.M. to 4 P.M.. Participating wineries include Foxen, Addamo Vineyards, Costa de Oro, Kenneth Volk Vineyards, Rancho Sisquoc, Cottonwood Canyon, McKeon-Phillips and Cambria. In addition, several wineries will be pouring at the Wine Cottage Bistro in Orcutt including Casa Torres Vineyards, Vaquero Cellars, Wild Horse Vineyards, Riverbench Vineyard and William James Cellars. Plan to eat at Wine Cottage Bistro as well. Owners Rebecca (right) and Aimee (known as "The Wine Girls") are passionate about food and wine and the sophisticated menu belies the small town location. The current chef is Troy Tolbert from the Bradley Ogden group in the San Francisco Bay Area. Tickets are only $30 per person including a SMVWC logo passport wine glass. Phone 805-938-0431.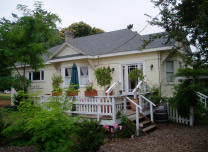 If you want to make a trip of it and stay in another area of the Central Coast, I recommend Suite Edna B&B Cottage located at the original Edna Town site in the heart of Edna Valley. Owner Pattea Torrence operates a B&B in a lovingly maintained three bedroom house much like your grandmother probably lived in 75 years ago. Recently she has opened Old Edna Antiques and the quaint Deli Café adjacent to the house. Sandwiches, artisan cheeses, olive oils, local honey, espresso, baked goods and more. Wine country picnic lunches are a specialty. BBQ tri-tip sandwiches cooked slowly over Pinot Noir soaked oak barrel staves- wow! Wine service should be available in the near future as well. A perfect location for exploring the Edna Valley and Arroyo Grande wine country and wineries like Domaine Alfred, Talley Vineyards and Laetitia. For more information, check the website,
www.oldedna.com
or phone 805-544-8062.