Clos Saron: Distinct Pinot Noir from an Unlikely Region
Gideon Bienstock, an experienced winemaker, and his wife Saron Rice, have developed a small outpost for Pinot Noir in the northern limits of the Sierra Foothills AVA of Northern California. Gideon is the winemaker for the famed nearby Renaissance Vineyard & Winery and Saron is well-versed in viticulture. Together, they set out over ten years ago to transcend all the preconceived notions about winegrowing possibilities in the Sierra Foothills.
Located on the western slopes of the Sierra Nevada, the Sierra Foothills is a sprawling AVA of 2.6 million acres that includes Amador, Calaveras, El Dorado, Mariposa, Nevada, Placer, Yuba and Tuolumne counties. There are five sub-AVAs, including El Dorado, Fair Play, Fiddletown, North Yuba and Shenandoah Valley (refer to map on page 8). The AVA is known for hot days and very cool nights with the extent of the diurnal range dependent on the elevation. The soils are decomposed granite and finely crushed volcanic ash which provide good drainage. Nutrients are sparse so vine roots are forced deep to seek out water and nourishment. The well-over 100 wineries in the Sierra Foothills AVA have had proven success with warm climate varieties including Zinfandel, Syrah, Petite Sirah, Cabernet Sauvignon and Sauvignon Blanc. The earliest vines were planted during the California Gold Rush of the 1800s, and because of the relative isolation of the region from other California wine growing areas, the vines have been protected from phylloxera and other insults. The result is that the Sierra Foothills AVA contains some of California's oldest producing vines.
Pinot Noir is not a variety that comes to mind when you think about the Sierra Foothills, but surprisingly, this AVA has a history with Pinot Noir dating back to the 1880s. According to John Winthrop Haeger (North American Pinot Noir), Eugene Hilgard of the University of California directed the planting of experimental vineyards in the foothills of the Sierra Nevada near the town of Jackson in Amador County. More than 150 grape varieties including Pinot Noir were established at the Jackson Station. The project was abandoned in 1903 as the experiment proved untenable. Some surviving Pinot Noir vines were discovered in 1963 and these so-called Jackson clones have remained of interest because they show some resistance to cold, having adapted to the frigid winters in the Sierra Nevada. Despite that, the Jackson clones have never been widely planted. The University of California at Davis classified the Jackson clones as UCD 1, UCD 9, UCD 16 and UCD 29. According to Haeger, "The Jackson clones have the distinction of being the earliest documented imports of Pinot Noir still under cultivation in North America, having unarguably been imported before 1890 - and perhaps considerably earlier."
Undaunted by the lack of historic success with Pinot Noir in the Sierra Foothills, Gideon and Saron (pictured below at Pinot Days) have taken on the challenge. What they started, and what they have accomplished to date, is a remarkable story. At Clos Saron, they only work with organic fruit and farm all their grapes, including sourced grapes. They specialize in Pinot Noir and non traditional blends of other red and white varieties. Annual production is around 800 cases, with Pinot Noir accounting for half the offerings and special cuvèes making up the other half.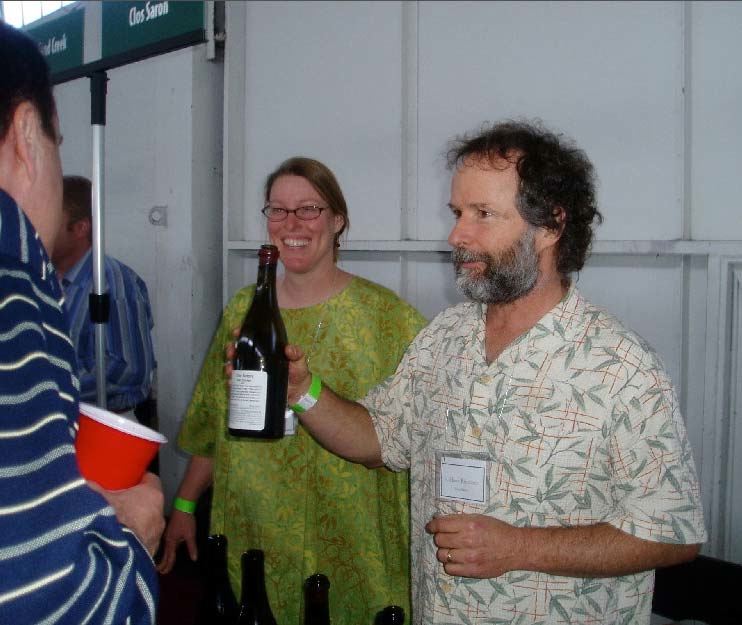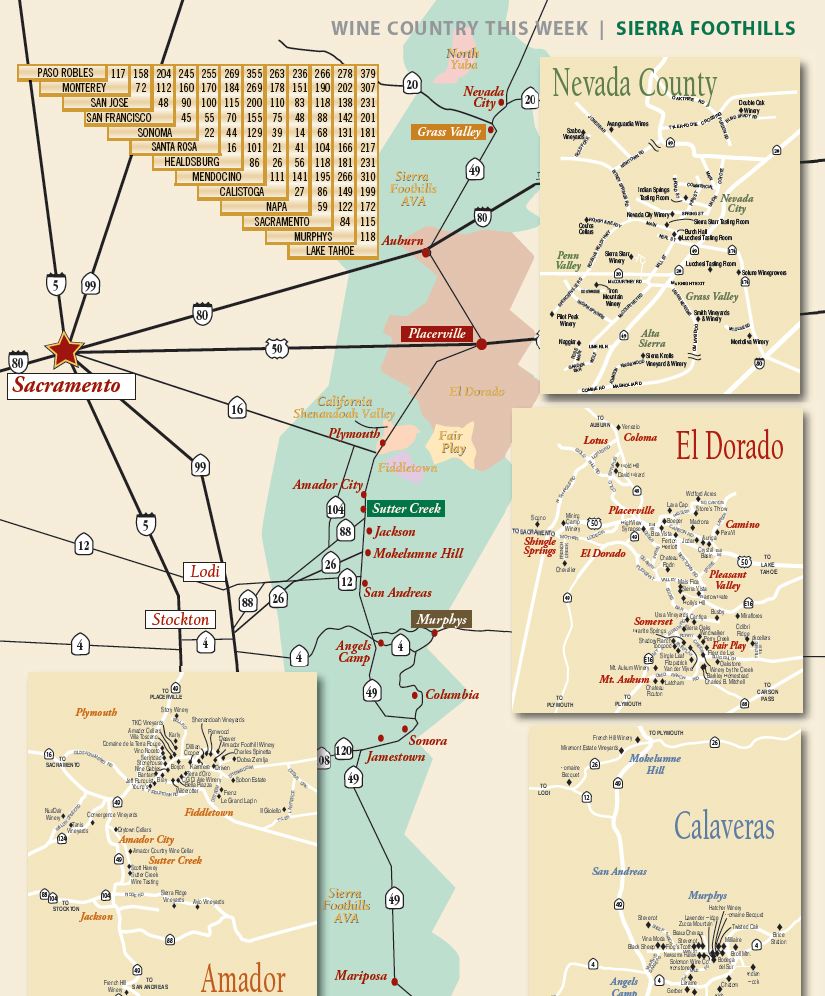 The heart of Clos Saron is the small Home Vineyard adjacent the family's home and tiny winery in the Oregon House Valley of Yuba County. The first half acre of Cabernet Sauvignon and Merlot vines were originally planted on this gentle, north east facing forested slope in 1980. This old block was planted to 6' x 8' spacing and these varieties rarely ripened at this site. In 1995, the vines were grafted to Pinot Noir and vine spacing was increased in density to 3' x 8'. In 1999, the vineyard was expanded to 2.5 acres after the densely wooded property was cleared. These vines were spaced 3.5' x 6'. The plantings include a potpourri of known and unknown Pinot Noir clones, including all the popular Dijon clones, plus Pommard, old Wente, Swan and suitcase clones. All vines are own rooted, cordon pruned with a four wire upright trellis. The soil is clay loam on top of volcanic ash, decomposed granite and quartz. According to Gideon, "The soil is a mish-mash of alluvial layers and fractured volcanic rocks."
The vineyard is situated at 1,600 feet and is surrounded and protected by hills on three sides creating a cool microclimate by Sierra Foothill standards. Typical summer daytime highs are in the 90° to 95° range and nighttime lows 55° to 65°, with winter highs of 45° to 55° and lows of 25° to 35°. Spring frosts are an annual threat and the 2010 vintage was a good example. Gideon told me, "2010 is the year from Hell, so far. Spring was very wet (or was it a very late winter), with three waves of late frosts in the latter part of April, early May and on May 21. The wetness and coolness of the season brought more mildew pressure than we have seen in our twelve year history, although the Home Vineyard is virtually clean of mildew. The frosts did their usual damage, but the three wave pattern was devastating with many vines lacking fruit completely. Old vines lost arms, many young vines died back to their roots or completely perished. 50% of the total production was lost with the estimated loss of Pinot Noir at about 80% to 90%." The neighboring Texas Hill Road Vineyard, which Gideon and Saron also farm, lost 100% of its Pinot Noir fruit. Gideon said he hopes to have one barrel of Pinot Noir in 2010, from a total of 3.5 acres that they farm. Typical crop levels are extremely low with older vines yielding about 1 ton per acre and younger vines less than half that much.
Farming is extreme organic with some biodynamic practices and an "overriding biodynamic farming philosophy of establishing a self-sustaining ecosystem." The Home Vineyard is not certified organic, but reflective of their own common sense and conscience. No chemicals are used other than limited elemental sulfur. Cover crops are used to help balance and enrich the top soil which is poor. There is limited mowing, leaving 25% of the surface untouched to preserve the natural habitat for insects and a variety of plants. Watering is limited to what is necessary to keep the vines alive. In 2010, the oldest block was never watered. Rabbits and chickens are raised on the property, and their "production" is used to supplement bought compost.
During this past winter, preparation began for planting of 3 acres immediately north of the Home Vineyard. The land has been cleared and fencing established. The spring was so wet they could not finish the soil preparation in time for spring planting so they put the new vines in a nursery and slated them for a fall or winter 2011 planting. 90% of the cuttings in the nursery were eventually lost in the last round of frost on May 21, so they will have to start over next year. The plan is for 0.5 acres of Pinot Noir, 1.5 acres of white varieties including Voignier, Roussanne, and Sauvignon Blanc, and small amounts of Riesling and Syrah. Once the new plantings are established, Clos Saron will be producing three or four different Pinot Noirs, each from a distinctive microclimate and soil combination, all within 0.5 miles of their home.
Winemaking at Clos Saron is straightforward and simple with no acid corrections, no inoculations, no racking, and no fining or filtration. The grapes are 100% de-stemmed. At fermentation, 35ppm SO2, but none is no SO2 is used post fermentation making the bottled wines virtually sulfur free. According to Gideon, "When the wines are tested at a lab, they measure 0 to 8ppm of total SO2, comparable to what is created naturally by the fermentation process. The wines are basically sulfite-free and age on their concentration, balance, tannin, and acid rather than on the antiseptic properties of the sulfites. The absence of sulfite in the wines is the main cause for their very finicky nature, and why they go through various phases of weirdness, depending on then they are opened. This is also the reason for their relaxed, easy development in the glass with time, and in the bottle with years of aging."
Until 2006, Rousseau barrels only were used with 50% to 100% new (not always by choice but restrained by the limited production). Since then they buy only once-used oak barrels from other Pinot Noir producers so the oak barrels are one to five years old. Aging is typically on the primary lees for 11 to 18 months, depending on the vintage. The wines are bottled manually by gravity direct from barrel. Each bottle is hand numbered and wrapped in tissue.
One of the limits on winemaking choices at Clos Saron is the limited fruit quantity to work with. The Home Vineyard can produce as little as one or two barrels per harvest. Several passes over 3 to 4 weeks are typically required to harvest all the fruit, so before 2005, more extended cold soak was used as a means to stall until more fruit could be harvested. Through the years, Gideon and Saron have become more cautious with extraction and pick earlier. They still go through the vineyard numerous times and pick only ripe fruit, but no longer wait for the hyped "physiological ripeness." Their definition of ripeness has changed and although they like to pick black fruit with browning seeds with a slight softness to the touch of the grapes, they no longer wait for grapes to soften.
In tasting the vertical of Pinot Noirs reviewed in this article, I noticed a definite change beginning with the 2005 vintage when the Pinot Noirs began showing a more expressive fruit style with slightly more restrained oak and noticeably less tannins. The site tends to produce vigorous tannins because of the lean soil and very low yields.
The Clos Saron Pinot Noirs are unique in character. Gideon says, "I like to think that they offer a respectable alternative for those palates that get overwhelmed and tired of the super alcoholic, super rich and super thick Pinot Noirs. The Clos Saron wines are for those who keep tasting and following what is happening in their glass past the first couple of sips and throughout dinner. The tannins are easily neutralized and harmonized by the proper companions at the dinner table including Epoisses, Brie and Pond l'Eveque cheeses, grilled salmon, sushi, duck, rabbit, pheasant and wild turkey." I find the Clos Saron Pinot Noirs, dare I say, more "Burgundian," than many California Pinot Noirs, with their emphasis not on flashy fruit, but on secondary nuances of earth, game, spice and minerality along with a healthy tannic structure that bodes well for aging. The wines remind me of those from Nuits-Saint-Georges such as Clos de la Maréchale from Jacques-Frédéric Mugnier or Les Vaucrains from Domaine Henri Gouges. Gideon describes his Home Vineyard Pinot Noir as follows: "Structured, spicy, minerally and earthy, with a strong vintage variation in balance and expression. This terroir produces long-lived Pinot Noirs by California standards, reaching maturity at 8 to 12 or more years in the bottle."
I recently tasted through a vertical of Clos Saron Pinot Noirs. These are connoisseurs' wines that are something very special. Darker fruited with generous tannins that soften and integrate with time and a welcoming balance of acidity, these are nuanced wines offering the drinker much more than a one-dimensional fruit-driven experience that is offered by so many California Pinot Noir brethren. There is no over ripe fruit to obscure the message of the Home Vineyard terroir. The wines have all aged beautifully and I don't think I will live long enough to see how far these wines can go. I have to take my hat off to Gideon and Saron, who toil in relative obscurity, but have remained dedicated to their goals despite many challenges that would have easily deterred the less committed.
The 1999 through 2001 vintages were simply labeled Clos Saron California Pinot Noir. In 2002 and 2003, the young vines starting producing limited quantities of grapes and these grapes were combined with grapes from the nearby Renaissance Vineyard for a blend labeled "Pinot Too." Pinot Too proved to be fruitier and earlier maturing than the Home Vineyard version of the same vintages. The older vine Pinot Noir became the "Home Vineyard Sierra Foothills Pinot Noir. All production from the Home Vineyard was combined beginning with the 2004 vintage. A second Pinot Noir bottling, from the nearby Texas Hill Road Vineyard, was produced in 2005 and 2006, with the 2007, 2008 and 2009 vintages devastated by frost.
A few years ago I visited and tasted at Clos Saron. For those looking for a unique setting and an adventurous trip, I highly recommend a visit (by appointment). The address is 9269 Collin House Rd, Oregon House, California. The phone is 530-692-1080 and the website is www.clossaron.com. A few cases of each vintage are held back so that very limited quantities of older vintages can be made available (1 to 3 bottles per customer with some magnums). For example, a few bottles of the 2000 ($85) and 1999 ($95) vintages are available at the winery. The regular price for Home Vineyard Pinot Noir is $45, ridiculously low considering the scarcity and the effort that goes into producing this unique wine.
A few other wineries in the Sierra Foothills have released recent vintages of Pinot Noir including Albeno Monari Vineyard & Winery, Deaver Vineyards, Easton Wines, and Ursa Vineyards. I have not sampled any Pinot Noir from these producers so please give me your opinion if you have the opportunity to drink them.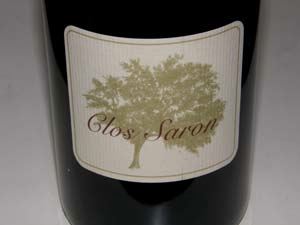 1999 Clos Saron California Pinot Noir
13% alc., 58 cases, $45. Inaugural vintage. · Very good color. Appealing aromas of black raspberries, blackberries, brioche, earth and oak, becoming more fruity over time in the glass. The wine is holding up beautifully with plenty of juicy dark berry fruit, integrated soft dusty tannins, and a good acid lift on the fruity finish. Reminds me of an aged Burgundy 1er. Still drank well the following day from an opened and re-corked bottle. Could go for another 5 to 10 years. An exceptional older Pinot Noir.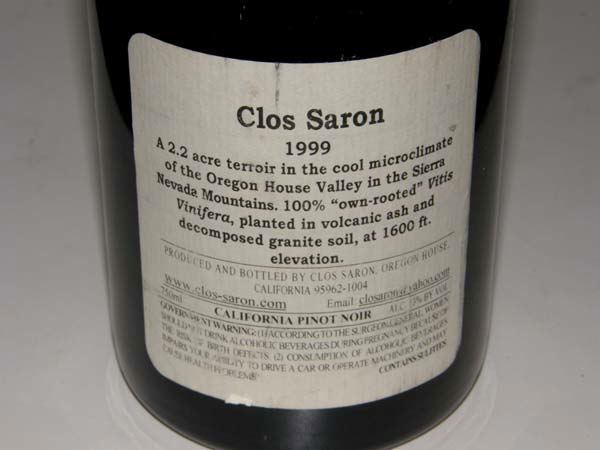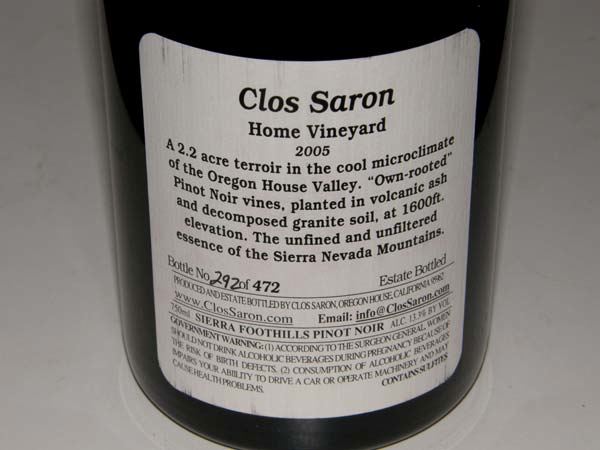 2006 Clos Saron Home Vineyard Sierra Foothills Pinot Noir
13.4% alc., 78 cases, $45. · Medium garnet color in the glass. The nose needs some coaxing in the glass, eventually offering pleasing aromas of blackberries and boysenberries, oak and baking spices. Striking assault of fruit on the mid palate with a potpourri of dark berries, black cherries and cassis with hints of spice, cola and game. Takes on more interest and intensity with time in the glass. A seamless wine with well-proportioned tannins and acidity bringing the fruit to life. Definitely will improve over the next several years.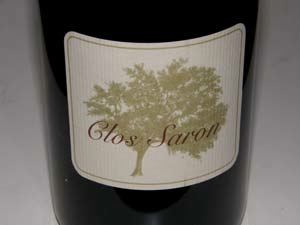 2007 Clos Saron Home Vineyard Sierra Foothills Pinot Noir
13.4% alc., 82 cases, $45. · Moderate reddish-purple color in the glass.The nose is very striking and the most flamboyant in this vertical tasting. Profuse aromas of fresh berries, rose petals, and exotic spices are mesmerizing. Intensely fruity with flavors of black raspberries, cassis, olallieberries, Oolong tea, cola and unidentified exotic notes. This is one of those wines that really makes you want to take another sip. Seamless and harmonious in every way. You can drink this wine now for its hedonistic aromas and flavors, but this is one you will want to dance with after more maturation in the bottle. I was stoked over this Pinot.
2008 Clos Saron Home Vineyard Sierra Foothills Pinot Noir
13.5% alc., 70 cases, $45. · This is far too young to drink now, but the potential is obvious. The nose is shy, offering demure cherry and berry fruit aromas with noticeable oak. Darkly fruited with hints of smoked meat, earth and cola. Still closed with oak and tannins swamping the fruit now. If you drink now, decant. This is a twenty year wine. Very good.