PinotFile: 10.30 May 11, 2016
Sojourn Cellars: 2014 Pinot Noirs are Wines of Emotion
Father John Pinot Noir: Young Winemaker has French Sensibilities
KITÁ Wines
Sips of Recently Tasted Pinot Noir
Brush Up on Your Pinotcabulary
Sojourn Cellars: 2014 Pinot Noirs are Wines of Emotion
Sojourn Cellars takes its name from something Plato said, "It is a common saying, and in everybody's mouth, that life is but a sojourn." Owners Craig Haserot and Erich Bradley took the meaning of sojourn as a rest or respite to be enjoyed, and started Sojourn Cellars, appropriately displaying a lawn chaise on their label and putting superb Pinot Noir in the bottle. They could easily have modified Plato's quote to be, "It is a common saying, and in everybody's mouth, that life is but a Pinot Noir."
Craig and Erich are two buddies who met on the tennis courts of Sonoma, and along with Ellen Haserot, formed Sojourn Cellars in 2001 with the production of 100 cases of Cabernet Sauvignon. They released their first Pinot Noir in 2004 at the height of the 'Sideways' frenzy. Erich's considerable winemaking talent led to instant praise from the wine press, and Craig's sales, marketing and management expertise have put a visible face on the winery. The winery's focus has never wavered, concentrating on vineyard designated Pinot Noir and small bottlings of Chardonnay and Cabernet Sauvignon.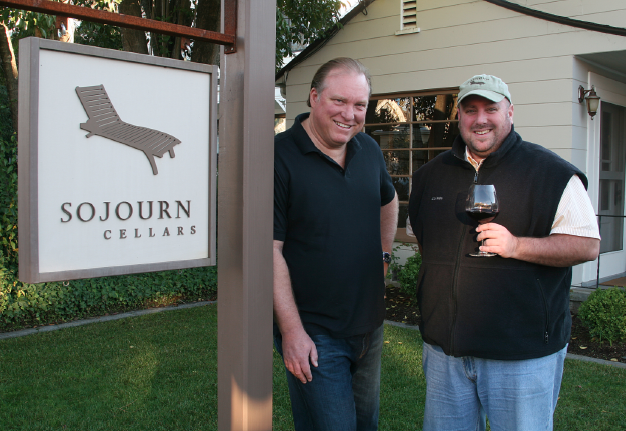 Erich has a solid winemaking background inspired by his family's purchase of a 26-acre ranch in Sonoma County's Valley of the Moon complete with a vineyard and 500-case winery. As part of the sale, the Bradley family was taught winemaking. Erich later studied winemaking and viticulture at University of California at Davis and Santa Rosa Junior College. He was smart to pick out two of California's most iconic winemakers, Richard Arrowood of Arrowood Vineyards & Winery and David Ramey of Ramey Wine Cellars to mentor him. Erich then made acclaimed wines for Audelssa Estate Winery in Glen Ellen, a position he still holds today. He has also consulted for a number of wineries including Hop Kiln and HK Generations.
Craig left a career in computer software sales and moved to Sonoma County to pursue a new path. His background in sales and marketing provided an instant compliment to Erich's winemaking expertise. Also, he addresses grower relations with multiple vineyards and engineered the opening of a unique Sojourn Tasting Salon, just off the square in the town of Sonoma. Guests are welcomed to seated comparative tastings featuring flights of Sojourn Cellars wines served in Riedel stemware in a relaxed setting. The tastings are available by appointment daily at salon@sojourncellars.com. Take a sojourn and enjoy some special Pinot Noir.
The small production Sojourn Cellars wines are sold primarily through a mailing list, with limited fine restaurant distribution. Visit the website at www.sojourncellars.com.
The 2014 vintage had early bud break and the earliest harvest on record. March rains fueled the drought stricken vines and moderate summer weather allowed grapes to evenly ripen. Picking began in August and ended by the end of September. Thicker skins and even ripening led to balanced and complex wines.
I have always enjoyed Sojourn Pinot Noirs and have reviewed a number of vintages. The 2014 wines were stunners to say the least, capable of eliciting emotion, something only great Pinot Noir can do. The wines I tasted were impeccably balanced and had everything you could ask for in a California Pinot Noir, including vineyard individuality. It is rare to have tasted a winery's entire lineup of Pinot Noirs and found every one stellar and worthy of celestial scores. The Riddle Vineyard, Reuling Vineyard, Ridgetop Vineyard and Wohler Vineyard Pinot Noirs will be released in the fall 2016. A Sonoma Coast Pinot Noir and Gap's Crown Pinot Noir were also produced in the 2014 vintage and were part of the spring release.
---
Father John Pinot Noir: Young Winemaker has French Sensibilities
Winemaker Nicholas Maloney is a Sonoma native who operates Father John Wines, dedicated to the late Reverend, John Weaver, a renowned Episcopalian priest and Nick's grandfather. Nicholas has spent considerable time in Burgundy, having studied at and graduated from the world-renown Lycée Viticole in Beaune. He has developed his winemaker skills with stints at Maison Ilan in Nuits-Saint-Georges, and Domaine Rollin in Pernand-Verglesses as well as Clos du Bois and Porter-Bass in California.
Father John was launched in 2010 with a Pinot Noir from Oehlman Vineyard on Vine Hill Road in Graton. The 2014 Father John Pinot Noir is currently one of the few American Pinot Noirs to be found on restaurant lists in Burgundy and is especially popular with the Swiss, Belgians, Danish and English. With the 2015 vintage, he has added a vineyard in Mendocino County that has Martini clone Pinot Noir vines dating to 1968, and a vineyard on Mendocino Ridge. He is also releasing a Bourgogne wine he crafted in France and imported to the United States. Father John wines are sold mainly to Europe with exports making up over 60% of total sales. In the United States, New York, Colorado and the San Francisco Bay area are the top markets, with increasing interest from Asia.
I recently visited Nicholas at his family's apple farm just outside the city limits of Sebastopol where he has planted a vineyard on the hillsides of the ranch. He is hoping to make a single vineyard Pinot Noir from this new planting in 2017. I tasted two barrel samples from Mendocino County with 100% whole cluster and found them very engaging. Each year that Nicholas has been making Pinot Noir he has used less new oak and de-stemmed less.
Father John Pinot Noir is sold through a mailing list at www.fatherjohnwinery.com. Tasting is available at the Maloney family ranch in Sebastopol by appointment.
---
KITÁ Wines
Tara Gomez is a Native American who grew up in Santa Maria, and with the help of a scholarship from her tribe, the Santa Ynez Band of Chumash Indians, attended California State University Fresno where she studied enology. She graduated as one of two women with a BS in Enology in 1998. Her winemaking career has included experiences at Fess Parker Winery and J. Lohr Vineyards & Winery. While at J. Lohr, she started her own label, Kalawashaq' Wine Cellars making Cabernet Sauvignon, Merlot, Cabernet Franc, Merlot and Syrah. After nine years at J. Lohr, she spent two years polishing her winemaking skills in Spain.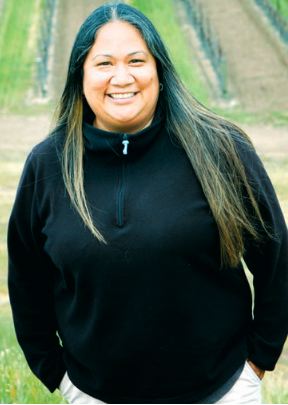 In 2010, the Santa Ynez Band of Chumash Indians bought the Camp 4 Vineyard located on 1,400 acres of ancestral land from Fess Parker, and Tara was hired as winemaker. Parker had planted 256 acres of grapes on the land and named the property Camp 4. The first wines Gomez crafted from this property, Sauvignon Blanc, Grenache Blanc, Grenache, Syrah and Cabernet Sauvignon, were bottled in 2012. Tribe members chose a name for the winery associated with this vineyard that holds significance to the Chumash: Kita (KEE-ta) means "our valley oak" in Samala language. The Chumash believe the valley oak is a true gift from our creator, providing not only strength but nourishment to people. There are many valley oak trees in the vineyard and the label features tree growth rings.
Tara is believed to be the first person of native descent in the United States who operates both a winery and vineyard.
The wines are placed in restaurants at Chumash Casino, Hotel Corque and Hadsten House, as well as at other tribal casino restaurants throughout California. The wines are also available on the website at www.kitawines.com.
2014 Kitá Hilliard Bruce Vineyard Sta. Rita Hills Pinot Noir
13.0% alc., $55. · Moderately light reddish purple color in the glass. Seductive aromas of black cherry, spice, rose petal and toast rise from the glass, leading to a lighter weighted wine that is sleek and elegant. Flavors of black cherry, exotic spice, tea and char enliven the palate and carry over to a delicate, but satisfying finish. The soft tannins are well matched, and the wine is very easy to cozy up to. Score: 91

2014 Kitá Hilliard Bruce Vineyard Sta. Rita Hills Chardonnay
13.0% alc., pH 3.20, TA 6.75, 189 cases, $30. Harvest Brix 22.0º. Aged in stainless steel for 8 months. · Delicate golden yellow color in the glass. The nose is very becoming, with delicate aromas of lemon oil, apple, grapefruit and a hint of vanilla. Light and ethereal in style, with delightful lemon and pear flavors framed with a bright cut of acidity. Velvety in the mouth with good length on the lemon-lime inspired finish. A charming wine that seems to walk on tip toes. Score: 92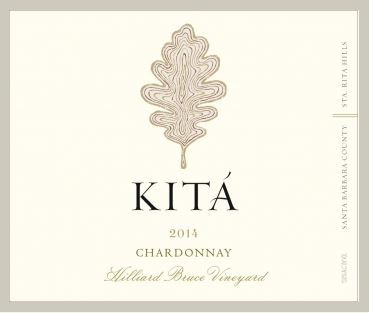 ---
Sips of Recently Tasted Pinot Noir

Bob Cabral, formerly of Williams Selyem and now the winemaker at Three Sticks has been crafting wine for 35 years and these two wines represent the first of the Three Sticks 2014 wines made along with associate winemaker Ryan Prichard.
2014 Three Sticks Russian River Valley Pinot Noir
14.5% alc., 614 cases, $60. 20% whole cluster. Aged 10 months in 100% French oak barrels, 60% new. · Moderately light reddish purple color in the glass. A sleek and silky wine that offers aromas of Bing cherries, rose petal and sandalwood and mid weight flavors of black cherry, blueberry, plum sauce, spice and cola. The finish is notable for some sweet cherry intensity and modest length. Not a "typical" Russian River Valley offering as to lushness of fruit, but enjoyable. Score: 90
2014 Three Sticks Bien Nacido Vineyard Santa Maria Valley Pinot Noir
13.9% alc., 243 Cases, $60. 22% whole cluster. Aged 10 months in 100% French oak barrels, 40% new. · Moderate reddish purple color in the glass. A mix of aromas including black cherry, black raspberry, floral bouquet, mulch and toasty oak fade a bit over time in the glass. Silky in the mouth, with mid weight plus flavors of earthy black cherry and Middle Eastern spices. The immersed tannins and balanced acidity make for easy drinking. Score: 89
2012 Wind Racer Anderson Valley Pinot Noir
14.5% alc., 1,007 cases, $50. · Moderate reddish purple color in the glass. The nose picks up intensity over time in the glass, offering scents of very ripe black raspberry, ollaliberry and plum with a subtle mushroom note. Lush on the palate, with copious amounts of purple and black fruits accented with hints of pennyroyal, smoke, tar and vanilla. A ripe, bold style wine with tucked in tannins, good juiciness and some finishing generosity. A fine wine but the fruit really pushes the ripeness envelope. Score: 89
2012 Wind Racer Russian River Valley Pinot Noir
14.5% alc., 1,527 cases, $50. · Moderately dark reddish purple color in the glass. Aromas of ripe Bing cherry and dark strawberry leap from the glass. Full-bodied on the palate, with flavors of black cherry and cola. Silky and smooth with balanced tannins and a modest finish. This wine sports the luscious fruit typical of the Russian River Valley, but lacks the juiciness of the Anderson Valley bottling. Score: 89
---
Brush Up on Your Pinotcabulary

If you want to talk the Pinot talk, you need to be versed in the lexicon of Pinot Noir. Listed here are the pertinent words and their definitions. I relinquish all proprietary claim to pinotcabulary, so use the words freely.
Pinotosity: The unique essence or soul of Pinot Noir. A Pinot Noir is said to have pinotosity when it is irresistible, mesmeric and brings you to your knees.
Pinotholicism: The religion of Pinot Noir. Members of the congregation usually join the church after an epiphany with Pinot Noir, subsequently believing that Pinot Noir brings you as close to God as any wine can. Followers offer a significant percentage of their monthly income to the high priests such as Ted Lemon, Josh Jensen and Richard Sanford. Members congregate over multiple bottles of Pinot Noir to smell and taste and pray to the holy grape. The member's bible is North American Pinot Noir by John Haeger.
Pinotology: The science of Pinot Noir. It is often considered esoteric and beyond comprehension by Cabernet drinkers. Some dissenters feel there is no science at all involved in the making of great Pinot Noir, believing that luck and prayer are more important factors (see pinotholicism). The recommended scientific reference is The Heartbreak Grape by Marq De Villiers.
Pinotspeak: The language of Pinot Noir. These are the words used to describe the sensuality and personality of Pinot Noir. A large portion of the entire human repertoire of smell and taste descriptors has been invoked at one time or another to convey a taster's Pinot Noir drinking experience. Examples: silky, sexy, sinful, intoxicating, exotic, winegasm, ethereal, roseate, wild cherry sprinkled with herbs, Chinese five-spice, kid leather, sandalwood, forest floor, smoked bacon, and so on. Wine writers tend to have the greatest imagination and the largest pinotspeak vocabulary. The Pinotspeak dictionary is the novel Sideways by Rex Pickett that is filled with hyperbolic hosannas to Pinot Noir.
Pinotformation: The lineup of several empty bottles of Pinot Noir on a table after a night of revelry.
Pinoterroirist: A firm believer in the importance of terroir in creating distinctive and uniquely recognizable Pinot Noir. This term should not be confused with pinoterrorist, one that strikes suddenly at wineries and wine shops and scoops up all the desirable bottles of a small production Pinot Noir.
Pinot Geek:The outwardly normal people you picked on for being so knowledgeable about Pinot Noir, but you now buy the wines they make. Pick on a Pinot Geek and you will regret it the rest of your life. Pinot Geek is to be distinguished from Pinot Nerd in that the Geek has social skills and fits in well at Pinot Noir tastings.
Pinotphile: An ardent devotee of Pinot Noir who is similar to a Pinot Geek but less geeky. A lover of Pinot Noir in all its glorious forms, the pinotphile usually has an impressive cellar containing cases of ultra premium Pinot Noir, and loves to share the wines with others. The pinotphile usually knows the Fedex delivery person on a first name basis.
Pinot Queen: A female pinotphile. Known to often control Pinot Noir purchases in a family, she usually has an exquisite palate for Pinot Noir, and eagerly seeks out only the good stuff.
Pinotaficionado: Similar to a pinotphile, but used by those who prefer a more distinguished title and one that will not be confused with that other word - pedophile. Spelling can be tricky.
Pinoteers: Small groups of pinotphiles united for travel and drinking purposes. Think of the Three Muskateers armed with corkscrews.
Pinot Pimp: A wine writer who induces others to seek out recommended Pinot Noirs. I have been accused of this by pinotaficionados. One recently said, "Now I empty my bank account at wineries nobody has ever heard of, on wines nobody has ever drank except you. You have ruined me and I love it."
Pinot Sluts: Consumers who jump from one Pinot Noir brand to another searching for high scoring wines with no loyalty to any brand.
Vitamin P: Pinot Noir