PinotFile: 10.32 June 18, 2016
En Garde Winery: A Pinot Noir Gem in Sonoma Valley
Expensive & Allocated Crimson Liquid: Are Cult Pinot Noirs Worth It?
Sips of Recently Tasted California Pinot Noir
Tasting Along the Pinot Road
Sips of Recently Tasted California Chardonnay
Recommended Book: California Celebrity Vineyards
Recommended Book: The Winemaker
En Garde Winery: A Pinot Noir Gem in Sonoma Valley
En Garde Winery is not your typical California Pinot Noir producer. The proprietor and winemaker is Csaba Szakál, a former computer programmer and a fourth generation winemaker from Hungary, a country with a rich history of wine dating back to at least Roman times, but best known here in the states for Tokaji. Many of the En Garde Winery accolades in the wine press and wine competitions have come from the winery's Diamond Mountain Cabernet Sauvignon selections. The tasting room is located in Kenwood and the wines are crafted in Sonoma Valley, not a hotbed of Pinot Noir compared to other parts of Sonoma County. That said, the wines are crafted from superb vineyard sources in the Russian River Valley, and represent some of the best Pinot Noirs that Sonoma County has to offer. Although Csaba looks a bit menacing in the photo below, he is very charming and friendly.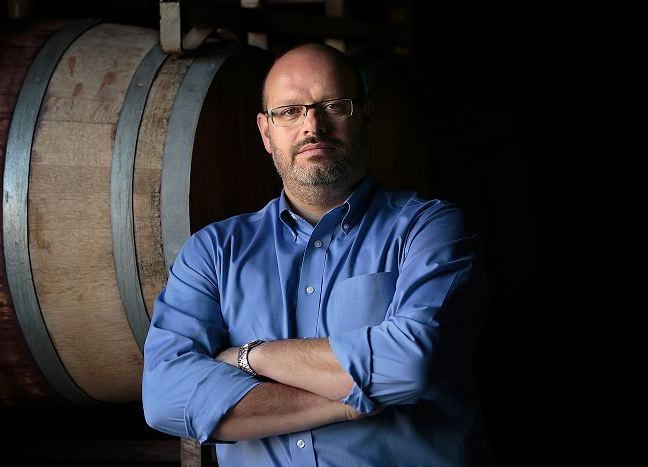 Csaba ferments in small bins, using gentle punch downs, and the flexibility to experiment with differing yeasts. After 17 months sur lees maturation, he and his spouse Sandy taste every barrel and choose the favorites for the reserve program and those wines that best represent the terroir for the single-vineyard bottlings. The final blends are thus created with both a male and female perspective.
Currently, four Russian River Valley Vineyards are incorporated in the Pinot Noir lineup. Olivet Court Vineyard is across the street from DeLoach in Santa Rosa and was planted in the early 1980s with two different Martini selections. Starkey Hill Vineyard and Pleasant Hill Vineyard are just outside the border of Green Valley in Sebastopol, facing each other on the opposite sides of a hilly area with dramatically different sun exposure. Starkey Hill is planted to 30+-year-old vines and Pleasant Hill to 25+-year-old vines. The newest vineyard addition is Gold Ridge Vineyard located on Gold Ridge Road in Sebastopol on the western border of Green Valley.
Early harvest in 2013 was mid to late September. RC212, RA17 and AMH proprietary yeast strains were used along with wild yeasts from the vineyards. The wines were aged in three-year Francois Frères oak barrels from Allier and Bertrange.
I have tasted and reviewed En Garde Pinot Noirs since the 2010 vintage, and each year the wines have shown an incremental increase in quality with the 2013 vintage wines the best to date. I preferred these wines over the boisterous 2012 vintage wines because of their approachability, vibrancy and balance.
The En Garde wines are available online at www.engardewinery.com. The Tasting Lounge at 9077 Sonoma Highway in Kenwood is open daily from 11:00 a.m. to 6:00 p.m.. Private tastings are availably by appointment.
---
Expensive & Allocated Crimson Liquid: Are Cult Pinot Noirs Worth It?
Produced in very small quantities, impossible to find unless you are on the mailing list, expensive, absurdly priced on the secondary market, and often sold on the secondary or auction market rather than consumed, there are certain domestic Pinot Noir collectibles that strive to set the standard against which other domestic Pinot Noirs are measured. These wines can also carry disparaging titles such as "monuments to elitism" and "toys for millionaires," but are more often affectionately referred to as "cult-classic collectable" wines. The mailing lists for these wines have frequently been filled for years, and often there is a waiting list to get on the mailing list. Williams Selyem was probably the first Pinot Noir producer to achieve cult stardom, a cult winery before cult was cool, and is credited with originating the mailing list.
I decided to taste a sampling of domestic Pinot Noirs that are very highly rated by the wine press, so much so that they are difficult to source and can quickly thin your wallet. Are they worth the exalted prices? I concluded that the wines were all exceptional examples of California Pinot Noir that are certainly worth it if you can afford it. Remember, there is no such thing as exceptional cheap Pinot Noir. PINO stands for "price is no object."
Of the myriad of Pinot Noir produced domestically, much of it is what I would call a beverage, while only a small percentage is "wine." The Pinot Noirs reviewed here are truly "wines," that represent a special commitment to quality and therefore understandably demand a high price.
A subject for another day is the escalation of wine premiumization, something the Wine Curmudgeon wrote about recently: "The wine premiumization stranglehold gets tighter," http://www.winecurmudgeon.com/winepremiumization- stranglehold-gets-tighter/.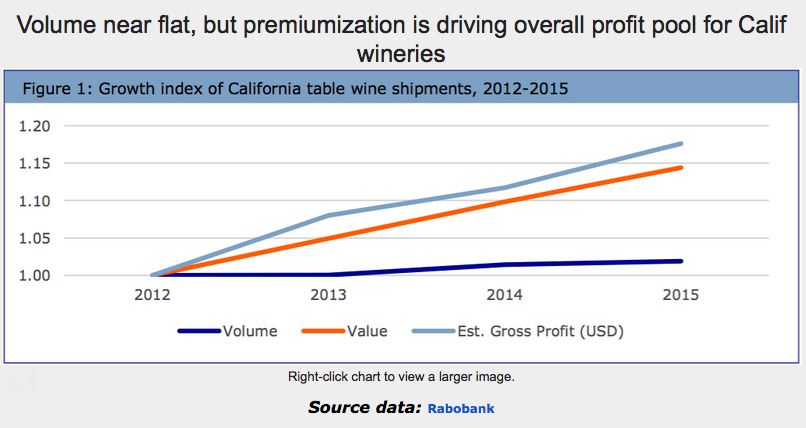 Except for the Soliste wines that were obtained directly from the winery through a mailing list, and the Sea Smoke and Patz & Hall Pinot Noirs that were sent to me for review, all wines were purchased from the retail marketplace and the prices reflect that sourcing.
---
Sips of Recently Tasted California Pinot Noir
Aether Wine Company, Orcutt
These wines are the inaugural releases from owner and winemaker Jeff Fink, formerly of Tantara Winery. The name Aether, means the fifth element. In early 2013, when Jeff began planning his first vintage, he identified a number of special vineyards that would allow him to produce high quality wines. Some of these vineyards were reliable old friends and others would be new. The resultant Aether wines come from vineyards that have "inspirational qualities" as Jeff puts it. In addition to the Pinot Noirs offered here, Jeff released a 2013 Wolff Vineyard Edna Valley Chardonnay. Before starting Aether Wine Company, Jeff launched the Pence Ranch Estate wine program with the 2009-2012 vintages. If you are familiar with Jeff's style of Pinot Noir at Tantara, you will find similarities in these wines. Visit www.aetherwines.com.
Asuncion Ridge Vineyards, Paso Robles
2013 Asuncion Ridge San Luis Obispo County Pinot Noir
14.2% alc., 215 cases, $42. Estate grown on a vineyard located high on a ridge of the Santa Lucia Mountains range overlooking the Pacific Ocean on the Central Coast. Clones are 115, 667, Pommard 4 and 5, and HRM (Hoffman Mountain Ranch). · Moderate reddish purple color in the glass. The nose offers both complexity and depth, with aromas of cherry, raspberry, dried herbs and sweet oak. Middleweight styled, with forward flavors of cherry and dark red berries. Nicely composed and pleasant with balanced tannins and deft oak integration. Score: 89
2013 Asuncion Ridge Vineyards Barrel Select
14.4% alc., 100 cases, $58. 50% free run juice from estate grown clones 777, 115 and Pommard 4 and 5. · Moderate reddish purple color in the glass. Sustaining aromas of cherry coulis and oak vanillin. More attack and concentration, with a dark fruit profile framed by filigree tannins. Still a bit reticent and primary, yet showing great potential, with some length on the sappy-fruited finish. Score: 91
Gros Ventre Cellars, Fairplay
la pitchoune winery, Santa Rosa
2013 la pitchoune Van Der Kamp Vineyard Sonoma Mountain Pinot Noir
14.2% alc., 100 cases, $58. · Moderately light reddish purple color in the glass. Muddled cherry and forest path aromas lead to a mid weighted forceful attack of pleasing black cherry and blackberry flavors that show length and persistence through the mid palate and grand finish. Very tasty, with impressive balance. Score: 92
2013 la pitchoune Sonoma Coast Pinot Noir
14.1% alc., 385 cases, $48. · Moderately light reddish purple color in the glass. Quite savory on the nose, with aromas of damp loam, earthy flora and herbal oak. More fruity on the palate with a ripe but not over ripe core of black cherry, dark strawberry and black raspberry flavors enhanced with notes of spice, herbs, black tea and dark chocolate. The overall sense is one of vibrancy and the modest finish pleases. An impressive appellation wine. Score: 90
Mercy Vineyards, Pebble Beach
Vintner Mike Kohne sent me the following wines for review. Mike partnered with vintner Mark Dirickson to produce wines from Monterey County's Arroyo Seco AVA (see map below), specifically from three contiguous vineyards located in a dried riverbed part of the AVA. Located along the banks of a now seasonal creek, this riverbed corridor has ideal maritime climate and rocky, granite cobblestone surface soil over hardpan. The meager soils, forceful winds and fog combine to limit yields. The wines are made by Mike who has been crafting wine since 2001. Tasting is available at the Mercy Tasting Room in Carmel Valley. Visit www.mercywines.com.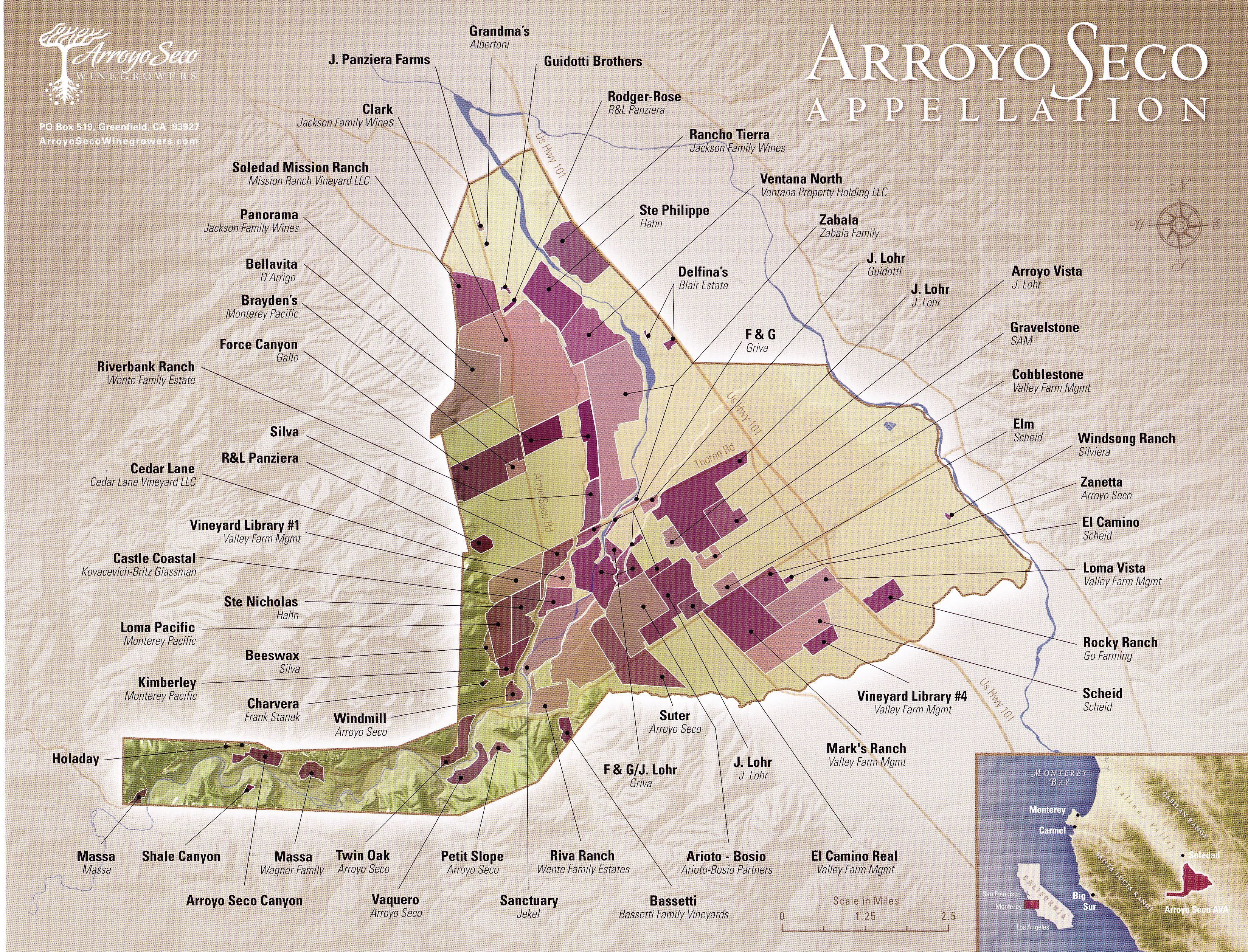 Morgan Winery, Salinas
Dan Morgan Lee and Donna Lee have offered artisan, vineyard-designated wines from the Santa Lucia Highlands and Monterey under the Morgan label for three decades.
The 2014 growing season saw a continuation of the drought in California. Lower than normal rainfall totals and a dry winter led to early bud break. The vineyards in the Santa Lucia Highlands were protected from a few heat events by the mitigating proximity to Monterey Bay. The ripening period was fairly normal and long. Fruit quality from the 2014 vintage was uniformly excellent.
Morgan Pinot Noir practices the following vinification scheme. The grapes are sorted both in the vineyard and at the winery followed by 100% de-stemming. Whole berry fermentation is started with native yeasts in small, open-top tanks. The caps are punched down three times a day by hand. Aging is carried out for about a year in French oak barrels, 35% to 60% new.
Visit www.morganwinery.com. A tasting room is open daily at 204 Crossroads Blvd., in Carmel.
Spell Winery, Santa Rosa
More Wines
---
Tasting Along the Pinot Road
In early May 2016 I visited and tasted at wineries in the Russian River Valley. Here are my impressions at Gary Farrell Vineyards & Winery and Hartford Family Winery.
I have long felt that a winery's wines can reflect the personality of the winemaker. In a newly published book that is reviewed in this issue, California Celebrity Vineyards written by Nick Wise and Linda Sunshine, the authors expressed my feelings as well. They noted, "During the course of our research, we made an unexpected and odd observation: wine frequently tastes like the winemaker in somewhat the same way that dogs tend to resemble their owners. Perhaps it is more accurate to say that wine seems to display characteristics similar to the person who made it."
The wines of winemaker Theresa Heredia of Gary Farrell Vineyards & Winery for example, are refined and elegant in style, maybe a bit feminine, yet her spirited and fiery side comes through in the edgy and avant garde demeanor of the wines that are far from dainty. The wines of Hartford Family Winery, crafted beautifully by winemaker Jeff Stewart, are another story. Jeff is a mountain of a man with a beard and hardy laugh, and his Pinot Noirs are more full-bodied, more extracted and masculine, yet they have a refinement and approach ability that reflects the friendly side of his personality.
Gary Farrell Vineyards & Winery, Healdsburg
Winemaker Gary Farrell was the original winemaker for Rochioli and Davis Bynum, and worked with iconic Russian River Valley vintners such as Joe Rochioli, Tom Dehlinger and Robert Stemmler. His winemaking career began in the mid 1970s and he made his first wine under the Gary Farrell label in 1982. Along with investor Bill Hambrecht, he built an architecturally stunning winery on Westside Road that was sold in 2004 to Allied Domecq and subsequently acquired by the current owners, The Vincraft Group. Farrell left his eponymous winery in 2006, started a new label, Alysian, and left the wine business after the 2012 vintage.
The stellar reputation of the wines has continued due to the talents of current winemaker Theresa Heredia. She has fostered Gary Farrell's legacy of vinifying small lots of varietally expressive and regionally distinctive Pinot Noirs and Chardonnays, primarily from highly regarded vineyard sources in the Russian River Valley that the winery has sourced for many years. Theresa has maintained the Farrell style that is quite singular among the wineries along Westside Road in that the grapes tend to be harvested earlier, the resulting alcohols are slightly lower and acidities notably higher, bringing a freshness and vibrancy to the wines. In addition, she has put her own subtle stamp on the wines and the results are spectacular. The 2014 vintage wines reviewed here represent her third harvest at Gary Farrell and are the ones she is most proud of to date. I will also be reviewing these wines in my usual fashion over the next several months as they are released and my reviews will appear in subsequent issues of the PinotFile.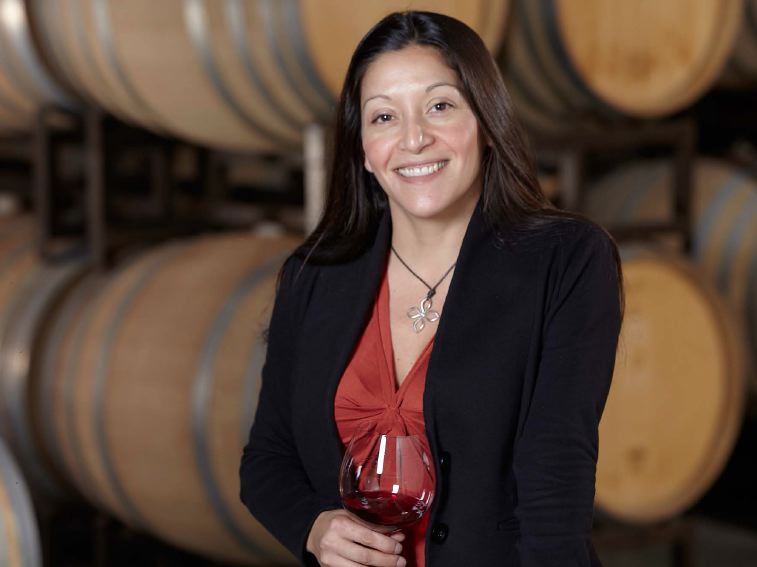 Chardonnay grapes are sourced from fifteen vineyards and Pinot Noir grapes from twenty-one vineyards. The Russian River Valley vineyards are pictured on the map below.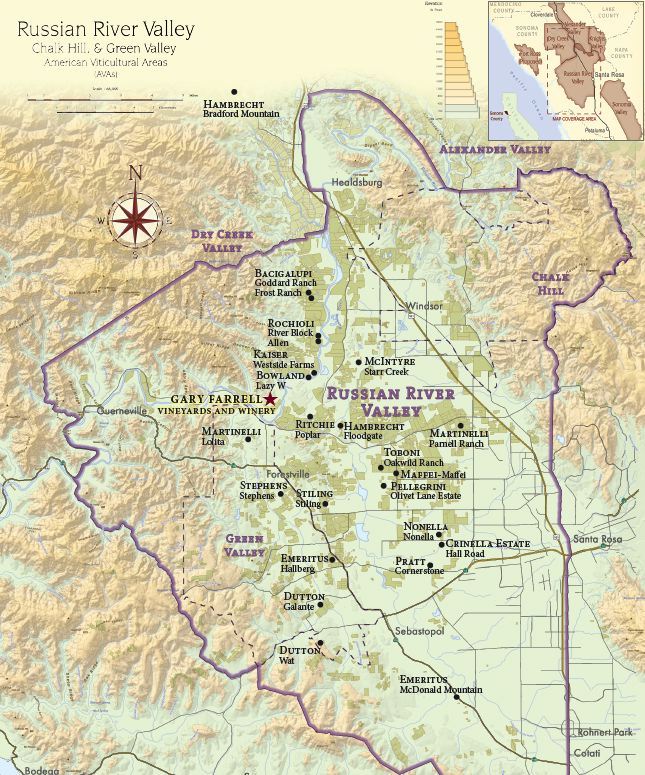 Tastings are available on the terrace overlooking the Russian River Valley by appointment only on weekends and highly recommended on weekdays to guarantee seating. Visit www.garyfarrellwinery.com.
Theresa is infatuated with the wines from the 2014 vintage. The growing season was moderate with no heat spikes and harvest was condensed beginning August 10 and finishing September 17. Although harvest started early, the grapes did not ripen prematurely and overall hang time was close to normal. The continuing drought led to smaller yields, smaller berries, and tremendous concentration of flavors. The grapes were picked early for freshness and energy and the resulting wines have inviting balance, structure, concentration, and most are well below 14.0% alcohol with alluring aromatics.
The Chardonnay grapes were picked at 21.5º-23.0º Brix and no acid additions were required. The grapes were whole cluster pressed using a gentle press program tailored specifically to each vineyard. The juice was chilled and settled before inoculating with Montrachet yeast. The wine was then transferred to French oak barrels (about 40% new) from several tonnelleries with some primary lees. The wines were aged for 8 months.
As for the Pinot Noirs, each wine was made slightly differently but most had a small portion of whole cluster inclusion. Theresa is an advocate of whole cluster additions, but in the Russian River Valley, the fruit generally ripens before the stems preventing the routine use of significant whole cluster inclusion. A 5 to 7-day cold soak and fermentation is carried out in small, open-top tanks, followed by post-fermentation extended maceration, and aging 8-16 months on the primary lees in about 40% new French oak barrels (light and medium toasted barrels from several French tonnelleries). The wines are racked once off the primary lees just before bottling.
Tech sheets were not available at the time of tasting for all wines and this is noted. Two released Chardonnays and three released Pinot Noirs were also later tasted at home in my usual fashion and are indicated by **.
Hartford Family Winery
Jeff Stewart, the winemaker at Hartford Family Winery, is a graduate of University of California at Davis with a degree in Fermentation Science. He has been crafting Pinot Noir, Chardonnay and Zinfandel in Sonoma County for over twenty-five years including winemaking positions at Laurier, De Loach, Mark West, Kunde, La Crema and Buena Vista Carneros. His earliest experience was as an assistant to Merry Edwards in 1989 when Hartford Family Winery in Forestville was known as Laurier Winery. His career has led him full circle, returning in 2011 to the winery that the Jackson Family bought out of bankruptcy in 1992. Don Hartford and spouse Jenny, Jess Jackson's daughter, are the owners of Hartford Family Winery and Jeff functions as both winemaker and general manager.
In the 2013 vintage, Jeff crafted a dozen Pinot Noirs sourced from both estate and grower vineyards in the North Coast as well as seven Chardonnays, all under the Hartford Court label. The majority of the wines are vineyard designates. A 2014 Pinot Noir from one of the Jackson Family's portfolio of vineyards, Zena's Crown in the Williamette Valley, will be added to the lineup and released in the fall 2016. This tasting was focused on Pinot Noir, but the Chardonnays are equally impressive.
Jeff described the 2013 vintage as warm, producing concentrated wines. The Pinot Noirs were vinified with native yeasts, aged in 30% to 42% new French oak barrels, and usually bottled unfined and unfiltered. Whole cluster is kept to a minimum as Jeff feels that whole cluster fermentation brings the wines together creating a commonality that can cause a sense of loss of place. Grapes were picked on the riper side, resulting in alcohols in the 14.2% to 15.2% range except for the Marin County bottling.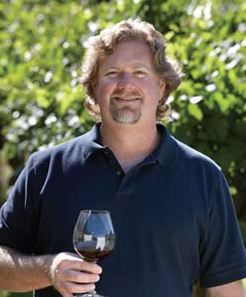 I found the 2013 Hartford Court Pinot Noirs to be full-bodied and structured yet balanced, generally dark fruited due to later harvests, with some modest oak presence. Overall, the wines were a bit tight and will benefit from decanting or another year or two in bottle.
Hartford Court Pinot Noir can be tasted at two venues: the original tasting room at the winery that is open daily in Forestville at 8075 Martinelli Road, and downtown Healdsburg also open daily at 331 Healdsburg Avenue. The wines are offered through a wine club and the website at www.hartfordwines.com.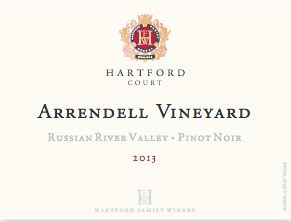 ---
Sips of Recently Tasted California Chardonnay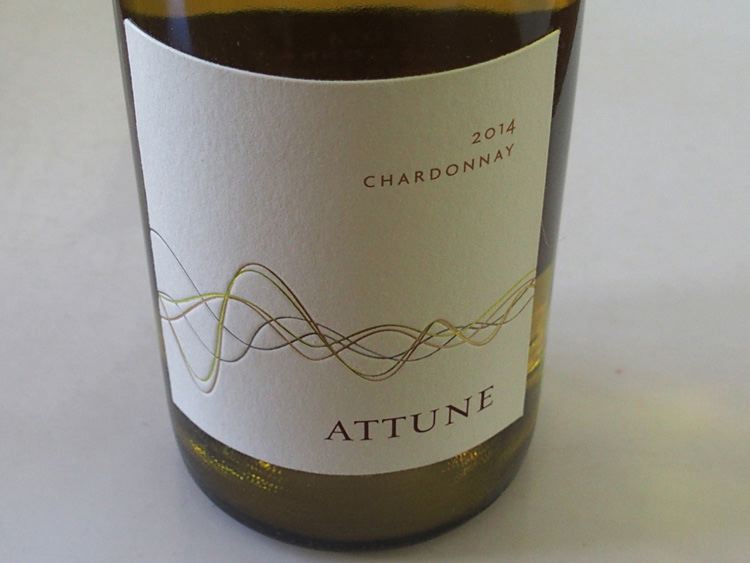 2014 Attune Sonoma County Chardonnay
14.1% alc., 240 cases, $36. Aged 15 months in French oak barrels, 30% new. · Moderate golden yellow color and clear in the glass. A comforting wine with aromas of yellow apple, honey, brown butter and brioche. Nicely appointed with flavors of lemon curd, white peach, graham and nutty oak, with a slightly creamy mouthfeel and a polished finish with some length. Score: 92
2013 Cazadero Bei Ranch Sonoma Coast Chardonnay
14.2% alc., 150 cases, $30. Winery founder Frank Egger and grower John Bei work with winemaker Pat Knittel. Sourced from a rocky soiled ridge top vineyard located at 1,600 feet half way between Cazadero and Russian Gulch. Native yeast fermentation, barrel fermented and aged 12 months in French oak barrels. · Moderately light golden yellow color. Slight reduction with a rubber note upon opening. Aromas of buttered corn and toast show up over time. Richly appointed flavors of lemon, baked apple, creme brulee, caramel and buttery toast follow. Oak plays too great a role for me to fully enjoy the wine. Score: 87

Chardenet is part of Jackson Family Wines' West Burgundy Wine Collective, a small portfolio of estate-based producers of Pinot Noir and Chardonnay from California and Oregon growing regions. Chardenet was the original spelling of Chardonnay in France dating back to its first use in 1849. The wines are crafted at Carneros Hills Winery by winemaker Eric Johannsen, and are available through the website, www.carneroshills.com, as well as wine shops and fine restaurants nationally.
---
Recommended Book: California Celebrity Vineyards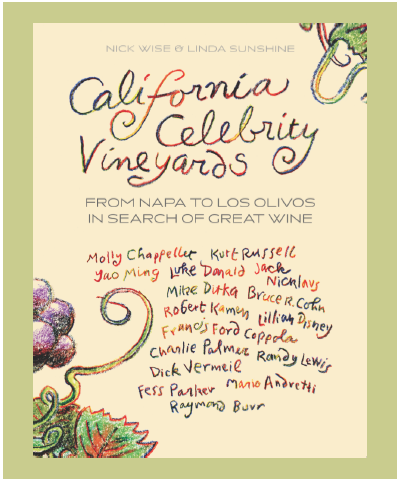 When I first received this book for review I looked at the cover and thought this was to be a superficial and fluffy look at celebrities and their fanciful wine projects. How wrong I was. Instead, this book offers a personal, insightful and detailed look inside the vineyards and wineries owned by celebrities, presented by author Nick Wise, someone who has written extensively about wine and has the expertise to illuminate our curiosity about celebrity involvement in wine, along with co-author Julie Sunshine, a master sommelier and author of more than fifty books. As the subtitle of the book suggests, they traveled together throughout California from Napa Valley in the North to Los Olivos in the South interviewing celebrities and investigating their wine projects.
Each chapter includes several pages devoted to the history of each celebrity's wines including the extent of their devotion and involvement, accompanied by more than 250 color photographs of the wineries and vineyards theat were visited. At the conclusion of each chapter are Nick Wise's tasting notes of representative wines offered by each celebrity. The information is presented in an informative matter on the scale that one might find in some of the more prestigious wine publications, but with an even more detailed message. The book could easily serve as a consumer reference source for all the included wineries.
Celebrities in the book have careers that include sports, directing, acting, race car driving, chef and rock band manager. Some, like Robert Kamen of Kamen Estate Wines in Sonoma and Kurt Russell of acting fame, are winemakers who delve seriously into the vinification of wine. Others play a more supervisory role, such as Molly Chappellet of Chappellet Vineyard in St. Helena and Fess Parker of Fess Parker Winery in Los Olivos.
As a Pinot Noir enthusiast, I found it interesting that except for Kurt Russell's GoGi label, none of the included celebrities had wineries purely devoted to Pinot Noir, rather most chose Cabernet Sauvignon or similar big red wines as the focal point of their winery.
California Celebrity Vineyards: From Napa to Los Olivos in Search of Great Wine, Nick Wise and Linda Sunshine, Overlook Omnibus, 2016, 304 pages, semi-hard cover, $35.
---
Recommended Book: The Winemaker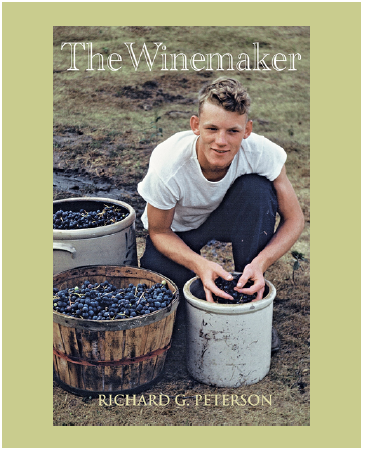 It is rare, if not unprecedented, to find a book written by an accomplished winemaker that exposes the inner and often secretive workings of well-known wineries through first hand experience. It is a challenge to find a winemaker like Peterson who talks honestly and frankly about his or her colleagues and can speak from a position of expertise about the reasons for their success or failure. What makes this book so captivating and insightful is that Peterson carefully documented his years in the wine business through compulsive detailed written documentation and audio tapes. As much a biography as an exposé, this story offers a personal divulgement that is extremely rare in today's wine business.
The author, Dr. Richard Peterson, has had a rich career in the California wine industry as a winemaker, educator, wine judge, viticulture and enology consultant and expert witness in legal cases. Born in the midst of the Depression in Iowa to a coal miner father and home-based mother, Peterson showed an early interest in science and gained an undergraduate education through an NROTC program, served in the marine corp, and gained an MS in Food Science and a PhD in Agricultural Chemistry from the University of California at Berkeley under the GI bill.
His career in the wine industry began in 1958 when he was hired at E. & J. Gallo. Years later, he went on to replace the legendary Andre Tchelistcheff as the winemaker at Beaulieu Vineyards, with Tchelistcheff becoming a long time mentor and friend. Peterson eventually became Winemaster and President of the ill-fated The Monterey Vineyard, and partnered in the Atlas Peak wine project as well. He was responsible for creating many new wines along the way at Gallo, as well as Seagram's first wine cooler, Lancers Vinho Branco in Portugal and all the original Taylor California Cellars wines. Among his innovations, he invented the Peterson steel barrel pallet used by most wineries in America today.
The book reveals startling revelations about the lack of equipment and sanitation at Beaulieu Vineyards, a winery owned by aristocrats who never stepped foot in the winery and eventually strangled the winery. The Monterey Vineyard was a magnificent opportunity yet corporate misdirection and infighting led to eventually bankruptcy. Peterson would note, "They began by fighting their competitors, then chasing them, until both contestants only copied and recopied each other; in the end, most never knew why they had failed." Peterson speaks candidly to the lack of basic competence among many winemakers, "Producing wines that are embarrassments to their peers." These are but snippets of this engaging tale that will captivate all wine lovers.
The Winemaker, Richard G. Peterson, Meadowlark Publishing, 2015, hard cover, 400 pages, $29.95.