2016 Anderson Valley Pinot Noir Technical Conference

I was honored to moderate and present at this year's 19th Annual Anderson Valley Pinot Noir Technical Conference, held Friday, May 20, in Boonville at the Mendocino County Fairgrounds and sponsored by the Anderson Valley Winegrowers Association.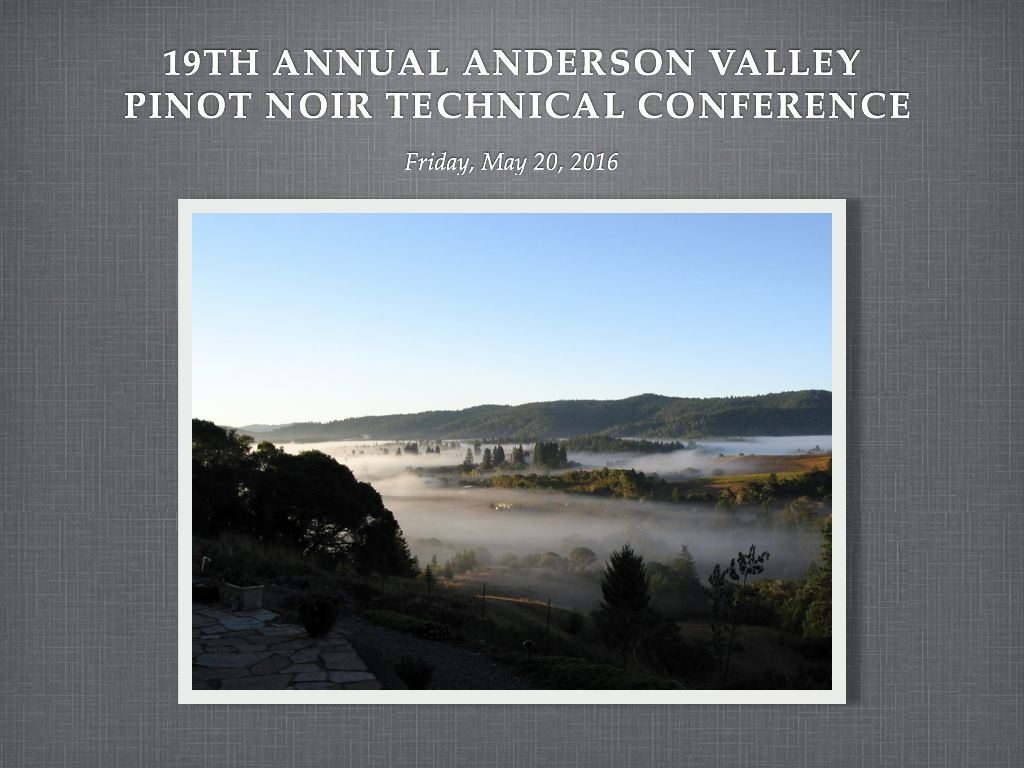 Tradition has it that the Technical Conference leads with a presentation titled "Annual State of Pinot Noir," by Glenn McCourty, Winegrowing and Plant Science Adviser for the University of California Cooperative Extension Mendocino and Lake Counties, but Glenn was recovering from surgery and could not attend. Instead, Devon Jones, Executive Director of the Mendocino County Farm Bureau, relayed his presentation through his slides, and copies are included here for reference.
I have also included my two presentations given at the Technical Conference, "Anderson Valley Enjoys Newfound Perception of Quality,' and "Back to the Future: A Look at 2015 Anderson Valley Pinot Noir Yet to be Released."
Annual State of Pinot Noir

Prepared by Glenn McGourty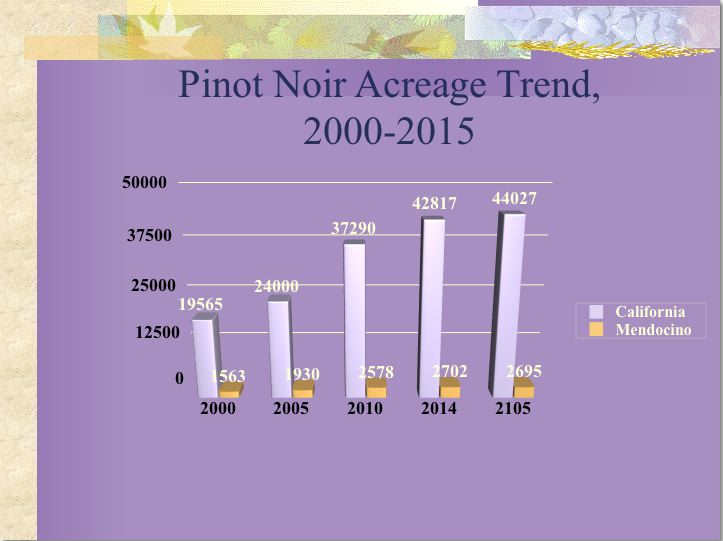 Pinot Noir acreage continues to increase statewide. Mendocino acreage remains pretty flat while large plantings have occurred in the Central Coast and Central Valley.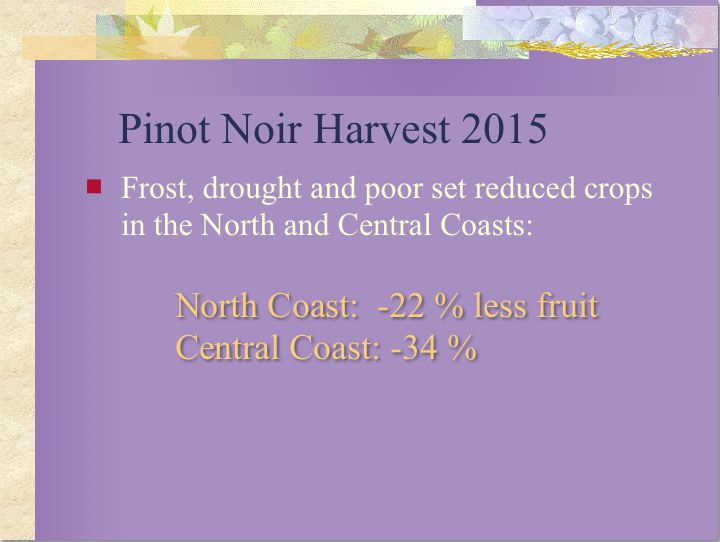 Vintage 2015 was not an easy year for many wine regions. The Central Coast suffered after four years of drought as well as very poor weather during a compressed bloom season. Many vineyards harvested one ton per acre or less of red varieties. In the North Coast, Anderson Valley suffered drought, freeze, dehydration and poor set. The Russian River Valley yields were reduced by more than 45% of the previous year's good yields.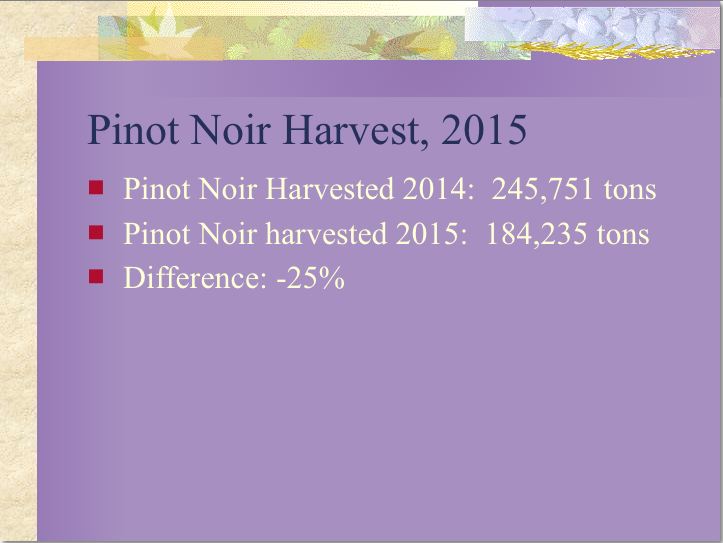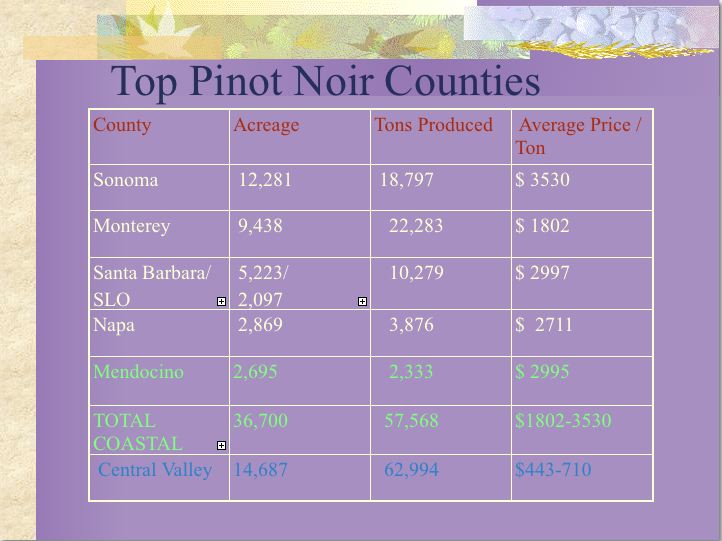 The Central Valley has less than half the Pinot Noir acreage of coastal counties, but puts out more fruit into the marketplace. Cheap too!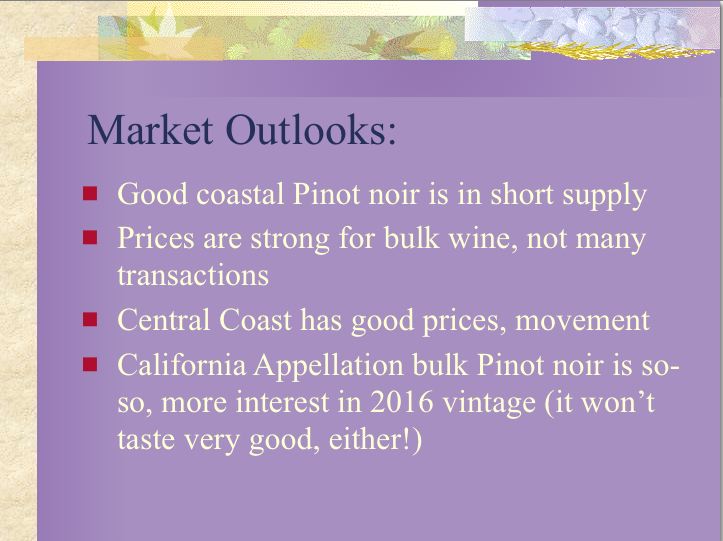 On an average per ton basis, Pinot Noir is the most valuable grape grown in California.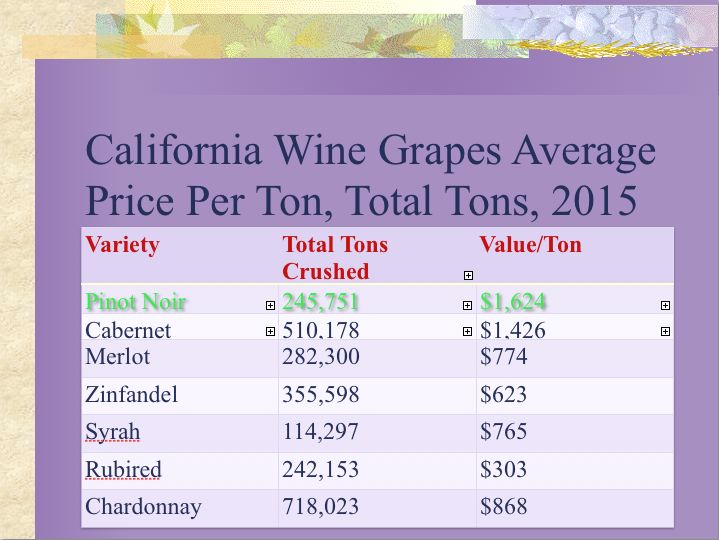 Central Valley Pinot Noir is of low quality and will eventually damage the image of California Pinot Noir as a fine wine. This has happened with Syrah, Sangiovese and most recently Zinfandel.
Anderson Valley Enjoys Newfound Perception of Quality

Rusty Gaffney, MD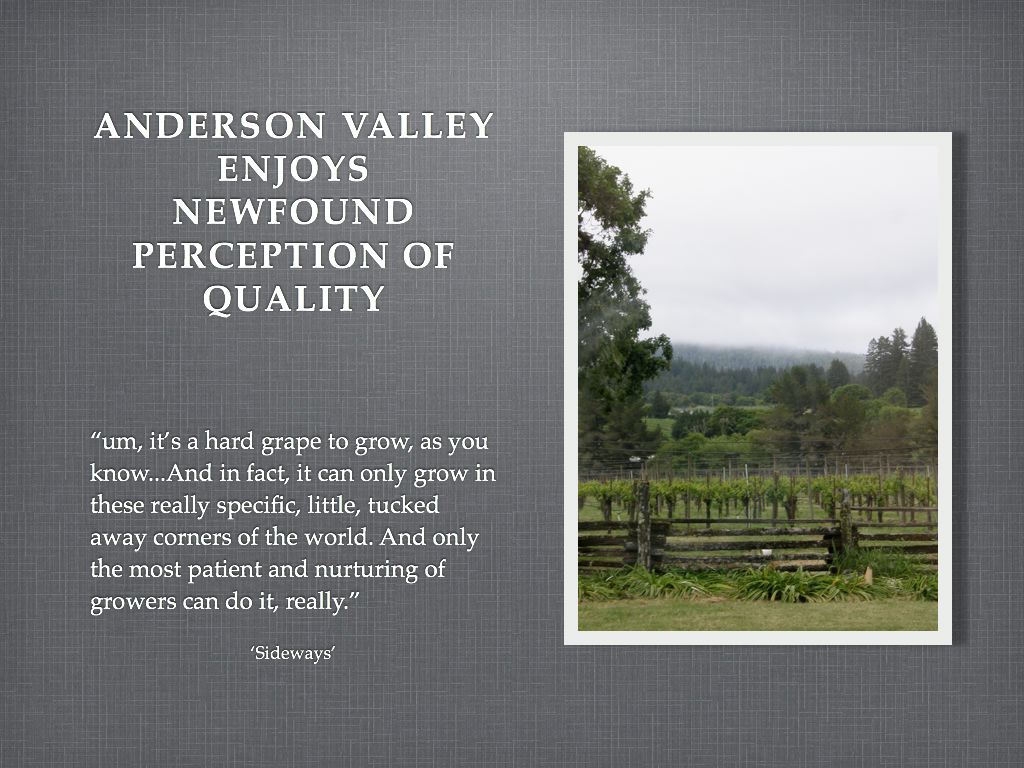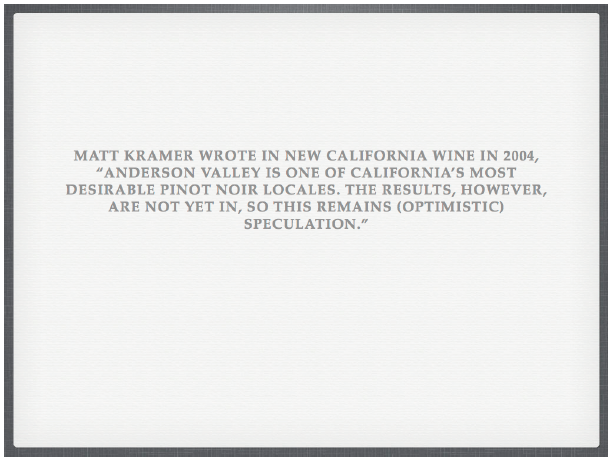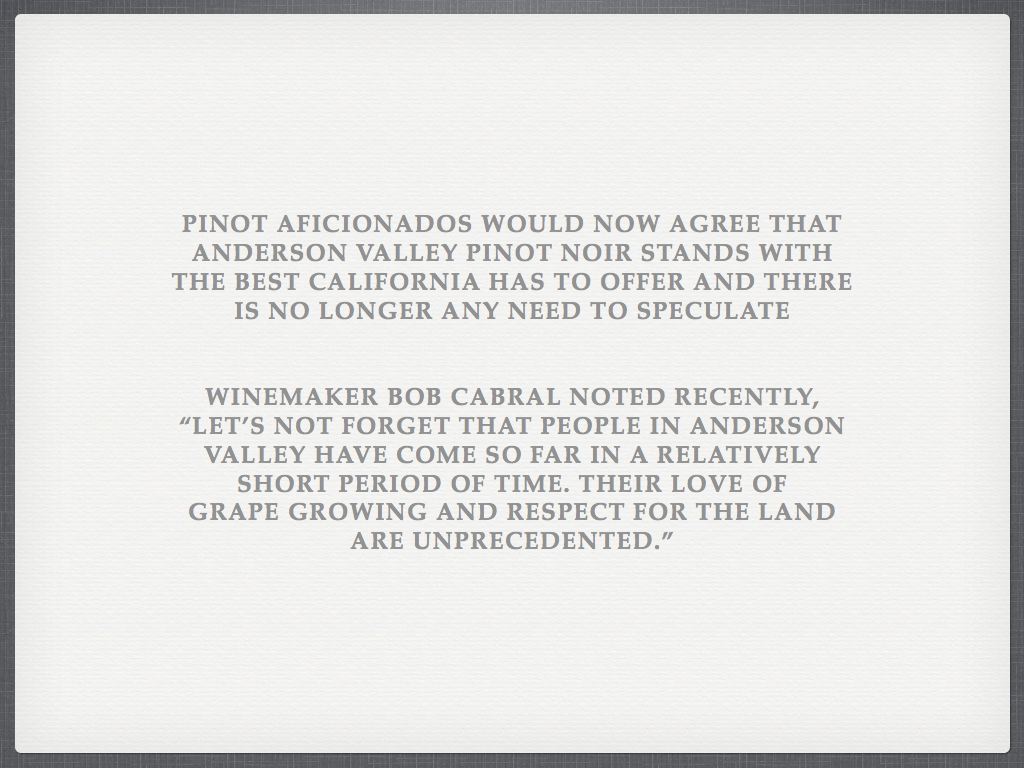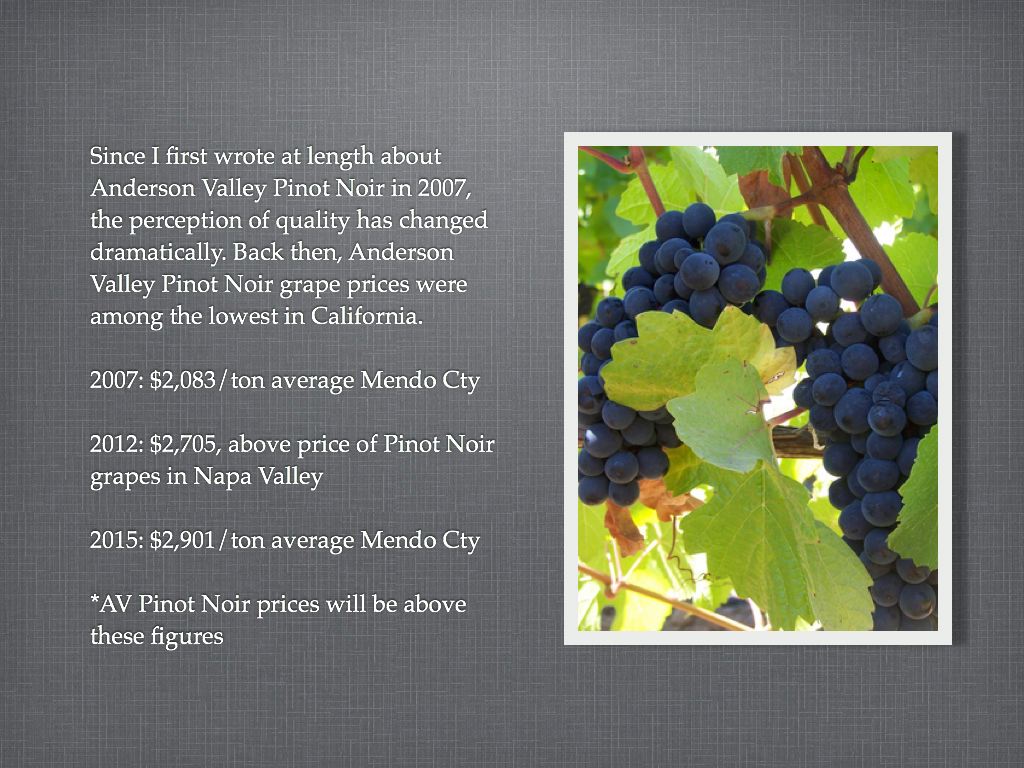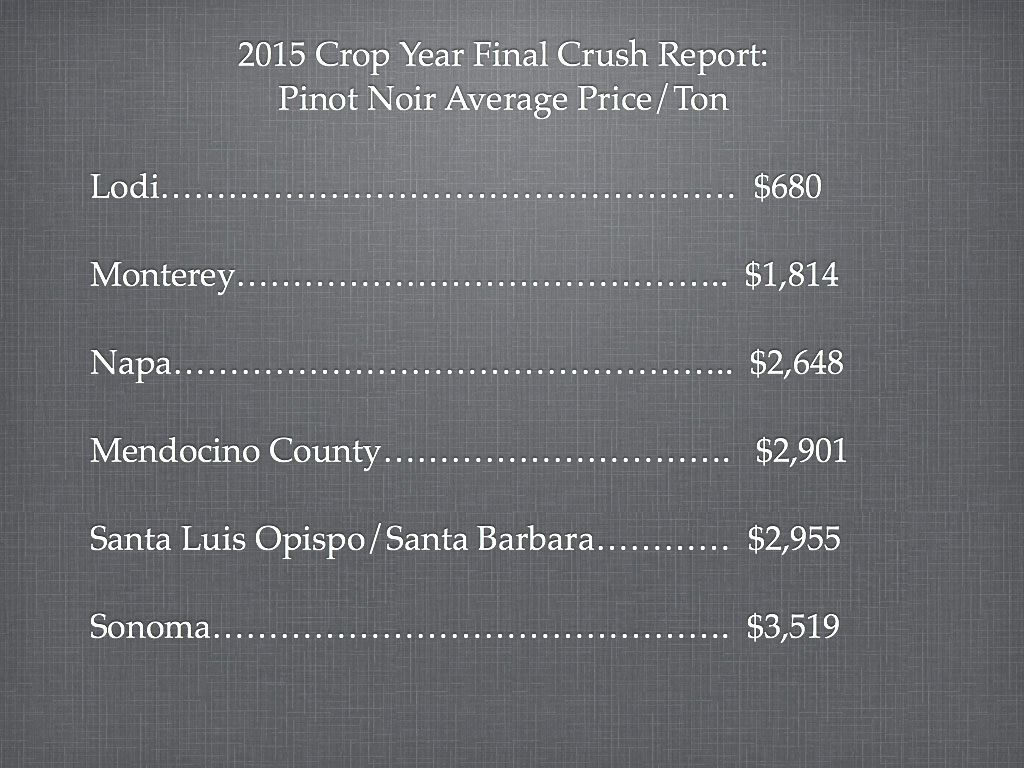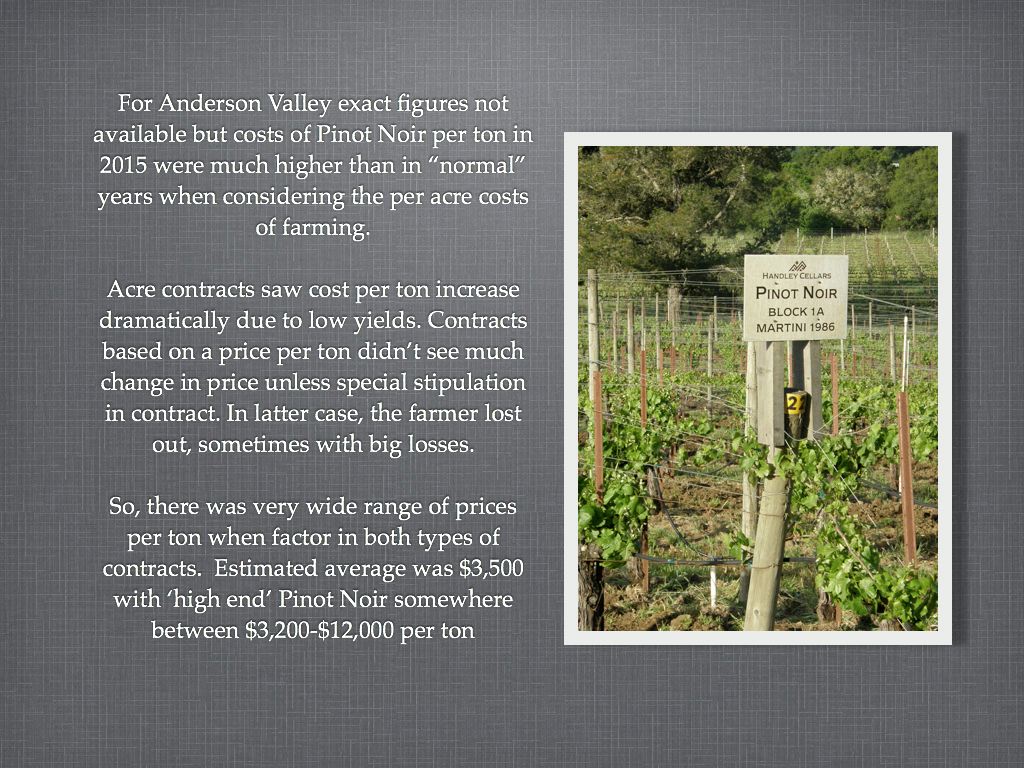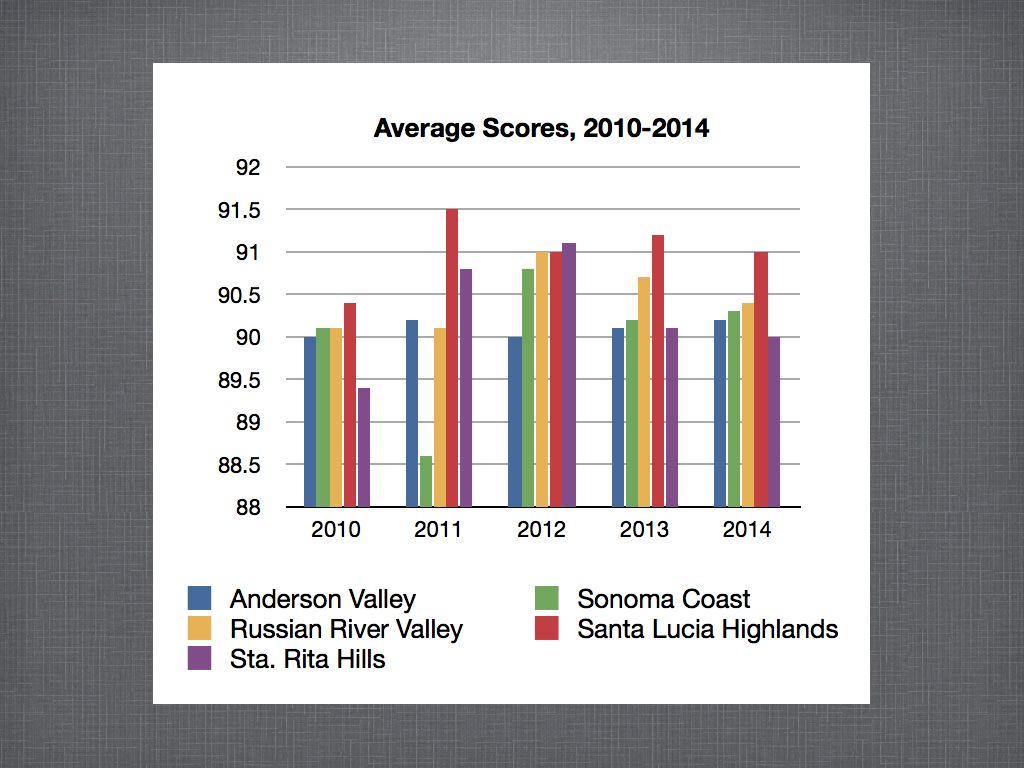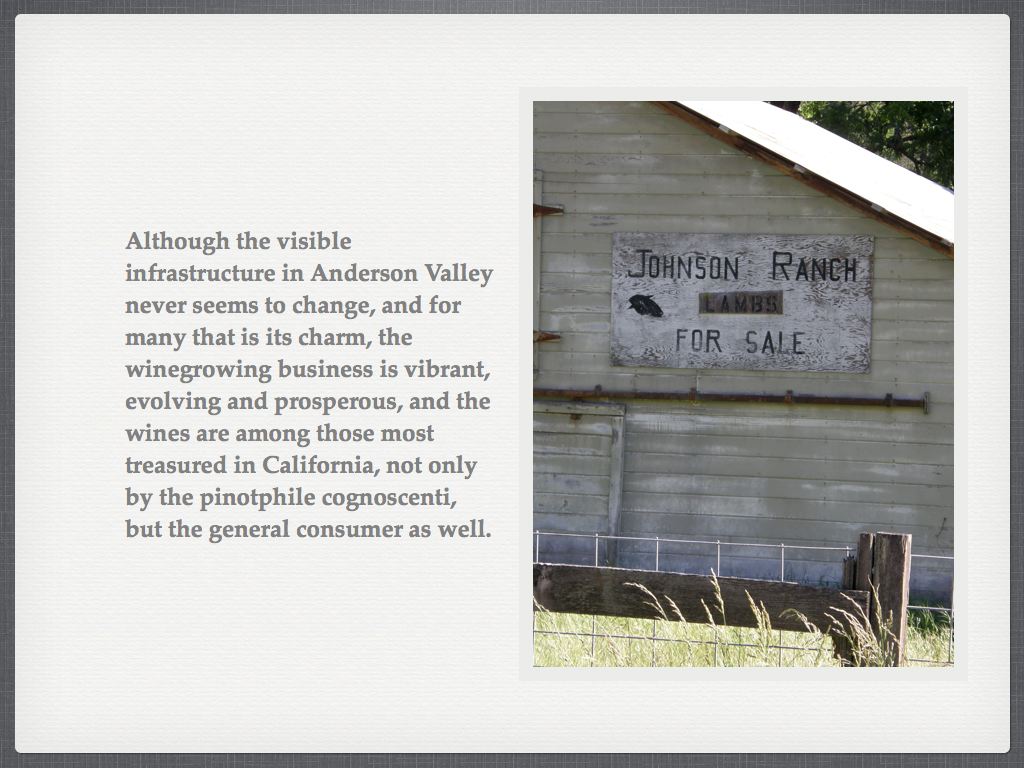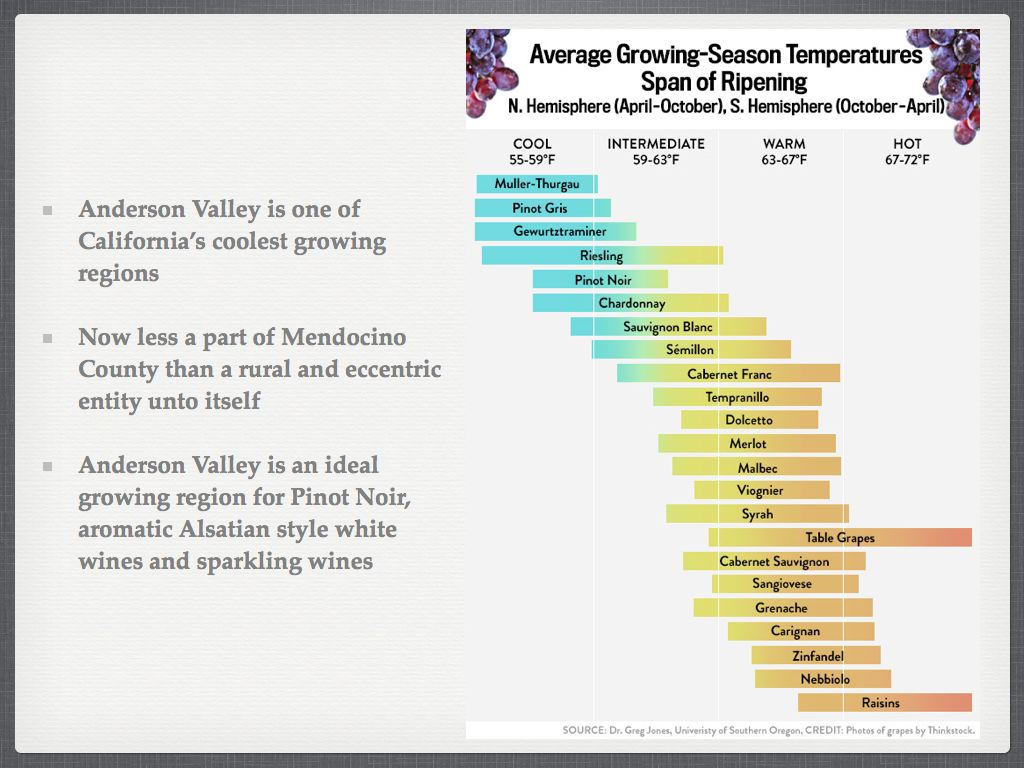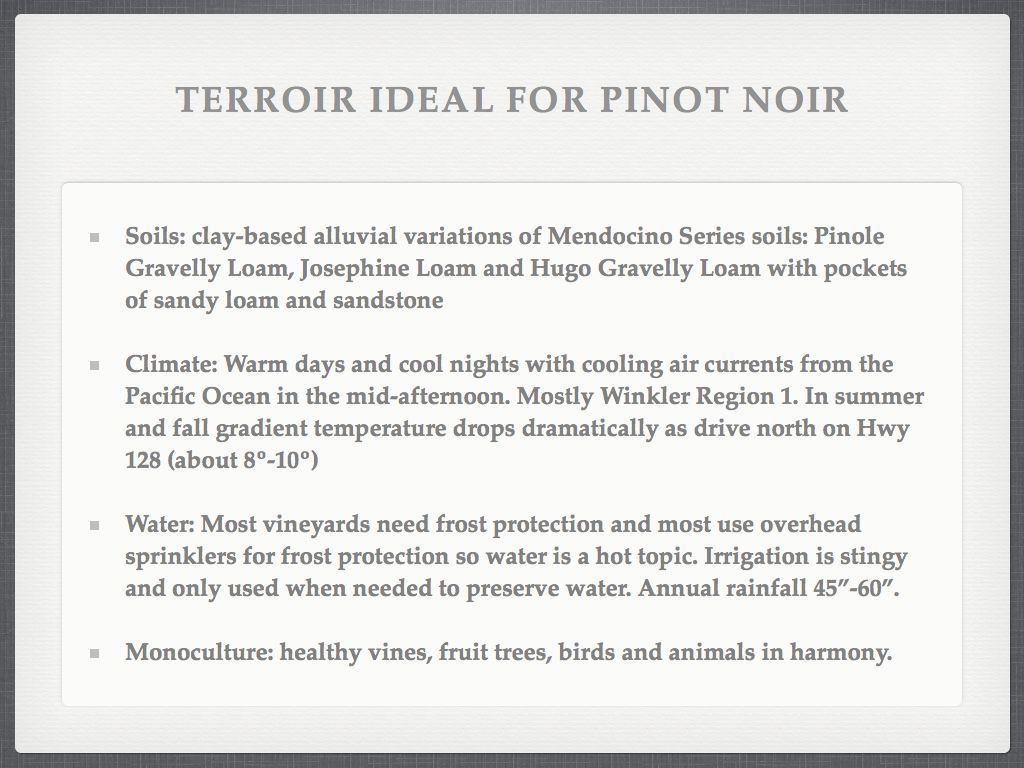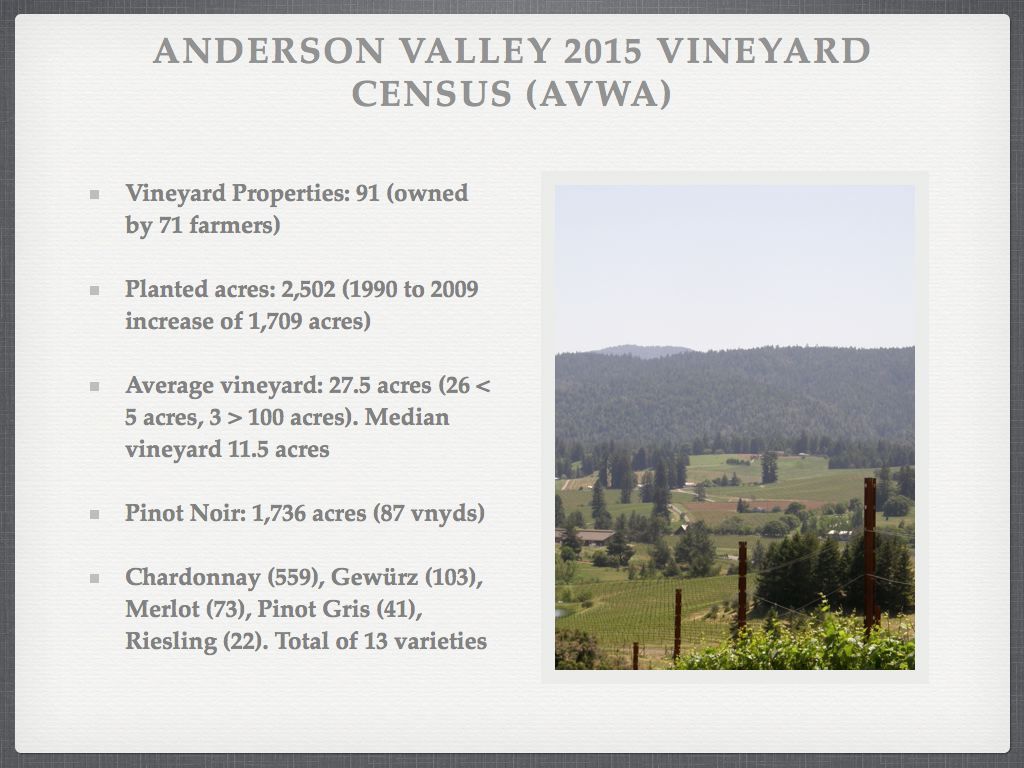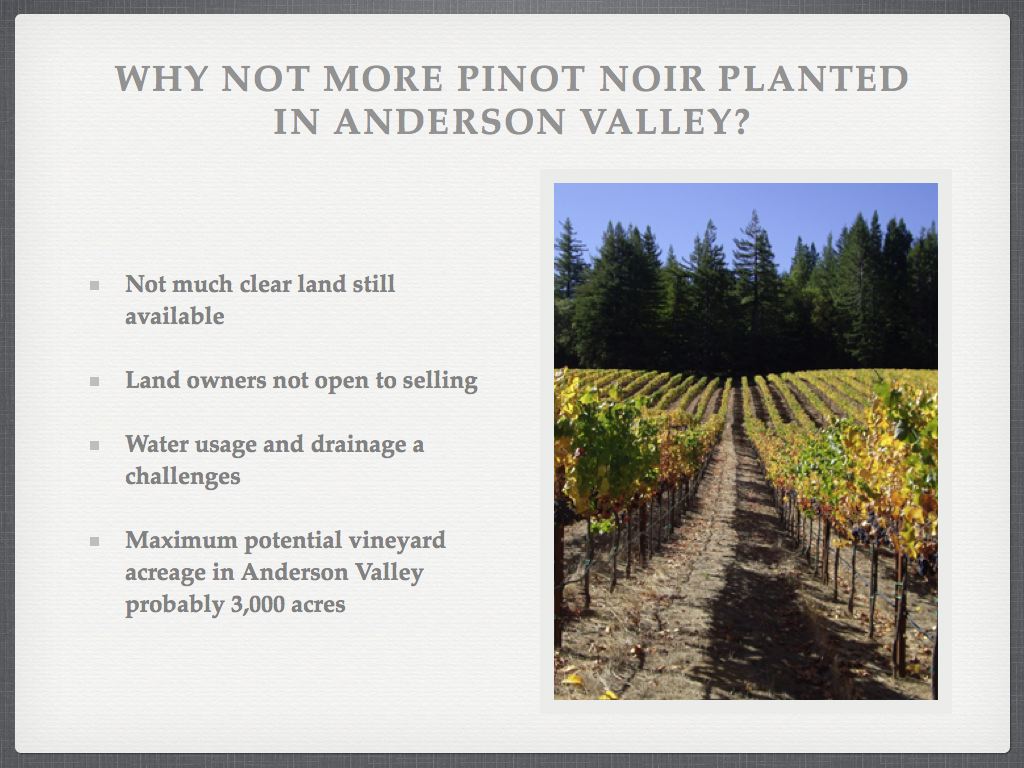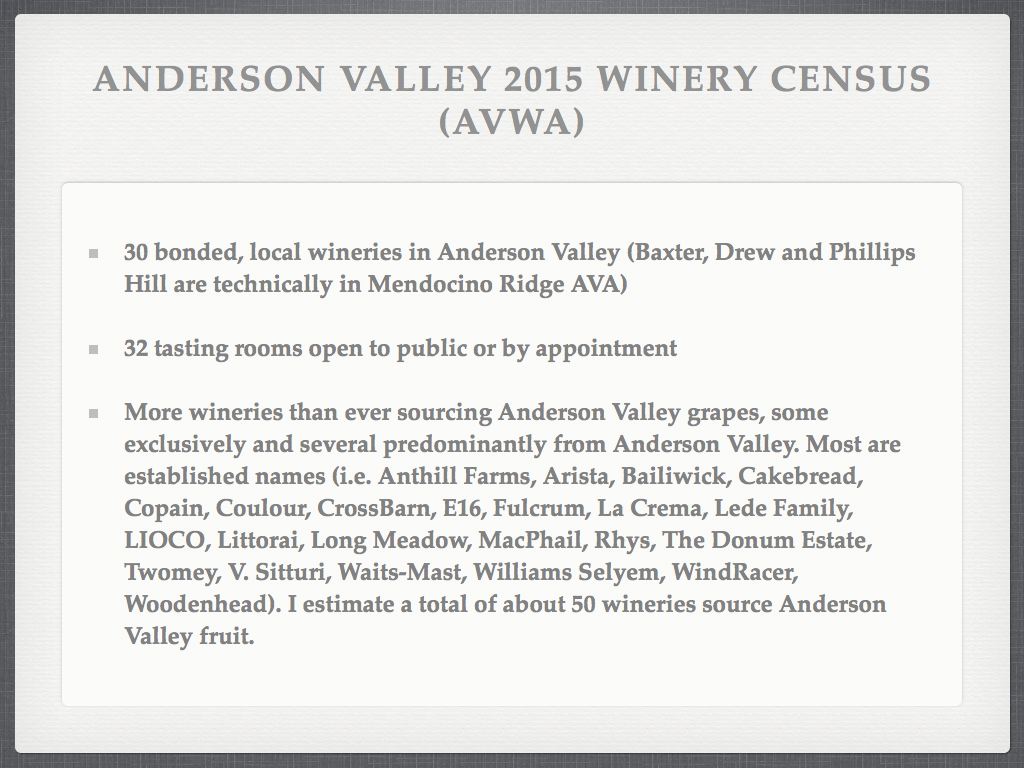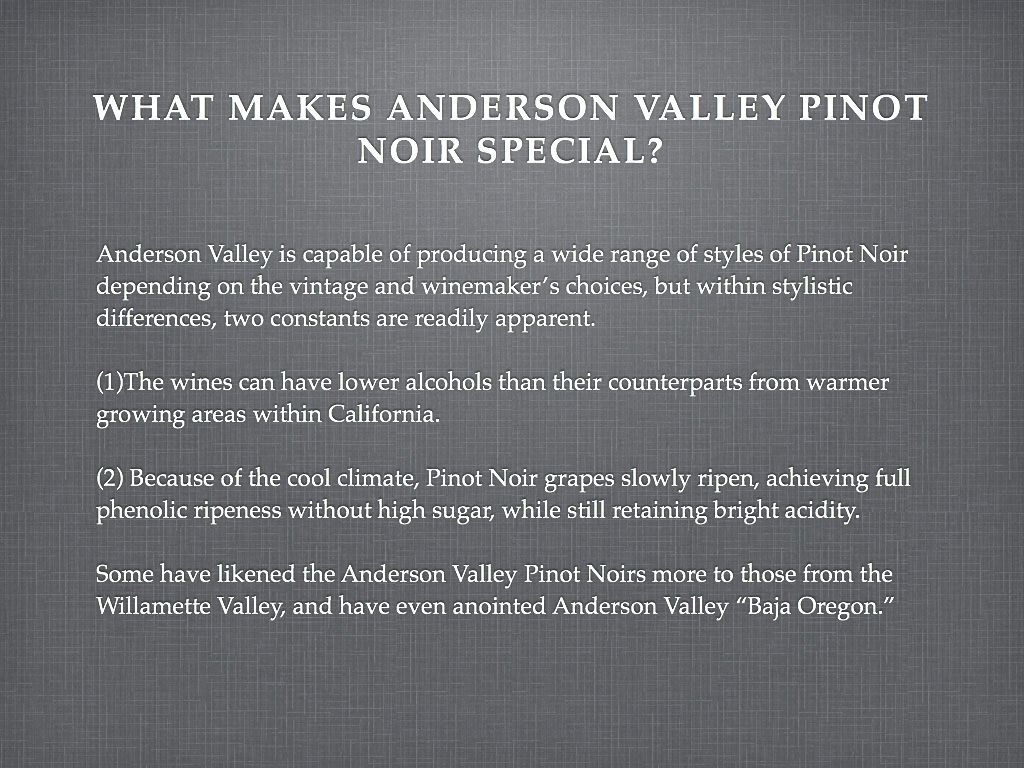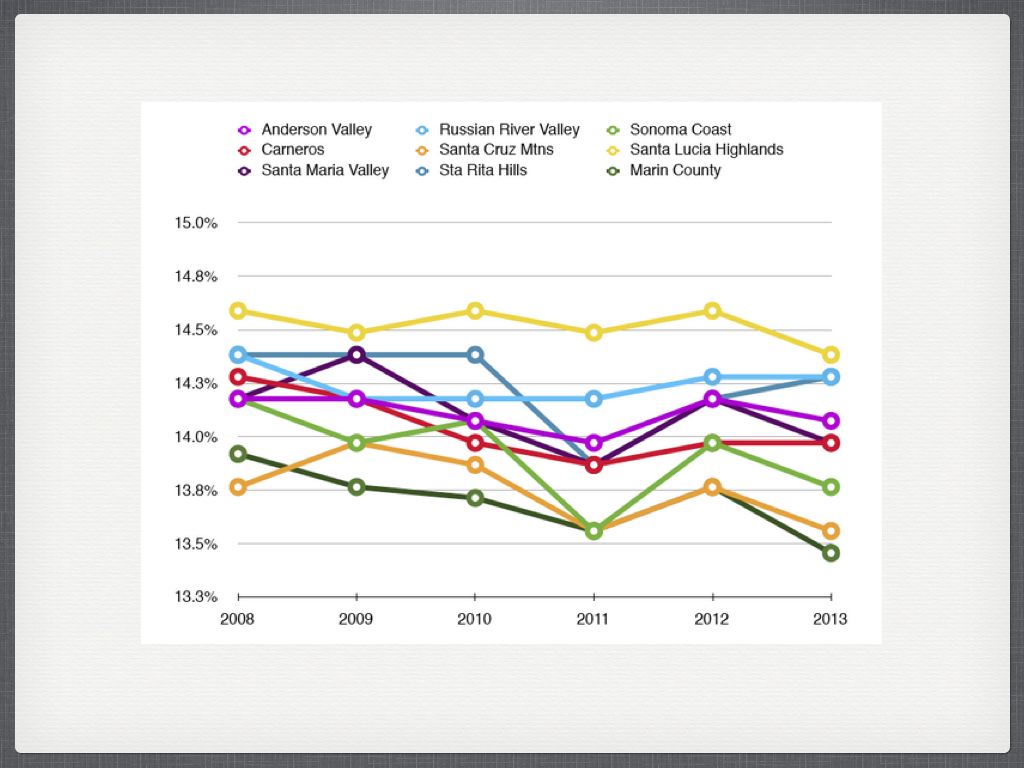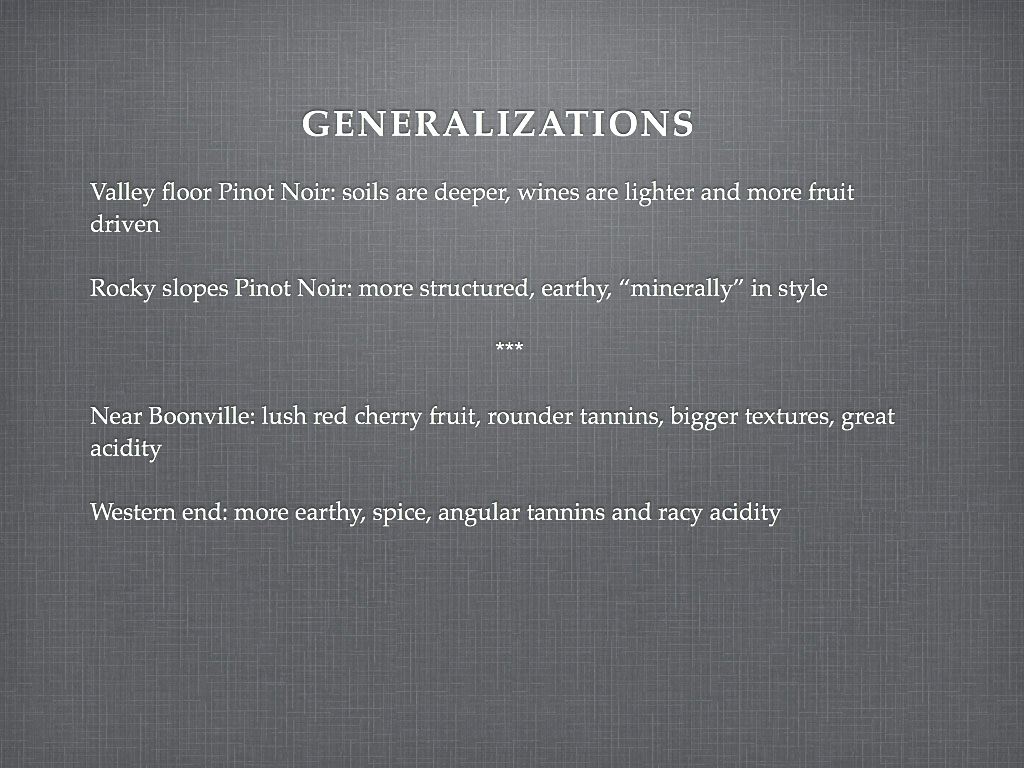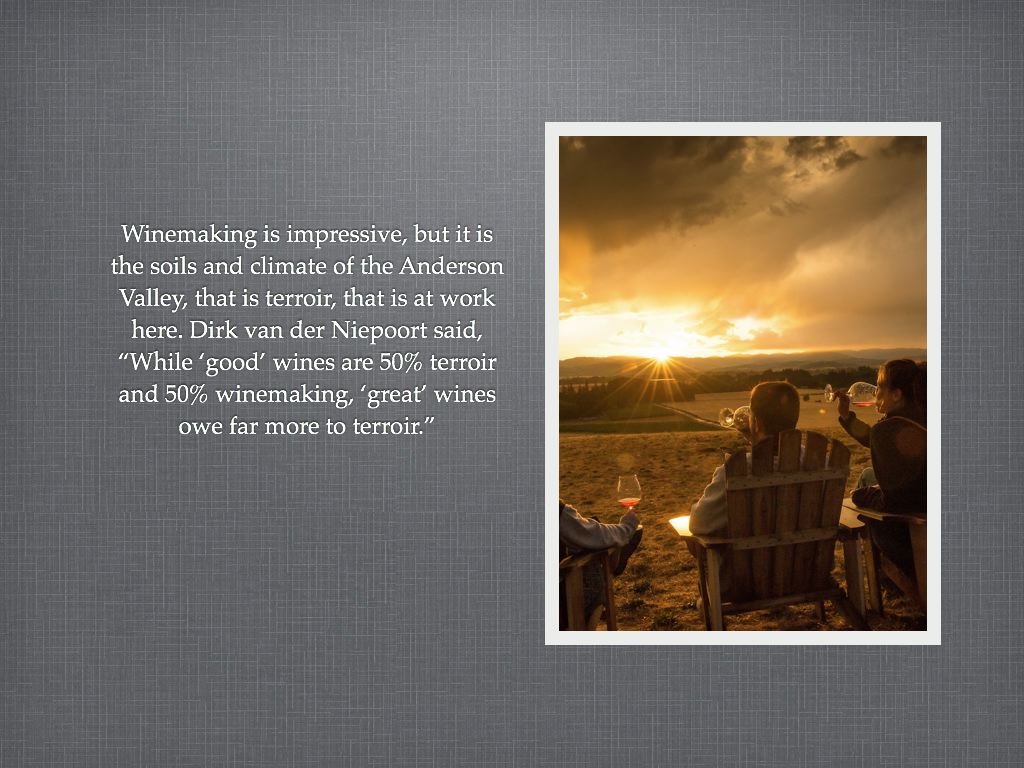 Back to the Future: A Look at 2015 Anderson Valley Pinot Noir Yet to be Released

Rusty Gaffney, MD
These slides represent a brief synopsis of the findings from the Winemakers' Technical Conference held on Thursday, May 19, featuring 2015 Anderson Valley Pinot Noir barrel samples.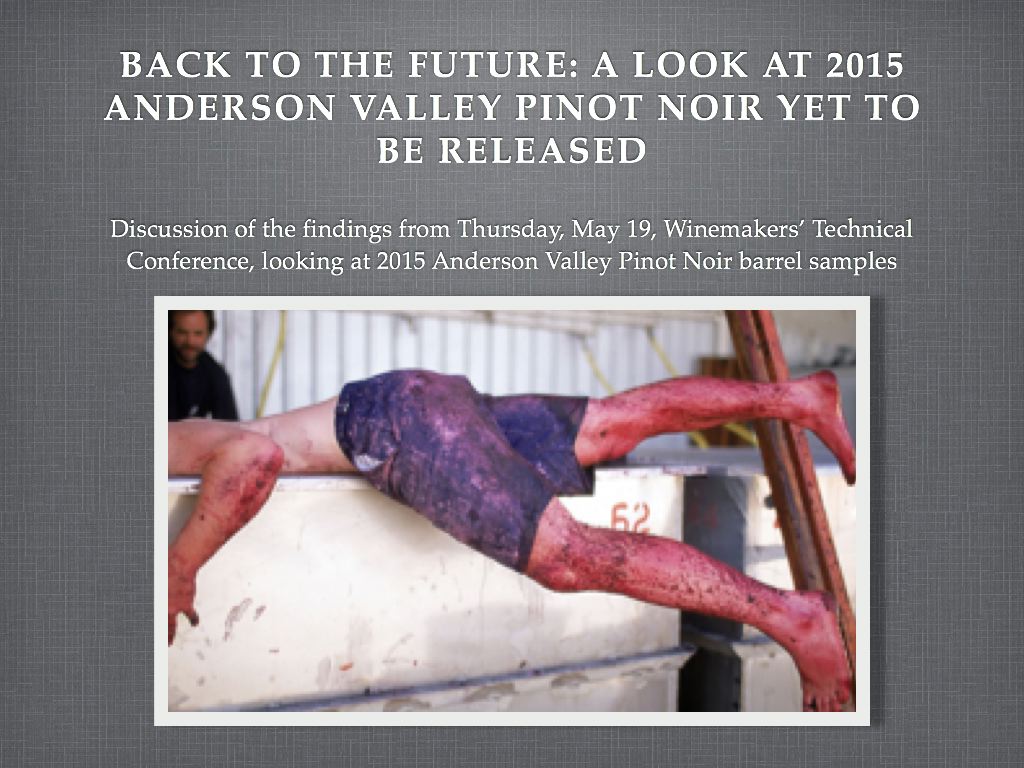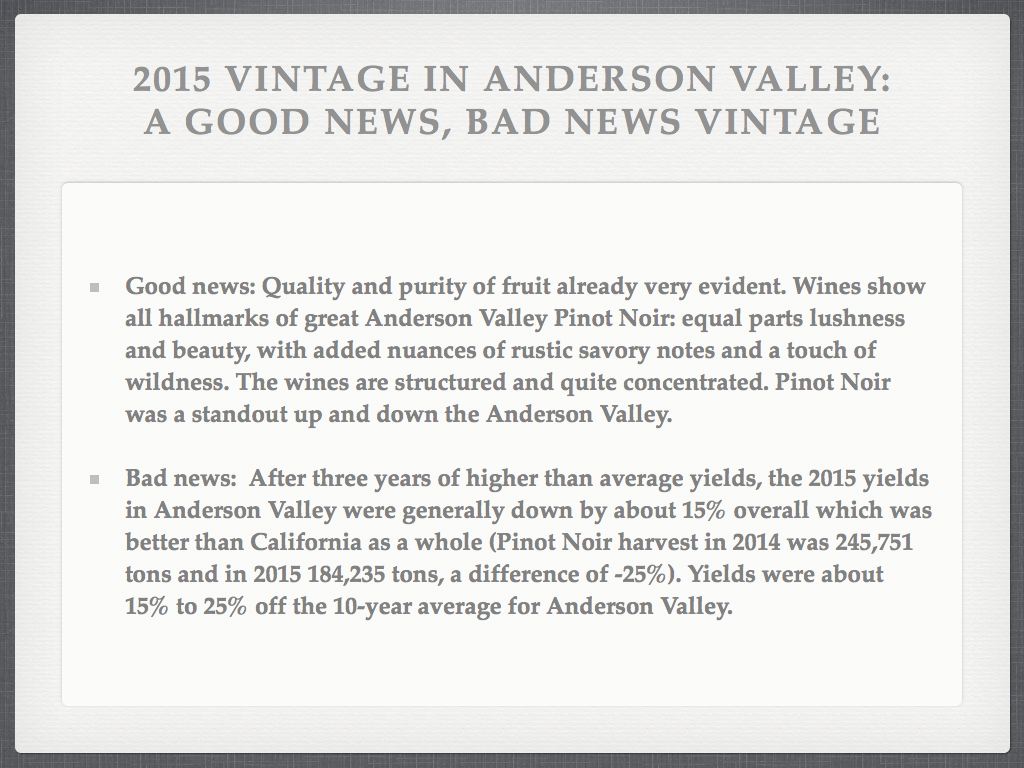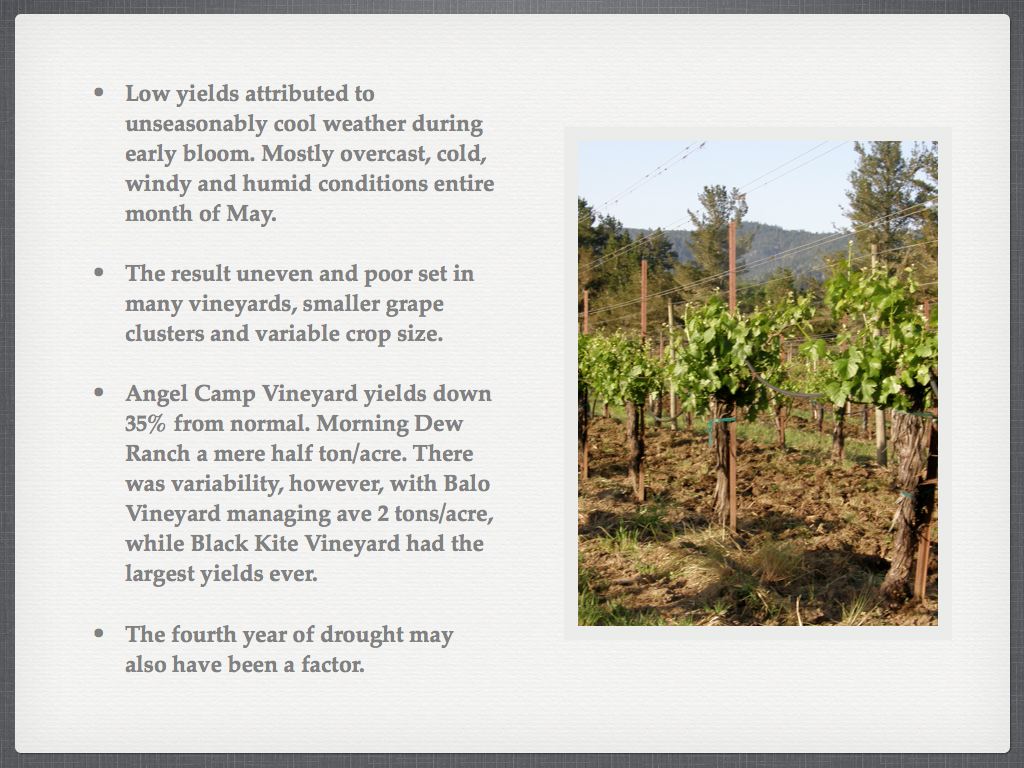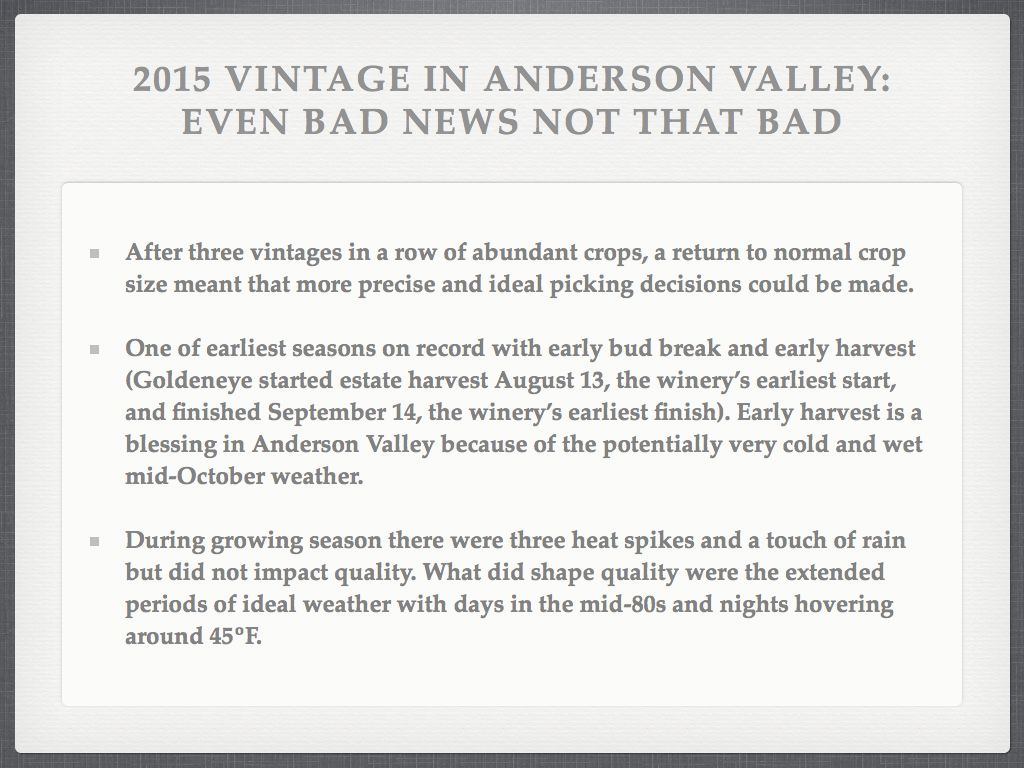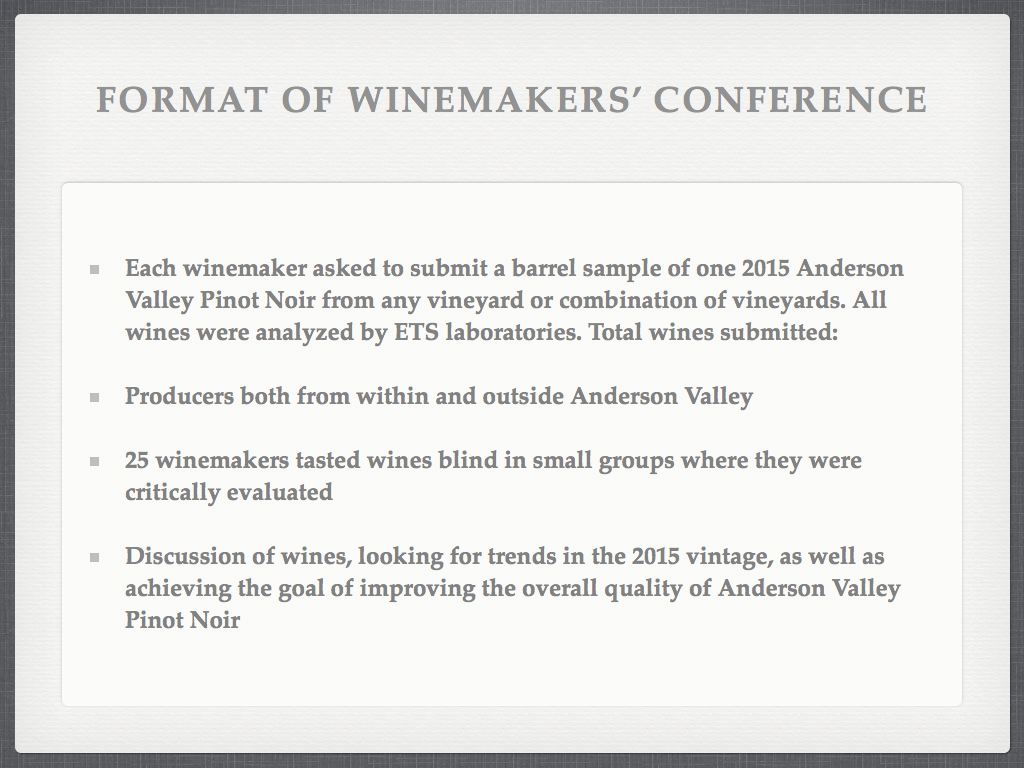 ---
Press Tasting of Current Anderson Valley Pinot Noir Releases
An exclusive Press Tasting of current Anderson Valley Pinot Noir releases was held concurrently with the Technical Conference at the Mendocino County Fairgrounds Dining Hall. Here are reviews of the wines offered as well as a few additions, totaling 41 Anderson Valley Pinot Noirs. The most striking feature of this tasting is that there were very few mediocre wines.
---
Up Close Look at Maggy Hawk

As regular readers know, I am a big fan of the Maggy Hawk Vineyard Anderson Valley Pinot Noirs crafted by Elizabeth Grant-Douglas. She found time to give me a tour of the picturesque vineyard on a rainy Saturday morning before the Anderson Valley Pinot Noir Festival held at Goldeneye Winery in Philo. Elizabeth calls this vineyard her "favorite place on earth" so I was eager to see it.
Elizabeth traversed the muddy, bumpy and slippery slopes in the vineyard with expertise as I gazed about in wondrous amazement at the peaceful beauty of the vineyard. I have seen thousands of vineyards in my wine writing career, but there are very few that illicit such a response from me. Elizabeth's single catchword for the vineyard, "Heavenly," is the most apropos description.
The photo below does not do it justice, as the rain made it challenging to photograph.
This 58.7-acre property is hidden away a short distance west of the Rock Shop on Highway 128 in the deepest end of the Anderson Valley, this consists of multiple vineyards with varying aspects and slopes surrounded by densely wooded coastal redwoods. Fog-cloaked and wind-swept, the vines struggle throughout the growing season, ripening very slowly with yields typical less than two tons per acre.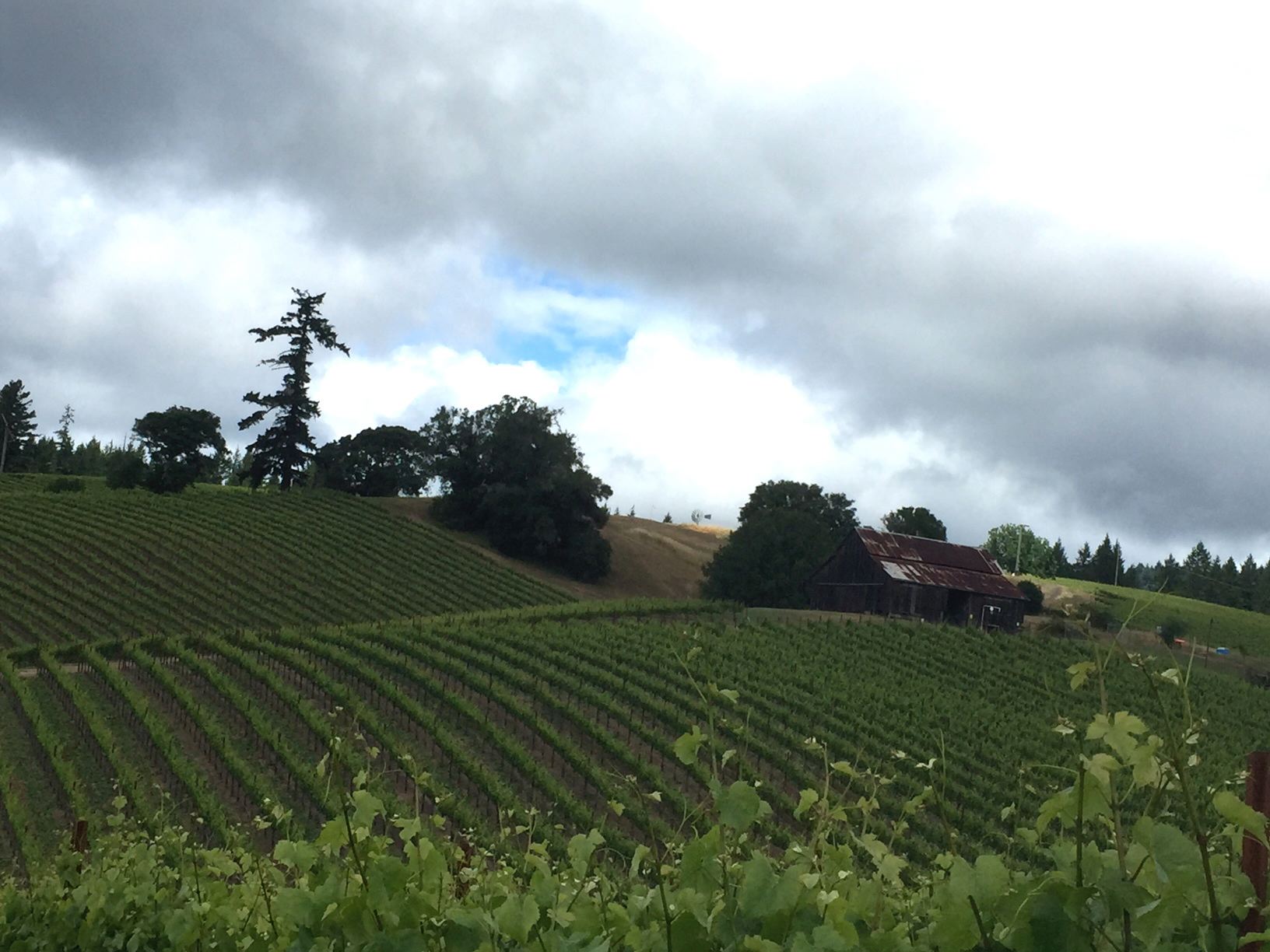 The Maggy Hawk Vineyard, named after owner Barbara Banke's favorite thoroughbred horse, was planted in 2000 to 23.55 acres of varying distinct blocks and a variety of clones including Pommard 5, Wädenswil 2A, and Dijon 115, 667 and 777. The wines under the Maggy Hawk label first appeared in 2007 (before that, the grapes were a component of the La Crema Anderson Valley bottling beginning in 2003).
After tasting the first vintage I said, "The Maggy Hawk Pinot Noirs are vinous treasures of uncommon pedigree much like their namesakes. They are truly special connoisseurs' wines that possess a somewhereness that sets them apart." My opinion has not changed, having sampled wines from all seven vintages released to date.
Of the 27 Maggy Hawk Anderson Valley Pinot Noirs reviewed to date, nine have been given the Pinot Geek designation with scores of 94 or above. Every wine has received at least a score of 90. Now that I have visited the vineyard, the wines will become even more vivid in my mind.
The Maggy Hawk wines are made from single clones from a specific block within the vineyard and each bottling is named after a horse born to the mare Maggy Hawk: Jolie, Afleet, Stormin', Unforegttable and Hawkster.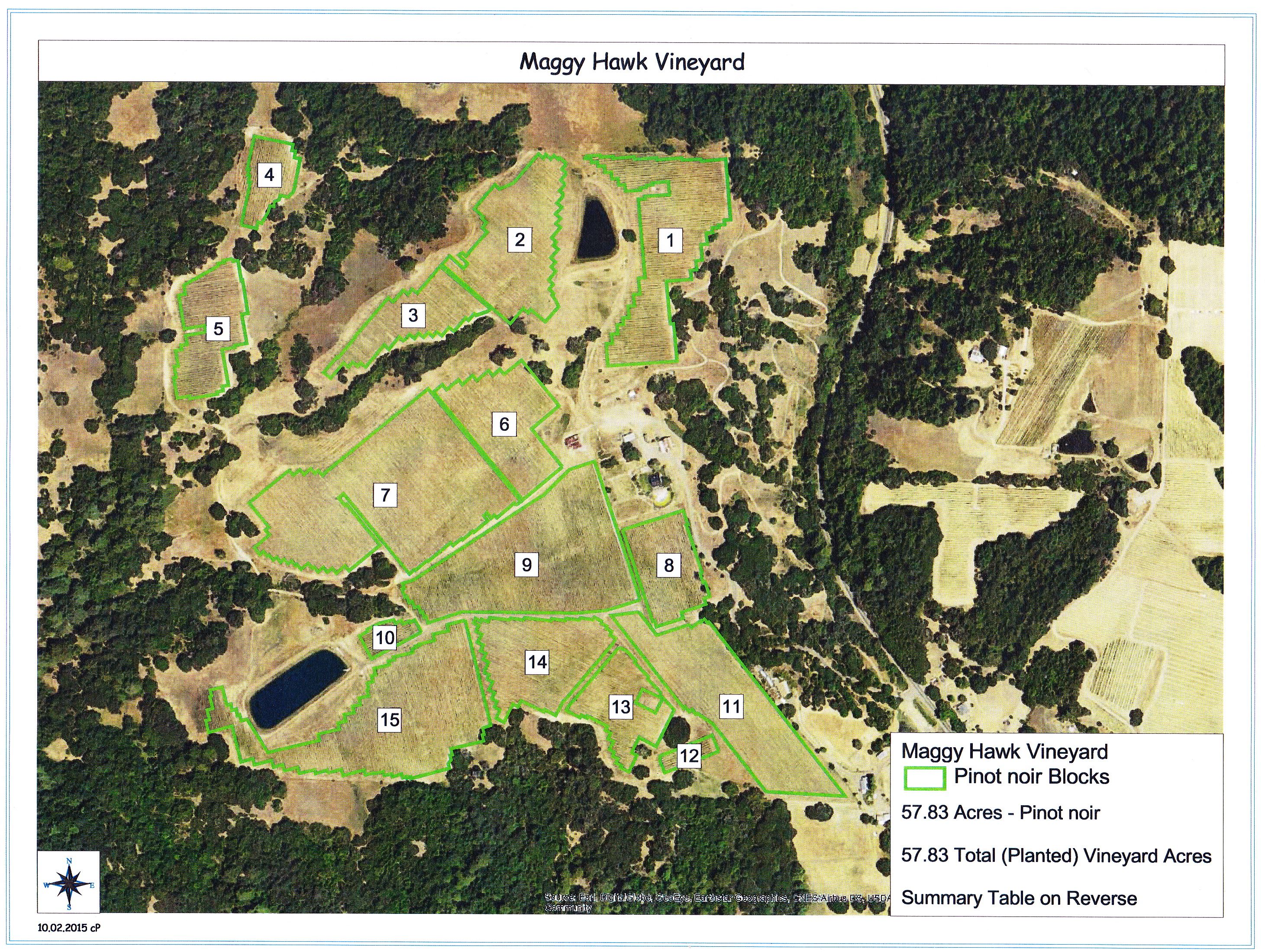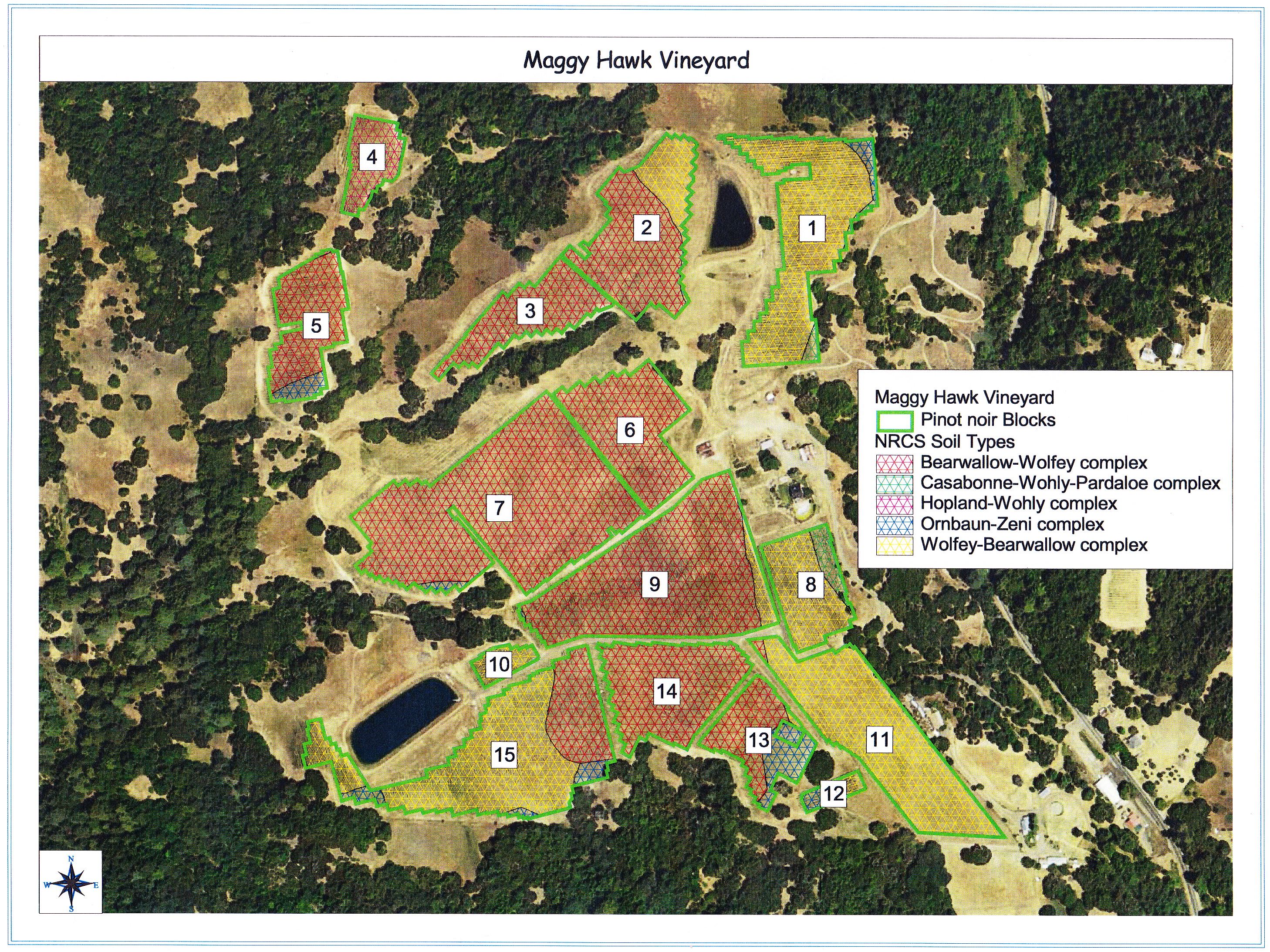 Last night (July 5, 2016) I popped the cork on the 2012 Maggy Hawk Hawkster which is made from a single 6.18-acre Wädenswil 2A planting (Block 13). The wine was aged 16 months in 100% French oak barrels, 63% new. I first reviewed the wine when it was young (score 93), then again in November 2015 wine I remarked, "A wine that brings emotion," score 97. The wine is exquisite now with glorious dark fruit, refined tannins and a finish that is both explosive and persistent. It is drinking now at or close to its apogee, score 97. Hawkster is only produced in the best vintages and is considered the crown jewel of the Maggy Hawk collection.
Maggy Hawk wines are sold through a mailing list at www.maggyhawk.com. I can highly recommend you saddle up.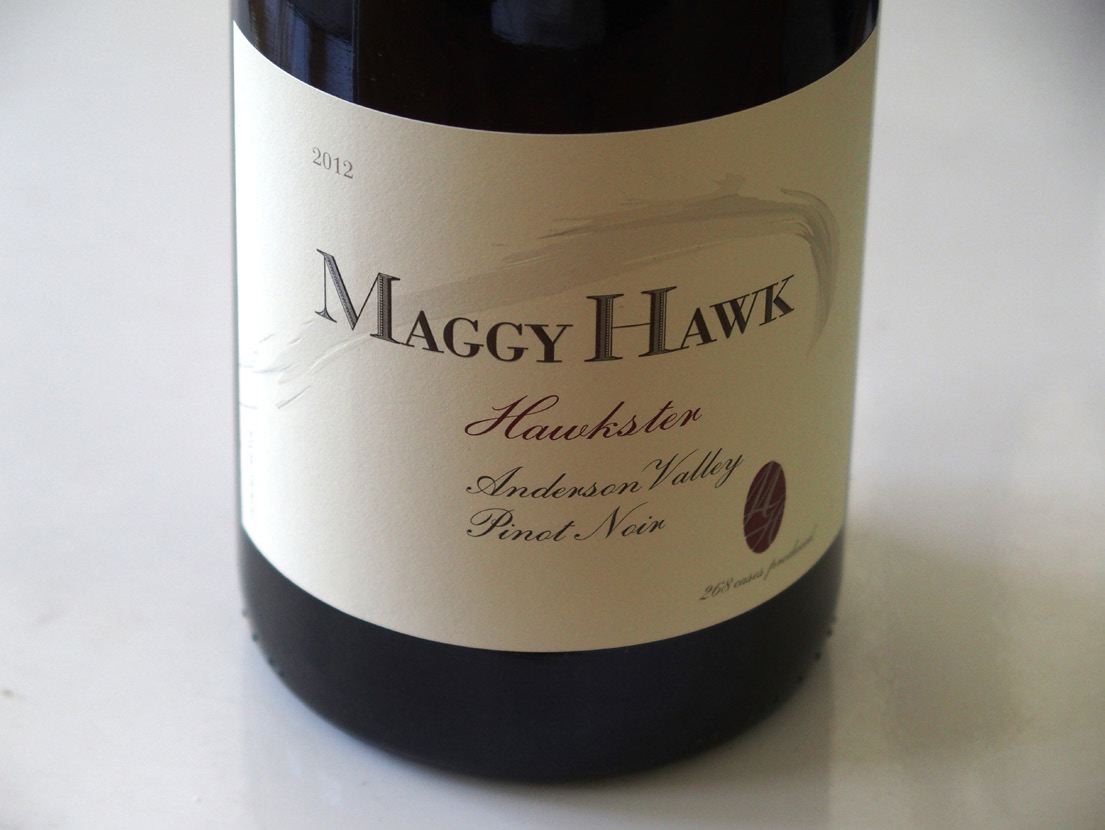 ---
The 19th Annual Anderson Valley Pinot Noir Festival Grand Tasting
This event is a wonderful opportunity to meet the reclusive Anderson Valley winery owners and winemakers up close and personal. Held under the big tent at Goldeneye Winery in Philo, this year's tasting was threatened by rain, but the skies cleared through most of the afternoon and the cool weather made a perfect opportunity to indulge in great Pinot Noir. 56 wineries were pouring current releases, library wines and barrel samples of Anderson Valley Pinot Noir, and unlike many similar walk-around tastings, the crowd was mellow and not so overwhelming as to prevent easy access to each winery's booth.
One feature of the Anderson Valley Grand Tasting that sets it apart is the annual unique artwork of Gerald Reis of Design Studio in Cloverdale that commemorates each festival. His festival poster artwork from this and past year's events is available for purchase at www.reisdesign.com.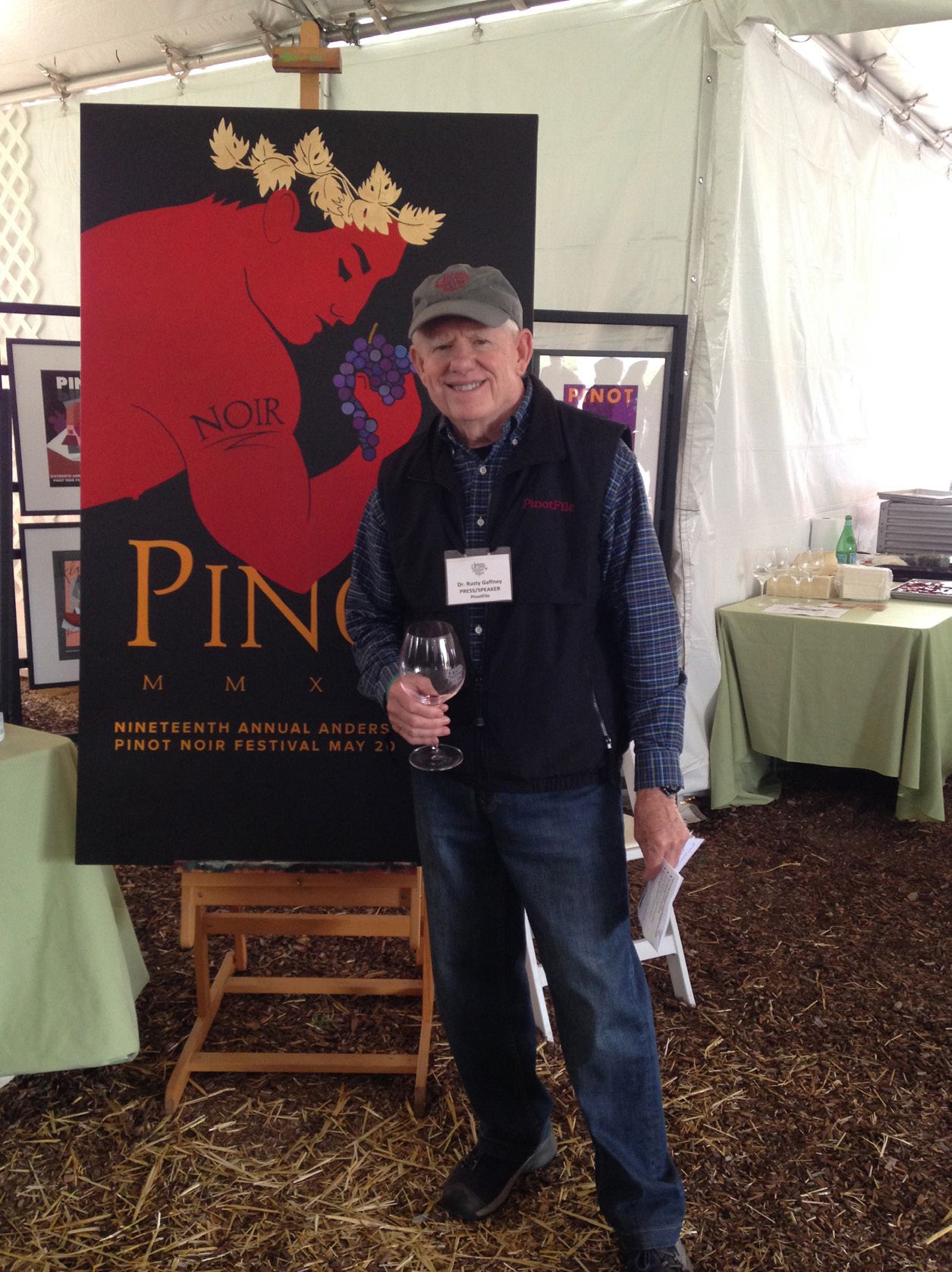 There were a few Pinots that stood out at the Grand Tasting: 2014 Drew Family Cellars Fog Eater, 2014 Drew Family Cellars Balo Vineyard, 2011, 2012 and 2012 Elke Vineyards Donnelly Creek Vineyard, 2014 Lazy Creek Vineyards Estate, and 2013 Twomey Cellars Monument Vineyard and 2014 Twomey Cellars Anderson Valley Pinot Noir. New faces that show tremendous promise included Ardzrooni Family Wines, Jaxon Keys Winery, Pangloss Cellars, Pennyroyal Farm, Quince Winery and Roma's Vineyard.
Upcoming Anderson Valley Winegrowers events:
4th Annual Barrel Tasting Weekend, July 23-24, 2016
12th International Alsace Varietals Festival, February 25-26, 2017
20th Annual Anderson Valley Pinot Noir Festival, May 19-21, 2017.
Stay connected by visiting www.avwines.com.
---
Pinot Briefs
Oregon Wine Experience Multiple events from August 6 to August 28 make up the Oregon Wine Experience in Jacksonville, Oregon. Profits directly benefit the Children's Miracle Network and other Asante healthcare programs. Last year the event raised $507,000.
Carlton Crush Harvest Festival Upper Park and Downtown Carlton, Oregon, will be the site for the annual Carlton Crush Harvest Festival on Saturday, September 10, 2016. No entrance fees and free parking. Visit www.carltoncrush.com for a full listing of activities for all ages that include pouring of fine wines and craft beers, live music, artists' marketplace, many food choices, and grape stomp competition.
Top California Pinot Noir Counties According to USDA-NASS statistics, California's top Pinot Noir producing counties are: Sonoma County 12,281 acres, Monterey County 9,438 acres, Santa Barbara County 5,223 acres, San Luis Obispo County 2,097, Napa County 2,695 acres, Mendocino County 2,695 acres, and the Central Valley (several counties) 14,687 acres. Average price per ton varies from a high of $3,530 in Sonoma County to $443-$710 in the Central Valley.
Sonoma Wine Country Weekend The chefs serve, the winemakers pour and everyone delights in this event that contributes to local children's charities. The event will be held Labor Day weekend, September 2-4, 2016, throughout Sonoma County. Winemaker lunches, barbecues and dinners, Sonoma Starlight at Francis Ford Coppola Winery in Geyserville (September 2), Taste of Sonoma at MacMurray Estate Vineyards in Healdsburg (September 3), and the Sonoma Harvest Wine Auction at Chateau St. Jean in Kenwood (September 4). Honorary Event Chair is Dan Kosta of Kosta Browne Winery and Culinary Chairs are Mark and Terri Stark of Stark Reality Restaurants. The event is a partnership between Sonoma Valley Vintners & Growers Alliance and Sonoma County Vintners. Visit www.sonomawinecountryweekend for tickets.
Rollin Soles New Sparkling Wine Project Winemaker Rollin Soles is well known in Oregon for his sparkling wines produced at Argyle over the past 30 years. He built the first sparkling wine facility in Oregon in 1987 at Argyle Winery. Soles left Argyle to concentrate on his own label, ROCO, but continues top be a consultant to the Argyle sparkling wine program. He also is a shareholder in Radiant Sparkling Wine Company, a custom-crush sparkling wine company. Beginning with the release of his 2013 RMS (Rollin Michael Soles) Brut in the fall of 2016, Soles is back in the sparkling wine game. The 2013 RMS Brut is a blend of Pinot Noir (clone 828) and Chardonnay (clone 95) from several Willamette Valley AVA that is produced at Rollin's ROCO Winery, and is priced at $65. Of the 580 case production, 200 cases were disgorged in the spring 2016, and a second disgorgement will take place in summer 2016 for release nationally. 100 cases will be held back for disgorgement in 2023. The wine will be available at www.rocowinery.com.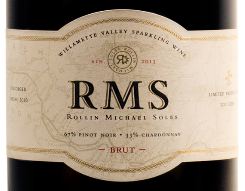 Wine Spectator 2016 Restaurant Awards The latest August issue of the Wine Spectator features the winners of the 2016 Restaurant Awards that recognize outstanding wine programs. A total of 2,414 Award of Excellence, 1,093 Best Award of Excellence and 88 Grand Award winners were announced, covering 50 states and 72 countries. Wine Spectator also launched to entities: the official free Restaurant Awards app and the Restaurants.WineSpectator.com website.
Matt Courtney Joins MacPhail as Consulting Winemaker James MacPhail has left his namesake winery, and Matt Courtney, winemaker at Arista where he will continue, and owner and winemaker of his own brand, Ferren Wines, will serve as consulting winemaker and lead the brand forward. Before joining Arista, Matt made wine at Marcassin for nearly 8 years, including participating in the making of the first ever Chardonnay in California to garner a perfect 100 point score from Robert Parker, Jr.. The 2014 vintage will be the last vintage that James was in full control. There will be no significant change in philosophy and approach, although some changes in vineyard sources will occur. Hess Family Wine Estates began working with then owner James MacPhail in 2007 and later bought the brand from him in 2010. Tim Person (the CEO at Hess), and his spouse Sabrina (Donald Hess's stepdaughter) are taking MacPhail under their wing.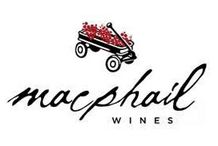 Inman Family Wines Launches Cinematic Website Owner and winemaker Kathleen Inman worked closely with Blue Circle Branding (led by Emmy-award winning Robert Lundahl and partner David Howard) to design the site that includes full-frame videos that tell the story of the seasons, making Inman Family Wines the first winery website to use full-frame video on the popular Vin65 winery CMS platform. The video can be viewed on page load and mobile devices. The musical score is by indie-rock group The Lower 48 from Portland. To experience the new website and learn more about the excellent wines of Inman Family Wines in the Russian River Valley, visit www.inmanfamilywines.com. I believe this is the future of winery websites.
Wine Spectator Refuses to List label ABV in Wine Reviews: Why? The editor at Wine Spectator says they do not include alcohol levels in their wine reviews for two reasons: first, the regulations allow for a wide tolerance, so the true ABV may be significantly different from that printed on the label resulting in misleading information to consumers. Second, alcohol is only one element in a wine's balance and by itself is not a good predictor of a wine's quality or character. Allow me to dispute both reasons. First, an extensive study published in the Journal of Wine Economics, "False Label Claims About High and Rising Alcohol Content of Wine," 2015, reported that on average the label claims understate the true alcohol content by about 0.39% alcohol for Old World wine (red or white) and about 0.45% for New World wine (red or white). For New World wine, this variance would amount to about 0.60% for a wine of 13.5% alcohol by volume (ABV) and 0.65% for a wine of 14.5% ABV. This would indicate that on average wines with labeled ABV of 13.5% are closer to 14.0% and wines with labeled 14.5% are closer to 15.0%. This variance is within permissible limits (1.0% for wines with more than 14.0% ABV and 1.5% for wines with 14.0% or less ABV). Despite this allowable error, the consumer (especially most of those who are wine knowledgeable readers of the Wine Spectator) understands that although a wine with labeled 14.5% ABV may truly be 15.1%, the alcohol level is significantly higher than another wine with a labeled 13.5% ABV which at the most, can be 14.0% ABV. The consumer looking to drink within the limits of moderation needs to know the ABV. A bottle of Pinot Noir with 15% ABV contains 15% more alcohol than a bottle of wine containing 12% ABV. Second, the label ABV, although only one aspect of a wine's balance, is a very good predictor of a wine's quality and character. Higher alcohol wines, say well above 14.5%, are more likely to be out of balance, less aromatic, less age worthy and hot on the finish. Lower alcohol wines are more often balanced, more aromatic, more vibrant, more age worthy, and usually absent of any alcoholic warmth. I have been a long time proponent of listing the ABV on wines I review in the PinotFile (either the label ABV, or when available, the more reliable ABV stated in the winery tech sheet), and I believe I was the first wine publication to implement the practice on a consistent basis. Unfortunately for the consumer, the ABV is often present on a wine label in very small print (only 0.5 mm font size is required) and in some cases in a poorly contrasting color, so that it is virtually unreadable without a magnifying glass and therefore often ignored. This is still another good reason to include a wine's labeled ABV in reviewed wines. Of course, one should also list the acidity (pH and TA) and residual sugar in wine reviews, like I do, but that's another story.
Freeman Vineyard & Winery Opens Cave Tasting Room Ken and Akiko Freeman, proprietors of Freeman Vineyard & Winery have opened their cave tasting room located at their winery just outside the town of Sebastopol. It took years for the Freemans to modify their cave to accommodate visitors and obtain the necessary county permits. The cave tasting experience will be the only one offered in West Sonoma County by a high end winery. Freeman Vineyard & Winery has a storied history. The original red barn on the apple farm property was transformed into a winery and here some of the early Williams & Selyem vintages and later Kosta Browne wines were produced before Freeman production filled the cave chambers. Tastings are available by appointment only, Monday through Sunday, 10:00 a.m. to 5:00 p.m.. The tastings are $30 per person, and should be scheduled well in advance. Visit www.freemanwinery.com/provenance/
---
Tricking PinotFile Software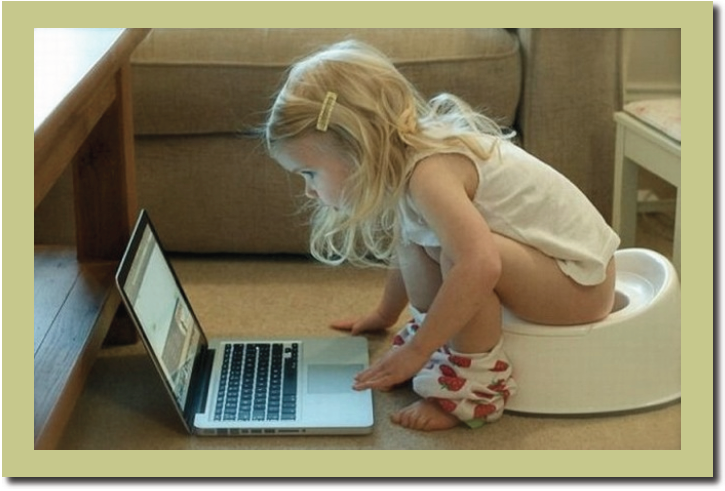 Over the past two months, my webmaster (pictured above), has been updating the Django software that runs my website. Some of you may have found problems accessing parts of the website, or were surprised by strange fonts as well as unusual formats, and I sympathize with your frustration.
The software that runs a website is a lifeline that must constantly be updated and revised. The updates require the expertise of a person trained in the complex challenges involved and I am lucky to have someone who attacks the challenge with veracity. That said, it takes time and I request your patience. A great bottle of Pinot will often work wonders to allay your frustrations.
If you meet with a problem with the website, please email me at prince@princeofpinot.com and I will forward the glitch to my webmaster. In the meantime, thank you for your support.
I should also give a shout out to my son, Dane, who has worked tirelessly over the past 10 years to assist me. His invaluable computer expertise allows him to collaborate closely with my webmaster to keep the site up to date. Dane posts every issue once I compose them, a task that can take him upwards of four hours. If your wine travels take you to Sonoma, visit him at Scribe Winery where he works and relishes the wine country lifestyle.
As far as my webmaster, all joking aside, all due respects go out to Michael MacDonald, who works hard in obscurity to keep the website software updated and ongoing.