DION Vineyard: Exceptional Pinot Noir in 2016
DION Vineyard consists of 60 acres of Pinot Noir, Pinot Gris and Chardonnay located in the northern end of the Chehalem Mountains appellation of the Willamette Valley. The vineyard has been farmed by three generations and some of the Pinot Noir vines, rooted in Laurelwood soil, are 40 years old (Old Vine Block). A majority of the vineyard is planted to Pinot Noir and includes the clones of Pommard, 115, 114, 113, 667 and 777 of varying ages and rootstocks.
Today, husband and wife winemakers Kevin Dion Johnson and Beth Klinger operate the vineyard, supplying grapes to wineries throughout Oregon, and producing about 1,000 cases of wine under the DION Vineyard label. Photo credits to Paul Cunningham.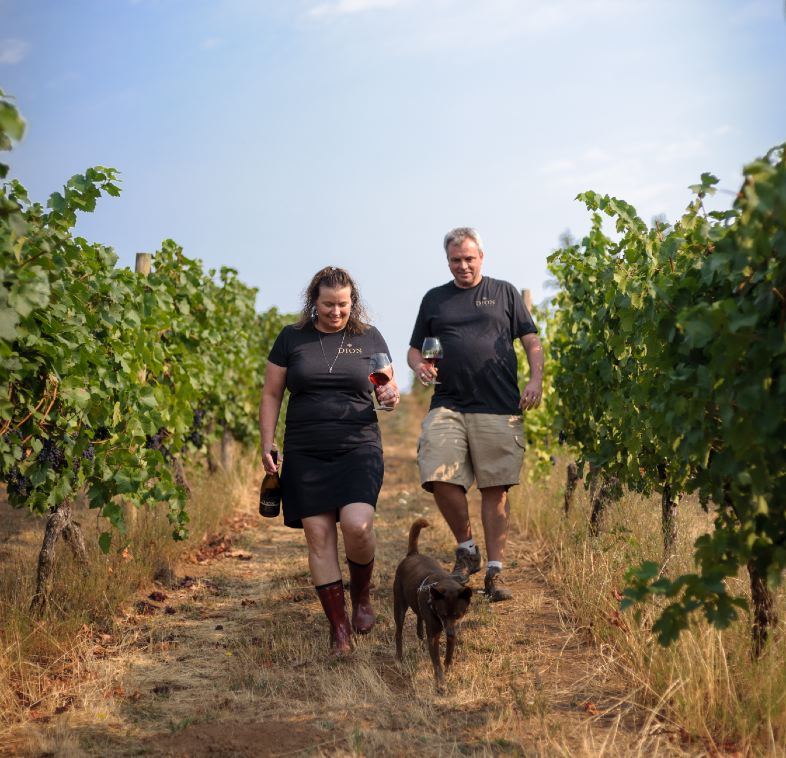 The 2016 harvest may have been one of the most unique in this winery's history according to Kevin because it was the earliest harvest ever and the only time picking occurred in August. Harvest began August 31 under very hot conditions and continued over the next 17 days into September. Kevin told me, "This early start presented us with a lovely spectrum of fruit. Sugars and acidity were similar to a cool year at the beginning, transitioning to a warm year style as very warm days at harvest powered the fruit from cool to warm. The result was wonderful acidity and lower alcohols like a cool year to pair up with the powerful fruit notes of a warmer vintage. This combination is rare."
Kevin noted, "This unique harvest was also made possible by a very early and warm spring which triggered the start of bloom in late May, a solid week earlier than the very warm 2015 vintage and two weeks earlier than average and a full month before the latest ever harvest in 2011. That early heat then gave way to a very modest summer that was relatively cool compared to the 2014 and 2015 growing seasons. Summer came roaring back with triple-digit temperatures in the latter part of August. That early bloom and cool early summer led to fruit that had full flavor and color development by the end of August while still retaining the sugars and acidities of a cooler vintage."
Beth remarked that 2016 was potentially her favorite vintage ever because "the acids are distinct, ferments were beautiful, and we were able to do half of the ferments spontaneously." Closures were changed for the 2016 vintage, with the Chehalem Mountains Pinot Noir bottled under screw cap and the Reserve and Old Vines closed using DIAM corks. This was done to avoid bottle variation and improve the overall consistent quality of the wines.
The three 2016 Pinot Noir wines reviewed here were truly exceptional and reflect the fact that the 2016 vintage in Oregon was special for many wineries. I personally prefer the 2016 Willamette Valley Pinot Noirs over every vintage since 2012. The Old Vines Special Release may well be the best Oregon Pinot Noir I tasted in 2018.
The wines of DION Vineyard are available for tasting at the winery's tasting room in Cornelius, Oregon, Friday- Sunday from April to November or by appointment. The website is www.dionvineyard.com. Contact the winery directly to purchase these wines that represent outstanding value. Some older vintage Pinot Noir wines are available as well.

2016 DION Chehalem Mountains Willamette Valley Pinot Noir
13.5% alc., 342 cases, $30. Released April 2018. Clones 115, 114, 667, 777 and Pommard. Harvest Brix 22.4º-25.1º. Aged 14 months in French oak barrels, 30% new. · Light ruby red color in the glass. Aromas gain traction over time in the glass, revealing cherry, cola, spice and dried herbs. Light in weight in an easygoing and highly enjoyable style with a core of juicy red cherry, red berry and blueberry fruit flavors. A hint of savory herbs adds interest. Nicely balanced with some finishing generosity. This wine packs a lot of flavor despite being light in color and weight. Score: 90
2016 DION Winemaker's Reserve Special Release Chehalem Mountains Willamette Valley Pinot Noir
14.3% alc., 139 cases, $45. Release November 2018. A barrel selection from the best blocks and wines that are most expressive of the vintage anchored by clone 115. Harvest Brix 22.4º-25.1º. Aged 14 months in French oak barrels, 50% new. · Moderately light garnet color in the glass. Shy, but pleasing aromas of black cherry and rose petal. A very harmonious wine with great verve, very fine grain tannins, and a satisfying finish with honorable length. Middleweight in style, with vivid flavors of black cherry, black raspberry and purple berry with a hint of white pepper. A very stylish Pinot lover's wine. Score: 93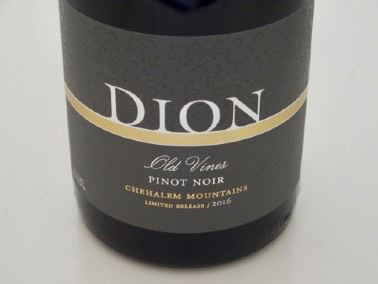 2016 DION Old Vines Special Release Chehalem Mountains Willamette Valley Pinot Noir
14.6% alc., 99 cases, $60. Release April 2019. 100% self-rooted, nonirrigated Pommard clone from a 10-acre block planted in 1976. Harvest Brix 25.1º. Aged in French oak barrels, 50% new. · This is one of those wines that elicits emotion from the first sip. Gorgeous perfume of spiced cherries and blueberry-pomegranate fruits. Vigorous with black cherry flavor that is long and expansive in the mouth accompanied by impeccable harmony. Flavor packed, yet elegant, with supportive fine-grain tannins, integrated oak, juicy acidity and a ridiculously long finish. It is wines like this that have me proclaiming that Pommard is my paramour. A flat-out beautiful wine! Score: 96
---
Soliste: Frenchy's Passion for Pinot Noir Shines Through in the 2014 Wines
I had the opportunity to taste the 2014 Soliste Monoclone® Sonoma Coast Pinot Noirs three times, twice at home using my usual tasting regimen and once over lunch with winemaker Claude "Frenchy" Koeberle (a native of Burgundy). Claude is the only person I know who loves Pinot Noir more than me!
In 2005, Claude Koeberle and Don Plumley made their first Pinot Noir from a family vineyard that is located in a unique Sonoma Coast site that they believed would allow them to craft wines with a style that might satisfy their infatuation of the great Burgundies. In 2009, from the same site, they challenged themselves to make Pinot Noirs from a single vineyard, a single clone and using a single cooperage from France to deliver an uncompromisable focus to each wine. The impetus was a return to the roots of Burgundy and the craftsmanship of the Cistercian monks of Vougeot. The name Monoclone® was born and registered as a trademark. Using a single clone from a single vineyard and raising the wine in a single cooperage is unique among California producers of Pinot Noir. As Claude would say, "Vive la difference!"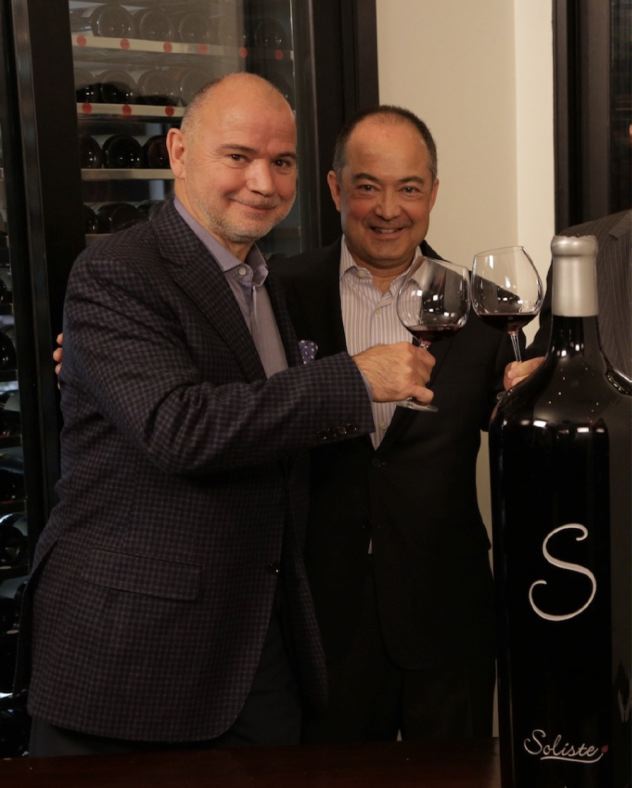 Read the full story on Soliste, the PinotFile 2013 Winery of the Year, at www.princeofpinot.com/article/1461/.
The 2014 vintage began with a moderate winter and an earlier start. A cool spring led to a good fruit set. A temperate, gentle growing season ensued so it was possible to nurture complexity and concentration along with quality in the vineyards. Although California's persistent drought was concerning in parts of the state, the cool, coastal sites used in Soliste wines remained unaffected with some vineyards dry farmed.
The reviewed wines represent the winery's September 2018 release. Even at four years after harvest, these are young wines and benefit from decanting if opened now. Production is very limited by choice and the wines are sold exclusively through an allocated mailing list. The single barrel releases are for loyal supporters of the winery and in some cases, are restaurant only releases. The winery also offers superb Lake County Sauvignon Blanc (St. Andelain, a tribute to Didier Dagueneau). Soliste wines are available at many restaurant partners in California, Las Vegas, Chicago, New York and Washington D.C.. Private tastings can be arranged by appointment at the Santa Rosa production facility. Visit the winery's website at www.soliste.com.
All the following wines were meticulously crafted. Grapes were hand-harvested at midnight from September 6 to September 18. Multiple, often four, passes were done on different days to capture different levels of grape maturation. Only manual punchdowns were used.
2014 Soliste Nouveau Monde Sonoma Coast Pinot Noir
12.6% alc., 97 cases, $85. Pommard Monoclone®. 33% whole cluster. Aged 18 months in Siruge French oak barrels, 0% new. · Moderately light garnet color in the glass. The evocative nose offers aromas of dark red cherry, purple berry, rose petal, tobacco and earthy flora. Soft, smooth and stylish in the mouth with noticeable delicacy and refinement. The most savory and lightest wine in the 2014 lineup, with a bit of mushroom framing the dark red and purple fruits. There is also a carbonic quality to the fruit profile. The wine finishes fragrant and reasonably long. Score: 92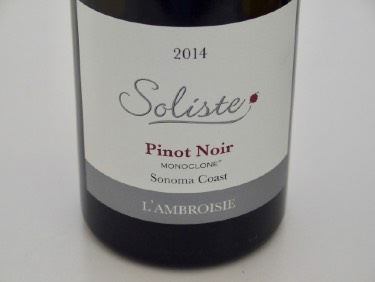 2014 Soliste L'Ambroisie Sonoma Coast Pinot Noir
13.6% alc., 73 cases, $100. "828" Monoclone®. 43% whole cluster. Aged 18 months in Remond French oak barrels, 33% new. · Moderate garnet color in the glass. The aromas of dark cherry, black raspberry sous bois, spice and pipe tobacco soar from the glass over time. Charming on the palate with a mid weight plus core of richly flavored dark cherry and black raspberry fruits framed with a touch of oak spice and tobacco. Enviable vibrancy, with fine tannins, a silken mouthfeel, and a very persistent finish redolent in sweet cherry fruit. This is the most boisterous wine in the 2014 lineup, yet one that dances graciously in the mouth from attack to finish. The acid and tannin are compatible backbone companions predicting age ability. Score: 96
2014 Soliste L'Espérance Sonoma Coast Pinot Noir
13.8% alc., 147 cases, $85. 115 Monoclone®. 0% whole cluster. Aged 18 months in Rousseau French oak barrels, 33% new. · Moderately dark garnet color in the glass. Alluring scent of pie cherry, raspberry, blueberry-pomegranate and spice. Discreetly concentrated core of black cherry and blackberry fruit flavors along with notes of tar, exotic spice and earthiness. Exquisitely balanced with a silk and satin texture, integrated mildly firm tannins and adept oak treatment. The fruit really sings on the finish. Score: 93
Single Barrel Wines (wax-sealed, heavy bottles)
---
Dutton-Goldfield 2016 Pinot Noir: Whoa Nelly!
I recently sampled ten Dutton-Goldfield Pinot Noir wines from the 2016 vintage and was awed that every single wine in the lineup was superb.. Year in and year out, the team of winemaker Dan Goldfield and winegrower Steve Dutton produces wines of consistent excellence so this tasting was no surprise. As a group, this lineup of Pinot Noirs was the best I have ever tasted from Dutton-Goldfield.
Steve Dutton is a fifth-generation farmer whose father Warren Dutton pioneered the growing of grapes in the western reaches of the Russian River Valley in the mid-1960s. Steve joined the Dutton Ranch team full-time in 1987 and now manages the family business that has grown to over 80 vineyards comprising more than 1,000 acres throughout the western Russian River Valley. Dutton-Goldfield does not source grapes exclusively from Dutton Ranch vineyards but these vineyards form the core of the lineup.
Winemaker Dan Goldfield gained his reputation for Burgundian-focused wines while working at La Crema and later Hartford Court. He joined Steve on a handshake in a vineyard in 1998 and they established a winery that today is among California's best producers of cool climate varietals. His winemaking regimen for Pinot Noir is explained fully in the "In the Cellar with Dan" section of the website at www.duttongoldfield.com.
Unlike the single cooperage Pinot Noir wines of Soliste reviewed in this issue, the Dutton-Goldfield Pinot Noir wines are vinified using an array of barrels for each of the single-vineyard wines. Dan purchased barrels from nine different coopers for the 2015 vintage. The Pinot Noirs often undergo a spring "rack and back" to choose the barrel array for the final aging of the wines.
The Dutton-Goldfield Tasting Room in Graton is open daily, offering several tasting experiences that can be booked online. In the Tasting Room, the winery just celebrated its 20th anniversary with a Harvest Party. Many of the wines are available for purchase on the winery's website. Magnums are available.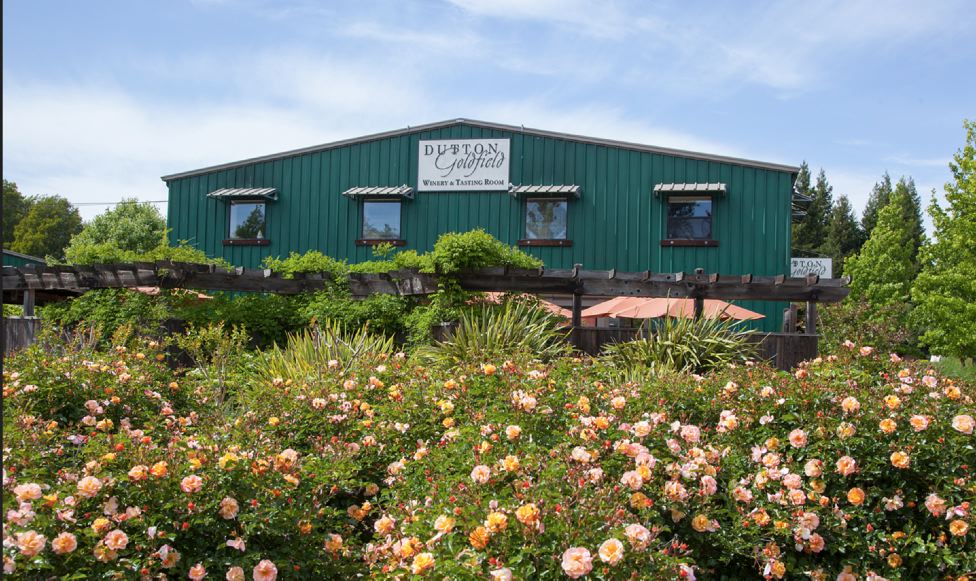 The wines reviewed here represent the nine 2016 single-vineyard Pinot Noirs and one blended Pinot Noir called Deviate. The Docker Hill Vineyard in Comptche in Mendocino County is a new addition to the Dutton- Goldfield lineup. Dan looks for exotic vineyard sites farmed by people with unique personalities and this addition fit that goal.
---
More Recently Tasted Pinot Noir
Kelley Fox Wines, McMinnville, OR
Kelley Fox was the winemaker for Scott Paul Wines for ten years (2005-2015), during which time she launched her own label that focuses on small lots of Pinot Noir from the Momtazi and Maresh vineyards. The Momtazi wines tend to feature deeper color, more extraction, more tannin and richer dark fruit flavor. The Maresh wines tend to be more delicate with red fruit aromas and flavors.
Since 2015, Fox's Pinot Noir wines contain all whole clusters. She uses neutral oak only, striving for unadorned character.
The wines are sold through a mailing list and on the website at www.kelleyfoxwines.com.
Kingston Family Vineyards, Casablanca Valley, Chile
Kingston is a boutique winery located on a farm that has been family-owned for a century The winery produces Pinot Noir, Chardonnay, Syrah and Sauvignon Blanc from estate vineyards in Casablanca, Chile.
Siduri Wines, Santa Rosa, CA
Winemaker Adam Lee's 25th harvest. The following wines represent the southernmost regions and vineyards in the winery's "West Coast Pinot Noir" portfolio. Adam has made Pinot Noir from the Santa Lucia Highlands since 1997 and from the Sta. Rita Hills since 2000.
The wines are available via a mailing list and on the website at www.siduri.com, as well as at the Siduri Tasting Room in Santa Rosa, the winery's Wine Lounge in Healdsburg, and through distribution to select wine retailers and restaurants nationally.
Williams Selyem, Healdsburg, CA
I have been a member of the mailing list of this highly-regarded winery for over 25 years but have not sampled the wines since the 2013 vintage. I acquired three bottles from the 2016 vintage fall offering to taste and the wines are reviewed here. Needless to say, I was disappointed, especially at the price point of these wines.
Williams Selyem wines are sold exclusively through a mailing list. Private tours and tastings are available by advanced appointment to list members and their guests only. The website is www.williamsselyem.com.
More Wines
---
Pinot Briefs
Malibu Coast AVA Damaged During Woolsey Fire Both wineries and vineyards in the Malibu Coast AVA were heavily damaged or destroyed by the Woolsey fire in the hills west of Los Angeles. That said, some vineyards served as firebreaks that saved homes and other structures. The Malibu Coast AVA includes 44,590 acres with a total of 200 acres planted to grape vines.
Oregon Vineyards Lost to Red Blotch Recently, I wrote extensively about the threat of Grapevine Red Blotch Virus (BRBaV) to vineyards in California and Oregon: www.princeofpinot.com/article/2084/. A recent article at www.ijpr.org/post/oregon-winegrowers-losing-vines-red-blotch#stream/0, reported that at least one Oregon winegrower was tearing out a vineyard due to red blotch infestation.
Merry Edwards Appoints Successor Winemaker Merry Edwards has elevated Associate Winemaker Heidi von der Mehden to the position of Winemaker, effective at the start of the 2018 harvest. Merry remains CEO and CFO of her eponymous brand that was founded in 1997. More details forthcoming in an upcoming issue of the PinotFile in which current Merry Edwards Pinot Noir releases will also be published.
ZOS Halo Wine Preserver This easy to use wine preservation system simply inserts into the wine bottle like a stopper. The cartridge contains a patented, nontoxic material that absorbs 100% of the oxygen in the wine bottle, stopping the oxidation process, and extending the life of the wine for up to 2 months. The cartridge lasts up to a dozen bottles, depending on usage and exposure to oxygen in between bottles. An electronic tester cartridge accompanies the wine saver kit and tells the user if the cartridge is still good or needs to be replaced. The price is $74.95 through Wine Enthusiast or Amazon. I have not tried the device.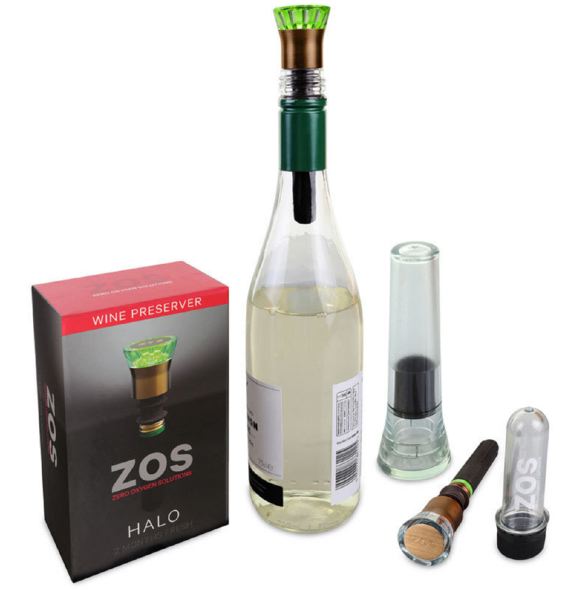 Winemaker Jesus Guillen Passed Away Jesus was a friend of mine with whom I tasted wines on several occasions. An unexpected battle with an aggressive cancer took his life at the young age of 38. He is survived by his wife, Yuliana and son Adrian. Jesus moved to Oregon in 2002 after graduating with a degree in Computer Systems Engineering in Mexico. Following graduation, a visit to see his father, Jesus, Sr., who worked at White Rose Estate in the Dundee Hills, led to an interest in winemaking. He began his wine career working in the vineyards for Patricia Green Cellars and later alongside his father at White Rose Estate. Much of his winemaking acumen was self-taught. Greg Sanders, the owner of White Rose Estate, recognized Jesus's interest and talent and offered him a job in the cellar. He became the head winemaker at White Rose Estate in 2008. Two years prior, he launched Guillen Family Wines with a small amount of fruit from Vista Hills Vineyard. These were special Pinot Noir wines that featured 100% whole cluster inclusion. Jesus was a humble man with a keen palate, a loving father, a dedicated husband, a caring son, and an inspiration to all he knew. He will always be remembered in the highest regard by those he touched through his Wines Made in Beautiful Oregon, Por Manos Mexicanas. Winter's Hill Estate in the Dundee Hills is hosting the Guillen Family Benefit Wine Sale and Tasting on Saturday, November 24, to raise money for bills and his family. All tasting fees and wine purchases will go directly to the Guillen family. For event details and tickets visit Eventbrite. You can also honor Jesus's legacy by buying Guillen Family wine at www.guillenfamily.com/shop.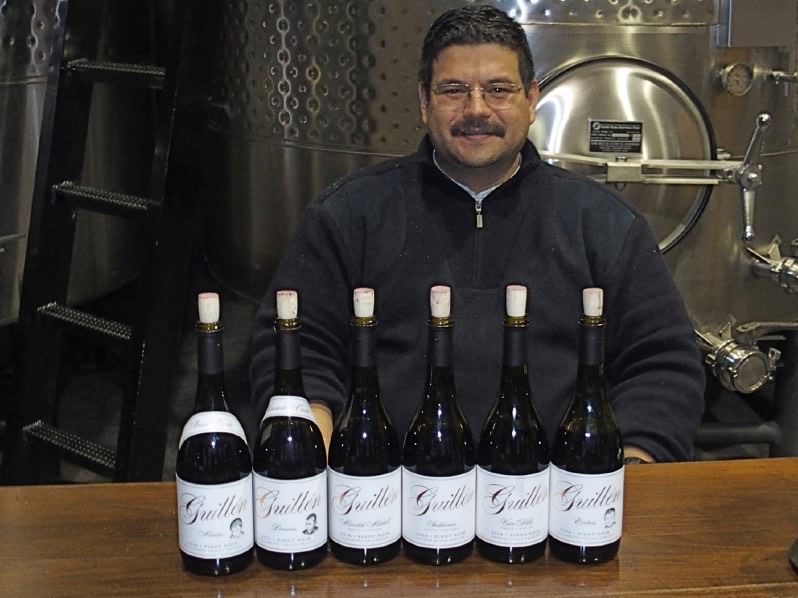 Vintage Book from Filmmaker and Author David Baker Baker is the producer and director of the acclaimed documentary American Wine Story. Vintage is his debut novel, a story of a down-on-his-luck wine and food writer and his quest for a "lost vintage" in Burgundy, a legendary wine that was thought to have been stolen by the Nazis in World War II. The book is available at Amazon ($15.27 in paperback).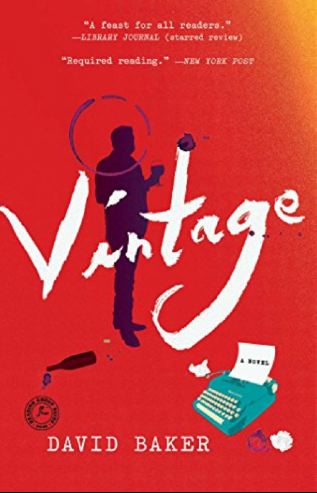 Joseph Swan Vineyard 50th Anniversary Joseph Swan Vineyard is celebrating its 50th anniversary and the 40th vintage for winemaker Rod Berglund, husband of Lynn Swan Berglund. To honor this occasion, the winery is releasing a six-year vertical of estate-grown Trenton Estate Pinot Noir. Joe Swan first planted the vineyard in 1969 to Pinot Noir and these original plantings form the basis for this wine. The vertical includes four library wines from the 2011 to 2014 vintages, the current 2015 release, and a pre-release of the 2016 vintage. The cost is $400. The offer will expire November 30, 2018. Visit www.swanwinery.com.

How Many Pinot Noir Grape Clones? As reported in the wine blog, The Wine Gourd, www.winegourd.blogspot.com/2018/11/how-many-grape-clones-are-there-per.html, Pinot Noir has the most clones of all varieties by far: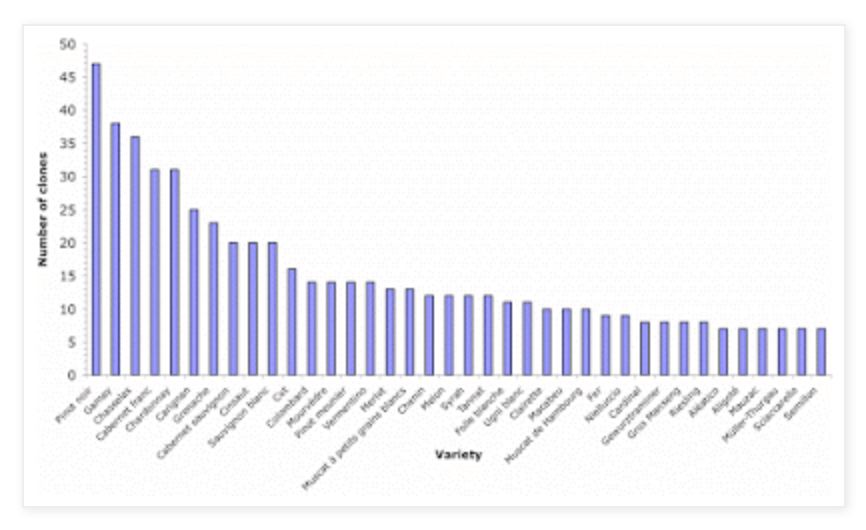 The data come from the list of grape varieties and clones currently approved for viticulture in France. There are a total of 269 approved varieties, 950 clones, with 161 of the varieties only listed with one clone.
'UNCRUSHABLE: From Ashes to Hope' This documentary film by Tyler Florence relates the story of the 2017 wine country fires in Sonoma and Napa. Shot over three weeks when wine country was still smoldering, the film was financially backed by Visit California, the state's tourism publicity arm. The film was screened for several hundred Sonoma County residents October 19 and was shown twice during the Napa Valley Film Festival. I am not sure about future screenings and streaming availability.
California 2018 Wine Grape Harvest Report The 2018 growing season had moderate temperatures throughout the spring and summer with harvest beginning anywhere from 10 days to three weeks later than in 2017 according to the California Wine Institute. Vintners reported exceptional quality due to consistent growing conditions and cooler temperatures, allowing the grapes to mature slowly. Yields are projected to be 4.1 million tons in 2018, up 2% from 2017 and above the historical average of 3.9 million tons. The full 2018 California Wine Harvest Report is available at www.wineinstitute.org/files/ WineInstitute_HarvestReport2018.pdf.
Santa Cruz Mountains SCM Wines Smartphone App This new app has a digital Passport available ($65) that can be used to redeem tastings at more than 50 participating wineries on any day they are open. The app lets you check in digitally, search information about all the wineries, and filter for wine varieties, location and special amenities. To install (requires Android), visit www.play.google.com/store/apps/details? id=com.golocalapps.santacruzwineries&hl=en_US.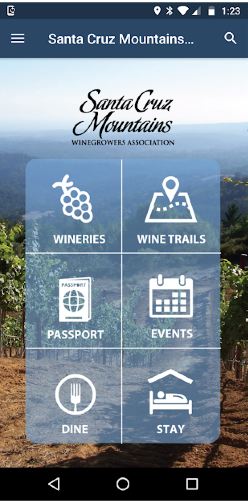 Head for the Hills Five special wineries in the Eola-Amity Hills of the Willamette Valley are hosting a progressive tasting experience Thanksgiving weekend, Saturday and Sunday, November 24 and 25, from 11 to 4 pm. The wineries are Bethel Heights Vineyard, Cristom Vineyards, Evening Land, Lingua Franca and Walter Scott. Visit all five wineries over the weekend and you will be entered into a raffle for special prizes.
How To Make Any Wine Taste Better As reported at www.thedrinksbusiness.com/2018/11/hestonreveals- trick-to-make-wine-taste-better/, molecular gastronomist chef Heston Blumenthal revealed that the trick to making any wine taste better is to picture someone "you love dearly" while you are drinking the wine. On the other hand, drinking a wine while thinking of someone you don't like is likely to give the wine a bitter aftertaste. Heston is no crackpot. He runs the three Michelin star Fat Duck and the two-star Dinner by Heston Blumenthal in Australia. He believes the difference in how we perceive wine is due to the link between taste and memory. Recent research from Columbia University has found that it is possible to manipulate flavor perception by activating certain regions of the brain.
---
List of Wine-Related Things That Need to be "De-Invented"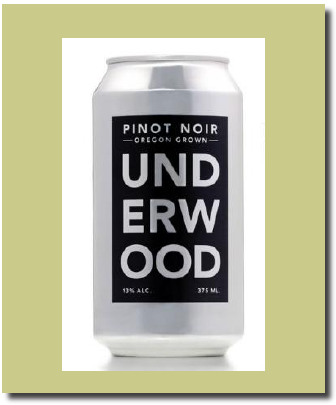 A recent article in the Wall Street Journal about a short list of things that desperately need to be 'de-invented" got me to thinking about things in the world of wine that should have never been invented.
1 Wax capsules
2 Heavy bottles
3 Pinot Noir in cans and boxes
4 The term 'terroir' - this word belongs to the French and it should stay in France
5 The term 'minerality'- the most ambiguous and poorly defined term used in wine descriptions
6 Wine competitions - a supposed standard of objectivity that is totally unfounded
7 100-point wines - wine writers need to admit that perfection in wine is not attainable
8 Cheap Pinot Noir
9 Wine preservation systems - can't we just stick a cork in it and finish the bottle the next day?
10 Pinot Noir Blanc - a slutty form of Pinot Noir