Extensive Tasting of 2016 & 2017 Vintage Willamette Valley Pinot Noir

The 2016 vintage in Oregon was the earliest harvested vintage on record and delivered excellent fruit quality with close to normal yields. An unusually warm spring caused bud break two to four weeks earlier than normal. Summer provided moderate weather with fewer heat spikes than the 2014 and 2015 vintages, leading to smaller berry size and more concentration. Warmer than normal weather in August led to an early harvest beginning in most vineyards during the last week of August and early September. Harvest was essentially finished by the end of September to early October in the Willamette Valley. Winemaker James Frey of Trisaetum Winery echoed the sentiment of many winemakers when he told the Oregon Wine Board, "The cornerstone of the vintage seems to be balance, with fruit, acidity and tannin in fine equilibrium. It's hard not to like what 2016 gave us." My tastings revealed a degree of high intensity and concentration in 2016 that was unusual for Oregon Pinot Noir.
In 2017, winter rain gave needed relief to years of drought. The growing season that followed was cool and wet compared to the past few years. Bud break started closer to normal in mid-April. Record heat followed in late May that initiated flowering, then the weather cooled in early June, with a few days of record high temperatures returning for a few days later in June. The warm conditions in 2016 created increased fruitiness and resulted in larger clusters and more clusters per vine. The heat ramped up in July and August with heat stress events both early and late in the month. August was the warmest August on record in Oregon. Fires and smoke were an issue in Southern Oregon and in the Columbia Gorge but the Willamette Valley was spared. A cooling weather pattern in mid-September led to a slow and steady harvest. Growers reported near average to slightly higher than average sugar and acid levels but generally balanced fruit. The result in 2017 was both a solid vintage and abundant quantity.
Argyle Winery, Dundee
Argyle has played a pivotal role in establishing Willamette Valley as one of the best places in the world to make sparkling wine. It is one of the only American wineries with an Extended Tirage program going back decades. Few wineries allow their wines to benefit from extended aging due to the significant expense involved. The Argyle estate program includes more than 400 acres of vines spread across four estate properties. The winemaker, Nate Klostermann, spent eight years being mentored by pioneering vintner Rollin Soles before being named his successor at Argyle in 2013. Visit www.argylewinery.com.
Big Table Farm, Gaston
Chehalem Winery, Newberg
Wines are produced from three estate vineyards that include Stoller Vineyard in the Dundee Hills AVA (volcanic soil), Ridgecrest Vineyard in the Ribbon Ridge AVA (sandstone and siltstone soil), and Corral Creek Vineyard in the Chehalem Mountains AVA (Laurelwood soil). The winemaker is Katie Santora who joined Chehalem in 2012 as assistant winemaker and became the winemaker in 2018.
Coeur de Terre, McMinnville
Proprietor and winemaker Scott Neal has really his stride with the 2015 and 2016 vintage Pinot Noirs. I now consider this winery to be among the top echelon of estate grown and produced Pinot Noir in Oregon. The estate vineyard has been organically farmed since its inception in 1998. Visit www.cdtvineyard.com.
Evesham Wood, Salem
This iconic Willamette Valley winery consistently offers superb estate grown Pinot Noir as well as vineyarddesignated Pinot Noirs from highly regarded vineyards nearby. The wines represent excellent values considering the high quality. The wines are all made from sustainably grown grapes from non-irrigated properties. The estate Le Puits Sec Vineyard is certified organic by OTCO. The 2016 wines reviewed here are somewhat backward, very concentrated and somewhat tannic and should be decanted if enjoyed currently. Better yet, cellar them a few years and you will be rewarded. Visit www.eveshamwood.com.
Geødesy, Salem
This new winery, established by Judy Jordan, the former owner of J Vineyards & Winery, offers estate grown wines from Napa Valley and Oregon's Willamette Valley including Pinot Noir and Chardonnay. Geødesy was founded in gratitude to the agricultural community with the sole purpose of empowering the next generation of young women. All of the winery's profits support the Wild Goat Edge program, which nourishes young women through connectivity with teachers, mentors and internship sponsors who guide, support, and empower them. Visit www.geodesywine.com.
Jackalope Wine Cellars, Dundee
Corey Schuster, a former civil engineer, began his journey in the wine industry working for a family-owned winery near Salem, Oregon. He found harvest work very gratifying and was hooked. In 2004, he quite his job, acquired a jackalope tattoo on his right shoulder and set out traveling and learning more about wine. In 2012, Jackalope Wine Cellars was launched.The jackalope is a mythical creature of North America that is a cross between a jackrabbit and antelope. Visit www.JackalopeWineCellars.com.
Iris Vineyards, Cottage Grove
This winery offers wines from grapes grown at the estate Chalice Vineyard located in the cool climate of the foothills of the Oregon Coast Range. Visit www.irisvineyards.com.
Keeler Estate Vineyard, Amity
Wines are produced from an organic and biodynamic vineyard located on a 200-acre property that consists of gardens, forest, lakes, streams and acres of landscaping. Natural winemaking is practiced that includes native yeast fermentation and in addition to stainless steel and French oak barrels, concrete eggs, concrete dolla and terra-cotta amphorae are used. Visit www.keelerestatevineyard.com.
Le Cadeau Vineyard, Dundee
Winemaker Steve Ryan has an an extensive winemaking background. He was the winemaker at Martinelli in the mid-90s and more recently ran the custom crush facility Rack & Riddle in Healdsburg. He has focused on biodynamic research while making small production wines from California and Oregon, including the Le Cadeau "Côte Est" that he has crafted since 2007. He now resides in the North Willamette Valley and concentrates solely on producing wines from Oregon. The other three wines reviewed here are made by veteran winemaker Jim Sanders whose career dates to the mid 1990s. He has partnered with Le Cadeau proprietor Tom Mortimer to focus on small production Pinot Noir. Visit www.LeCadeauVineyard.com. The wines reviewed here were released March 1, 2019 except for the Merci Reserve that was released October 1, 2018.
LUMOS Wine Company, McMinnville
The LUMOS Pinot Noirs in this vintage feature robust dark fruits and husky tannins and will benefit from decanting or further cellaring. Wines from Temperance Hill Vineyard tend to be this way usually but the character is exaggerated in this vintage.
Open Claim Vineyards, Gaston
This small winery is located Mt. Pisgah region of the Willamette Valley that is currently pending AVA approval. Both an Open Claim Pinot Noir and Chardonnay are produced from the 55-acre property by noted winemaker Tony Rynders. Both wines are $75 per bottle, and they are sold in $225 three-bottle allocations on the winery's website at www.openclaimvineyards.com. By the fall of 2019, co-owners Brett and Marnie Wall hope to achieve LIVE (Low Input Viticulture and Enology) certification for their vineyard. The Walls have broken ground on a tasting room that will feature by appointment only chef-inspired pairings beginning in the fall of 2020. The Walls also serve a number of winery clients who have produced vineyard designates including Broadley Vineyards, WildAire Cellars, 00 Wines and Joel Gott Wines.
Siduri, Santa Rosa
It has been two decades since winemaker Adam Lee crafted Pinot Noir from Anderson Valley. Since Siduri is now owned by Jackson Family Estates, he has access to Anderson Valley fruit and has now released two wines from this region.
Stoller Family Estate, Dayton
The Stoller 400-acre farm has been in the Stoller family since 1943. Planting began in 1995 and currently, the estate vineyard encompasses 225 acres on south-facing hillsides with volcanic soils, making it the largest congruous vineyard in the Dundee Hills AVA. 70% of the plantings are Pinot Noir (14 clones), 25% are Chardonnay (Dijon clones, largest estate planting of Chardonnay in Oregon) and 5% other varieties. The vineyard and winery are LIVE certified. Melissa Burr, the Vice President of Winemaking, has been at Stoller for 15 years and has helped grow production from 1,000 cases to 60,000 cases. Visit www.stollerfamilyestate.com.
Walter Scott Wines, Salem
This is the one Oregon winery that excels in offering the widest variety of vineyard-designated Pinot Noir and Chardonnay from top-notch vineyards. Every wine in the lineup exemplifies the best that Oregon has to offer. Visit www.walterscottwine.com. The 2017 Pinot Noirs are very approachable now. The wines are all vinified using the same regimen so that individual vineyard differences show through.
More Willamette Valley Pinot Noir
---
Recent Tasting of 2016, 2017 & 2018 Willamette Valley Chardonnay

As the Willamette Valley enters its 55th year of growing Chardonnay, the interest in Chardonnay has come full circle. David Lett originally planted more Chardonnay than Pinot Noir and plantings of Chardonnay reached a nadir of 38 percent of acreage by 1981. Today, there is a renewed interest in Oregon Chardonnay and although Chardonnay acreage only represented 6 percent of Oregon plantings, the percentage of Chardonnay acreage is on the rise. Oregon Chardonnay planted acres are significantly less than Pinot Noir and Pinot Gris, but it is only a matter of time before Chardonnay overtakes Pinot Gris as the interest in Pinot Gris dwindles.
The majority of Willamette Valley Chardonnays fall into the middle ground between the often ripe, fruity and oak-driven California Chardonnays and the more austere and acid-driven French white Burgundies. This is what one would expect as the majority of Willamette Valley Chardonnays are based on Dijon clones (95, 96 and 76) while the overwhelming majority of California Chardonnays are fueled by Wente selections.
I still find more California Chardonnays that rock my boat, but I find the Oregon Chardonnays, with their lower alcohol levels and higher natural acidity, to be intriguing and satisfying but not as hedonistic and even too austere in some cases.
The Walter Scott Chardonnays, in particular, show reductive winemaking. Reductive is a term used to describe a style of vinification and refers to the relative absence of oxygen during winemaking. This technique is aimed at preserving fresh fruit flavors. Many Chardonnay enthusiasts relish the matchstick or flinty aromas and flavors that accompany reduction as long as it is not overdone when it is combined with some influence of oxygen to maintain the stability of the wine. Oxygen is more desirable in red winemaking since it helps the evolution of color and tannin. Decanting can usually cure Chardonnay wines of reductive notes.
---
Canned Oregon: "Beyond the Bottle"

Last year, canned wine sales increased 69 percent to more than $69 million in retail outlets that were tracked by Nielsen. This is a remarkable increase from the 2 million in sales in 2012.
The canned wine movement reached general popularity in Oregon when Union Wine Co. started offering its Underwood Pinot Noir and Pinot Gris in 375 cans (the equivalent of half a bottle) in 2014. Underwood's production took off and by 2018 totaled 244,000 cases.
As readers of the PinotFile know, I have an aversion to canned wine. Why would you want to put Pinot Noir, the Queen of Wines, in the lowly flip-top beer can? Cans of wine offer many advantages, including portability, and the lack of need for stems and an opener. Marketing promotion for Canned Oregon wine reads, "Whether exploring the mountain, hanging at the beach or relaxing in the city with friends, Canned Oregon is the perfect complement to every destination." Cans are easy to transport, lighter than bottles, unbreakable and reduce the environmental imprint. Millennials are particularly attracted to canned wine because of the lack of pretentiousness normally associated with wine.
There are a number of disadvantages as well. The consumer cannot see the color of the wine, they cannot swirl it to release aromas and once you open a can, you cannot close it. Wine is reduced to a common beverage much like Coca-Cola or Coors Light.
My biggest concern with canned wine is that a typical can contains 375 ml or about 12 ounces, the equivalent of three standard 4-ounce drinks or half a standard 750 ml bottle of wine. Drinkers are used to polishing off a couple of 12-ounce cans of beer (usually 5% ABV) while consuming a couple of cans of wine (usually 13-15% ABV) is equal to swigging an entire bottle of wine and therefore consuming three times as much alcohol. Wine is meant to be sipped and savoured and is not a utility drink like beer or Coke that is often gulped or chugged.
Canned Oregon is a lineup of canned wines produced in Oregon by the Stoller Wine Group. First released in the summer of 2018, production as initially 15,000 cases. If you choose to drink wine from a can, I would recommend the Canned Oregon lineup of varietals as the quality is a step above many canned wines in the marketplace. Pinot Gris and Rosé seem to be particularly suitable to this form of packaging. All wines in the lineup are priced at $6.99 (two cans are equivalent to $14 a bottle).
The Australians would describe these wines as "smashable," meaning an easily quaffable, goes-down-easy style.
The canned wines reviewed below were poured into proper glassware for tasting and were not sampled directly from the can.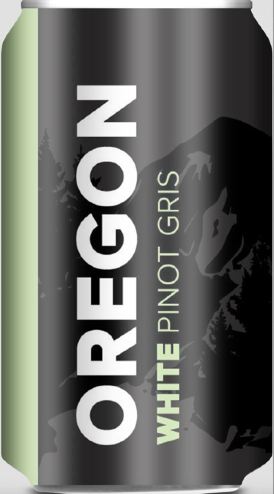 An update on canned wine. Currently, the TTB requires that canned wine be in 12.6-ounce containers, which is slightly larger than the usual 12-ounce cans typical for beer and soda. The difference is making it difficult for wineries since larger cans are harder to source. The larger can size has to be pre-ordered and it may take 6 to 8 months to obtain them. On another matter, Constellation Brands is partnering with the NFL to introduce its new Crafters Union Pinot Grigio, Red Blend and Rosé wine in a can and is also looking at a single-serve Kim Crawford in a can. Anheuser-Busch InBev has taken a controlling interest in Babe Wine, a canned-wine business. According to Nielsen, more than 20 wine brands sell almost 400 different wines in cans, generating $81 million in annual sales.
---
Oregon Wine: A Deep-Rooted History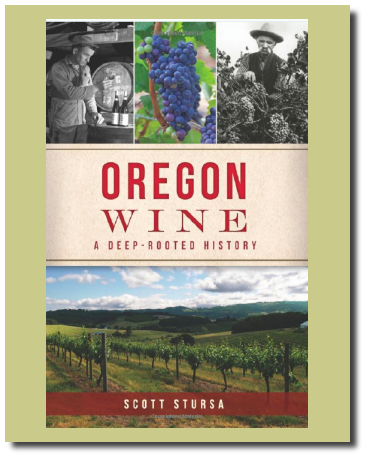 This book offers a detailed history of winegrowing in Oregon spanning the period from the early 1800s to the modern-day. It is extensively researched and includes a comprehensive bibliography and numerous footnotes. Both color and black and white photos are included in this paperback book.
The author dedicates many pages at the beginning unveiling the history of Oregon vineyards and winemaking prior to Prohibition, a period of time that has been largely ignored by wine historians with the limited number of historical accounts filled with considerable misinformation that is not supported by the historical record. Sursa identifies the most frequently cited non-facts and tags them as 'Myths of Oregon Winemaking'.
However, I must point out two "myths" that I feel are unsubstantiated. He describes three purported plantings of Pinot Noir in Oregon including the first by Peter Britt who planted "Frank pinot" in the Rogue Valley in 1887, the second by Adolph and Frederick Reuter who described plantings of "Burgundy" in 1901 in Forest Grove, and the third by August Aufranc who listed Red Burgundy among his plantings. My concern here is that none of these plantings was ever substantiated as Vitus vinifera and more specifically Pinot Noir in the historical record, but instead, reference is made to various paranyms for Pinot Noir used at the time that one could infer as being Pinot Noir grapes.
Stursa's 'Myth Number Seven' states that "Peter Britt, not Richard Sommer was the first to grow Pinot Noir in Oregon" and 'Myth Number Eight' states that "Frederick Reuter, not Charles Coury or David Lett was the first to grow Pinot Noir in the Willamette Valley." These two so-called "myths" may well be true, but Stursa offers no proof. John Winthrop Haeger's excellent book, North American Pinot Noir, sheds no light on this part of Oregon's wine history nor does Benjamin Lewin's book, In Search of Pinot Noir, so Scott Stursa's book is a valuable addition to Oregon's historical wine archives.
Oregon Wine: A Deep-Rooted History, published by American Palate, 2019, 172 pages, $21.99.