Pinot Noir & Chardonnay I Highly Recommend

I have stopped doing formal reviews of Pinot Noir and Chardonnay but I still drink those wines regularly. On a typical evening before dinner, I will open a bottle or two or three until I find one worth drinking. Life is too short to drink ordinary wine. Below are amazeballs wines that I have enjoyed over the past few months listed by vintage year. My impressions are based on drinking the wines before dinner and with food rather than critical tasting and spitting.

***********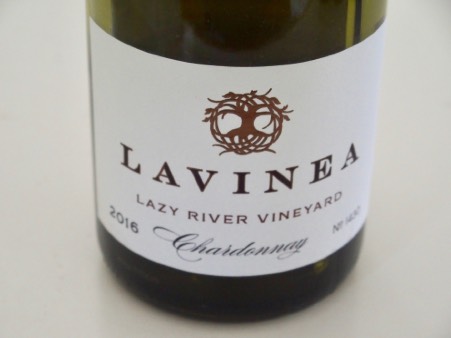 2016 Lavinea Lazy River Vineyard Yamhill-Carlton Willamette Valley Chardonnay
13.5% alc., 220 cases, $45. Winemaker Isabelle Meunier, formerly of Evening Land, crafts Pinot Noir and Chardonnay from vineyards in five AVAs in the northern Willamette Valley. This was my first experience with a Lavinea wine. A Wine Enthusiast top 100 Cellar Selection for 2019. Barrel fermented in 20% new French oak. · This is a stunning wine that is a dead ringer for a Grand Cru Chablis. Aromas and flavors of lemon curd, yellow peaches, lime and melon. Bright and slightly tart with a clean, brisk arrow of acidity. Still great when sampled the following day from a previously opened bottle. 93-94 score range. Note: available from K&L Wine Merchants online. Score: 93-94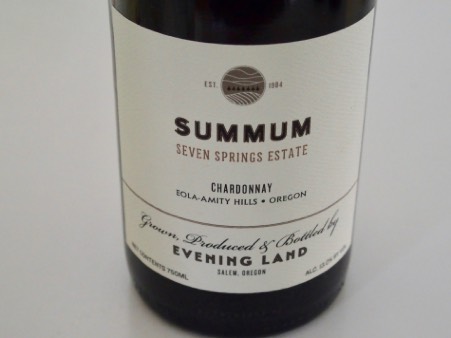 2017 Evening Land Summum Seven Springs Estate Eola- Amity Hills Willamette Valley Chardonnay
13.0% alc., 337 cases, $100. Yes, this is expensive, but worth every penny. Produced from just 14 rows of the best Chardonnay vines at the top of Seven Springs Vineyard. The winery considers this offering their "utmost" and I agree. Gentle whole cluster Champagne press cycle and aged in neutral Stockinger 500 ml puncheons. Indigenous fermentation and aged 12 months in puncheon and 6 months in tank. Light fining without filtration. · The glorious potential of Oregon Chardonnay is exemplified in this classy wine. Perfumed with aromas of Meyer lemon, poached pear, and slight matchstick reduction. The flavors of lemon-lime and Granny Smith apple are uplifting and long in the mouth. A good compliment of bright acidity infuses the fruit flavors with "minerality" and juiciness. 95-96 score range. Note: the wine is still available from the winery. Score: 95-96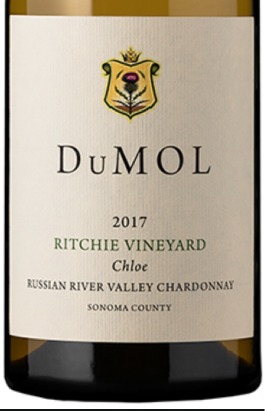 2017 DuMOL Chloe Ritchie Vineyard Russian River Valley Chardonnay
14.3% alc., 724 cases, $65. As regular readers know, I consider Ritchie Vineyard California's top Chardonnay source. Long-time DuMOL winemaker, Andy Smith, has been crafting Old Wente Chardonnay from this vineyard for seventeen years. Vines were 45 years of age in this vintage. Barrel aged 12 months in 33% new French oak followed by 6 months of settling in tank. This is typically a lower-acid Chardonnay with rich, California sun-blessed fruit. · An opulent Chardonnay offering waves of succulent stone fruits and citrus offering an unctuous drinking experience. That said, the wine is not overblown and has good focus and finishing citric drive. I happen to relish this style of Chardonnay and have drank many bottles of this wine over the years. 95-96 score range. Note: DuMOL wines are sold primarily through a mailing list but bottles do show up at retailers such as K&L Wine Merchants. Score: 95-96
---
Recently Reviewed Wines

Although I have discontinued the regular reviewing of wines, latest releases from Big Basin Vineyards, Bravium and Phelps Creek Vineyard arrived with the senders unaware of my "retirement." Here are the reviews for those wines.
Big Basin Vineyards, Boulder Creek, CA
Phelps Creek Vineyards, Hood River, OR
Bravium, St. Helena, CA

2017 Bravium Anderson Valley Pinot Noir
13.5% alc., pH 3.42, TA 0.59, 2,980 cases, $33.99. Released March 1, 2019. Fruit from Valley Foothills Vineyard and Wiley Vineyard. Aged 10 months in French and Hungarian oak barrels (30% new). · Moderately light garnet color in the glass. Reasonably nice cherry and red raspberry aromas. Mid weight in style with the flavor of cherry leather roll-ups, spice, and a hint of oak in the background. Nicely balanced, with good freshness and juiciness. A good value. Score: 89
2018 Bravium Signal Ridge Vineyard Mendocino Ridge Pinot Noir
13.4% alc., pH 3.85, TA 0.55, 242 cases, $44.99. Released January 1, 2020Vineyard planted in 1999 atop Cold Spring Mountain at 2,642 feet elevation. Aged 10 months in French and Hungarian oak barrels, 30% new. · Moderate garnet color in the glass. Alluring aromas of purple plum and grape, spice and burnt tobacco. Hearty on the palate with engaging flavors of blackberry, black cherry and Hoison sauce, finishing joyously long and dry. Typical spice that I find from Hungarian barrels. Still commendable when tasted the following day from a previously opened and re-corked bottle. Score: 93
2018 Bravium Wiley Vineyard Anderson Valley Pinot Noir
13.1% alc., $44.99. Vineyard is 9 miles from the Pacific Ocean overlooking the Anderson Valley. A treasured, older, true cool climate site. · Light garnet color in the glass. The wine leads with scents of cherry, pine sap and toasty oak. Light in weight with a core of dark red cherry fruit flavor, underlain with notes of spice and earthiness. Easy to cozy up to with very fine grain tannins and cool-climate freshness. Finishes long with lip-smacking vibrancy. Score: 92
---
Commentary

Would you like some "minerality" in your Pinot Noir?
I found the reviews of Pinot Noir very curious in the January 31-February 29, 2020, issue of the Wine Spectator. There were 46 reviews of California Pinot Noir by Kim Marcus. The word, "mineral", showed up in some form such as "vibrant minerality," "minerally," "mineral richness," "minerally nuances" and "stone" in 19 or 40% of the reviews. 18% of 68 reviews of Oregon Pinot Noir by Tim Fish also included references to "minerality" such as "stony mineral notes," loamy mineral," "river stone," "crushed stone," and "stony mineral accents."
In the March 31, 2019, issue of the Wine Spectator, Kim Marcus reviewed 21 California Pinot Noirs and used the word "mineral" and variants of that term in 40% of the reviews. In that same issue, Tim Fish referenced "minerality" in 26% of his Oregon Pinot Noir reviews, and used the term "stony minerality" in five separate reviews.
The word "minerality," is a relatively new term that first appeared as a fashionable term in the wine lexicon about in the mid-1980s according to Jamie Goode. Minerality is absent from Emile Peynaud's classic book, The Taste of Wine (1983) and UC Davis professor Ann Noble's Wine Aroma Wheel (1984).
Minerality is a vague descriptive word for wine that has no common definition. Wikipedia defines it as a sense of mineral-ness as flavors of slate, schist, silex, etc. Winegrower Kevin Harvey of Rhys Vineyards is a believer in minerality in wine and defines it as "the aroma taste and tactile sensation in wine when grapes are grown on rocks." In other words, minerality is something we associate with the smell and taste of rocky areas but have you ever really found much aroma in stones or actually tasted rocks? Being able to actually smell or taste vineyard geology in the form of minerals in Pinot Noir escapes me, especially since there is no evidence that minerals in the soil are transferrable to wine grapes.
Mike Waller, winemaker at Calera Wine Co., who has spoken at seminars on minerality and said, "I don't get much minerality in red wines. I am an 'atheist of minerality,' preferring to ascribe minerality to the 'lack of fruit expression.'" The problem with this definition is that if the wine isn't fruity and lacks that attribute, does not mean by inference that a wine has minerality.
Minerality is perceived far more often in white wines presumably related to acidity and sulfur-based compounds due to reduction. It may be a mystical name for the redox phenomenon. Respected wine critic, Michael Bettane, said, "The only no-nonsense use is to describe a wine marked by salty and mineral undertones, more often a white wine rich in calcium and magnesium as many mineral waters are. For a red wine, I have no idea."
Another sceptic is winemaker Greg Saunders of White Rose Vineyards in the Willamette Valley. He told me, "When we use language to convey meaning a basic premise is that we are using commonly defined terms. With minerality, we are not using a commonly defined term. If I say something tastes like blackberry, people can agree or disagree, but they can understand the reference. Minerality has no common reference and means different things to different people. Where I come from, if you cannot have a common definition, we usually say the word is BS."
Perhaps the definition of winemaker Jason Lett of The Eyrie Vineyards is useful, albeit vague, "The minerality of wine is experienced like a generation of tension in the mouth that is innately refreshing and energizing." Similarly, wine researcher Clark Smith believes minerality is indefinable and attributes it to an "energetic buzz."
I believe leaning heavily on the word minerality or its variants in reviews of wines like Pinot Noir relegates those reviews to the vagueness that the consumer finds puzzling and worthless. Robert Joseph wrote, "You ask a hundred people whether they want a wine with minerality and there is probably only two or three who have any idea what you are talking about." Reviewers should use some reasonably well-defined words to portray a wine's characteristics.
**********
I just about fell out of my chair when I read in this same issue of the Wine Spectator reviews of four 2017 Kosta Browne vineyard-designated Pinot Noirs priced at $165!! I know that triple-digit domestic Pinot Noir is not rare these days, but who ponies up for $165? That is almost $2,000 a case not including tax and shipping. I will take the 2017 Maggy Hawk Jolie Anderson Valley Pinot Noir that is rated 95 in the issue and priced at $65 any day.
Kosta Browne was a staple at the annual World of Pinot Noir when crowds of pinotphiles would clamour around Dan and Micheal's table. The owners usually ran out of wine within an hour. I noticed this year that Kosta Browne poured at the event as did Michael Browne's newer labels, Cheu and Cirq.
**********
Check out the article I wrote and is now published in the most recent (February) issue of Oregon Wine Press, "The Wine and Health Debate: A Closer Look at the Risk vs. Benefits of Moderate Drinking." Read the article at www.oregonwinepress.com.