Pinot Noir Shootout Prelims
The 6th Annual Pinot Noir Shootout began this month with a number of preliminary tastings and will continue until the finals which will be held on January 16, 2008 in San Francisco. Over 250 Pinot Noirs from North America, France, New Zealand, Australia and Chile will be paired down by a distinguished tasting panel to approximately 40 finalists and then presented to the public, trade and press at The Pinot Noir Summit on February 9, 2008 in San Francisco. At the Summit, the public has the opportunity to vote for their favorite wines tasted blind in a walk-around format, and the results are be compared to the scores given by the professional judges. Attendees are also be able to meet the winemakers and/or winery owners of each of the finalists after they are judged and unveiled.
Affairs of the Vine and Wine Works will conduct The Pinot Noir Shootout and International Wine Review will join the final judging. Affairs of the Vine (www.affairsofthevine.com) is a wine education company, specializing in corporate events, interactive wine workshops, and Wine Boot Camp held at various locations in California wine country. Wine Works is an informal association of wine writers, educators and consultants. International Wine Review provides the wine trade and wine enthusiasts with a bi-monthly publication that features current and accurate information regarding important wine regions of the world and in-depth tasting reports (www.i-winereview.com).
The competition is quite unique for several reasons. During the preliminaries, thirty-two wines are tasted blind in four flights of eight over several hours, allowing attentive and extensive evaluation of each wine. This format tends to eliminate palate fatigue as a factor in judging. At many major wine competitions, judges must sample at least 100 wines per day, and often many more. Judging at The Pinot Noir Shootout is independent of producer, appellation, vintage and price. A 100-point scoring system is utilized, but the emphasis is on the copious notes that the judges create for each wine. The judging panel is comprised of a diverse group of Pinot Noir-loving professionals including representatives from the press (Dan Berger, Vintage Experiences; Tina Caputo, Wines & Vines; Graham Parnell, Vineyard and Winery Management; Jay Youmans, MW, International Wine Review; and yours truly), sommeliers (Courtney Cochran; Christopher Sawyer, Carneros Bistro/Lodge), wine buyers (Shaun Green and Keelyn Healy, K&L Wines; Kristi Mohar, Fiesta Market), winemakers (Anthony Austin, Sonoma Coast Vineyards), restaurateurs (Cluney Stagg, Bistro Des Copains; Ken & Ellen Landis, Landis Shores Oceanfront Inn, Half Moon Bay), wine educators (Barbara Drady, Affairs of Vine; David Jones, Wine Works; Laura Ness, Appellation America; Lisa Zimmerman), and wine writers (Michael Cervin, Ziggy Eschliman, Alan Goldfarb, Ray Johnson, Jordan MacKay, Ben Narasin, and Ronn Wiegrand). There are more judges per entry than broad-based wine competitions. The results and reviews are gender-based in that male and female judges' scores and comments are tabulated separately.
Through my participation in the preliminary tastings, I was able to sample almost 100 Pinot Noirs. There were many wines that lacked the elegance, finesse, texture and sensuality that I look for in a good Pinot Noir. Tasted blind, these generously fruited, rather than complex wines, with higher alcohol and heavy oak could easily be mistaken for Syrah. I am always honing in on acidity in particular. Acidity is crucial for refreshment, compatibility with food and aging. Some of these Pinot Noirs had enormous richness and concentration, but lacked acidity. I like to call these wines "P-no-no-R." There were, however, several excellent Pinot Noirs that I can recommend that were not the judging panel consensus favorites, but my personal choices. In talking with other judges, however, there was consensus of opinion on some of my choices that served to verify the pedigree of these Pinot Noirs. The big surprise of the tastings was the quality of a number of Pinot Noirs originating in Monterey County.
An interesting list of flavor and aroma components in Pinot Noir was compiled by Barbara Drady of Affairs of the Vine and handed out to the judges. This list highlights the most commonly encountered aromatic and flavor descriptors for Pinot Noir. Common fruits are cherry, raspberry, raspberry jam, strawberry, strawberry jam, orange peel, tangerine, grapefruit, black cherry, cranberry, blackberry, blackberry jam, pomegranate, plum, ripe tomato, roasted tomato, currant and dried cherry. Floral elements include violets and rose petals. Spice notes include cinnamon, vanilla, cardamom, cola, clove, oregano, nutmeg, pepper, rosemary and sassafras. Vegetal descriptors include rhubarb, wet leaves, mushroom, beet, black olive, and green tea. Wood elements are oak, char, smoke, various spices, and cedar. Still other descriptors are chocolate, coffee, barnyard, wet leaves, earth, quinine, spearmint, peppermint, leather, meat, and tobacco. The complete list would take pages.
Heaven Sent
Hahn Estates Pinot Noir is available on the winery website, www.hahnestates.com. Hahn Estates tasting room in the Santa Lucia Highlands is at 37700 Foothill Road, Soledad. 831-678-4555.
San Saba wine is available from the winery by phone, 831-678-2212. A tasting room is open daily at 35801 Foothill Road, Soledad. The website is www.sansaba.com.
Windward Vineyard wines are available on the website at www.windwardvineyard.com. The 2006 vintage has been released but I would advise cellaring a couple of years before opening. Older vintages are still sold to wine club members. Tasting room open daily at 1280 Live Oak Road, Paso Robles. 805-239-2565.
Girasole Vineyards
Pinot Noir is available for sale on the website at
www.girasolevineyards.com
. Located two hours north of San Francisco, the winery is open for tasting daily. The address is 7051 N State Street, Redwood Valley. Private tours with Charlie (photo left) are available by appointment. 707-485-6784.
David Bruce wines are available on the winery's website at www.davidbrucewinery.com. The winery is located at 21439 Bear Creek Rd, Los Gatos. 408-354-4214.
Ventana Vineyards are sold on the website at www.ventanawines.com. 831-372-7415. The charming tasting room is housed in a circa 1919 Old Stonehouse at 2999 Monterey-Salinas Highway, Monterey. Open daily.
Robert Stemmler wines may be purchased on the website, www.robertstemmlerwinery.com. A tasting room is open on the Sonoma Square in the town of Sonoma. 707-939-0651.
Row Eleven Wine Co Pinot Noirs are available on the website at www.row11.com. 415-259-2770.
Ardiri The new website is www.ardiriwine.com.
Robledo Family Winery is open for tasting by appointment at 21901 Bonness Road, Sonoma. The website is www.robledofamilywinery.com.
---
Knocking on Heaven's Door
Longboard Vineyards has a fun tasting room a few blocks off of the plaza in Healdsburg at 5 Fitch St. There is a redwood surfboard bar and a plasma television showing surf videos. Wines are sold on the website at www.longboardvineyards.com. 707-438-3473.
Patz & Hall winery has a wine tasting salon in Napa which is available for private and seated tasting by reservation for $35 - 85 Bordeaux Way, Suite A, Napa, 707-265-7700. The wines are available on the winery's website at www.patzhall.com.
Domenico Wines tasting room (open daily) and event venue is at 1697 Industrial Road in San Carlos. The Bacchus Winemaking Club allows wine enthusiasts the ability to craft their own wine under guidance at the winery. The websites are www.domenicowines.com and www.bacchuswinemakingclub.com. 650-593-2335.
Sojourn Cellars Pinot Noirs are sold through a mailing list at www.sojourncellars.com. The 2005 vintage has been released.
Babcock Winery & Vineyards wines are available on the website at www.babcockwinery.com. The tasting room at 5175 E Hwy 246 in Lompoc is adjacent to Melville Winery. 805-736-1455. The Grand Cuvée is nearly sold out at the winery.
Flying Goat Cellars Pinot Noirs are sold through a mailing list, retail distribution, and on the website at www.flyinggoatcellars.com. Tasting by appointment. 805-688-1814.
LaZarre wines are sold only to restaurants and loyal Hahn Estates customers. See write up on page 2 about Hahn Estates.
Rodney Strong Vineyards is located at 11455 Old Redwood Highway, Healdsburg (on Highway 101 3 miles from the town of Healdsburg on Old Redwood Highway). 707-433-6521. The wines are sold on the website, www.rodneystrong.com. A hospitality center and tasting room is open daily, along with guided tours of the winery.
---
Earth Bound but Worth a Look
---
Mark West: Pinot for the People
Alex Cose's spent six years at Napa's Peter Michael Winery under Mark Aubert working as production manager and oversaw the release of high-end Chardonnays costing up to $150 a bottle. Today, he makes wine for the Purple Wine Co. which produces Mark West Pinot Noir priced closer to $14. Cose's background was in finance and he worked in the banking industry before a cellar rat job at Monticello Cellars in Napa Valley sent him on a path to pursue formal training in winemaking at Fresno State.
The Purple Wine Co. was started by Derek Benham, who founded Blackstone Winery with his brother, Courtney Benham. Blackstone was begun on a shoestring with 400 cases of Merlot and grew into a wine industry giant that was sold to Constellation Brands for $144 million. After selling Blackstone, Benham knew that Pinot Noir was the next hot wine.
Cose is an innovator. He was searching for more oak notes in the Mark West Pinot Noir and decided to add a small amount of amply-oaked Chardonnay. This did the trick and now the Mark West Pinot Noir contains 2% Chardonnay. 13% Syrah is also added to the Pinot Noir for structure and color. The wine is sourced from multiple producers and includes both grapes and press wine. Foreign sources of Pinot Noir might include Corsica if availability is tight in the States. Oak staves are utilized instead of expensive new French oak barrels. Alcohol is kept below 14% so consumers can comfortably drink more than one glass. The goal is not to craft wines that will achieve high scores, but to produce readily accessible and drinkable wine that people can enjoy now. Part of the winery's manifesto is "Get affordable Pinot into as many hands as we can." The slogan, "Pinot for the People," is a extension of this goal.
Most of Purple Wine Co. production (they also make Mark West Chardonnay, Avalon Cabernet Sauvignon, Rock Rabbit Syrah, Rock Rabbit Sauvignon Blanc and Bex Riesling) is sold to restaurants and Mark West Pinot Noir is the Marriott Hotel chain's house Pinot Noir.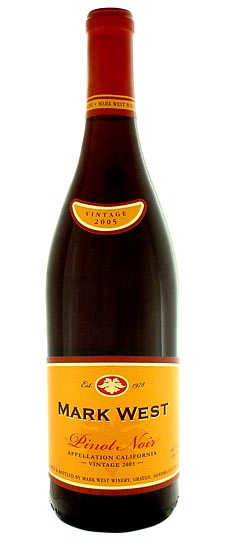 2006 Mark West California Pinot Noir
13.8% alc., $14. 56% Central Coast, 16% Sonoma County, 12% Mendocino County, 4% Napa County, and 12% other. · Red fruits, spice, oak char and smoke on the nose and echoed in the flavors. Silky, light and easy to drink. Plenty of pinotosity. The fruit lacks punch and is shallow on the palate and on the back end but I have tasted a lot worse for three times the price.
Mark West Winery Pinot Noir is distributed nationally. The wine is made in Graton, Sonoma County. The website is www.markwestwinery.com. 707-938-9229. Mark West: Pinot for the People
---
Pinot Briefs
Winemaker of Year Josh Jensen of Calera Wine Company has been named 2007 Winemaker of the Year by the San Francisco Chronicle. Three decades of winemaking in a god-forsaken place known as Mount Harlan has finally earned Jensen, now 63, the accolades of an adoring wine drinking public. His wines are distinct and age worthy. Jacques Seysses of Domaine Dujac in Burgundy says, "When you drink wine that is 10 to 15 years old, my feeling is that the only one that can compete with the best Burgundies is Calera."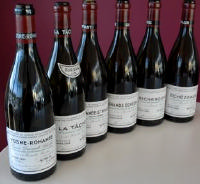 DRC Production The wines of Domaine de la Romanee Conti are scarce and highly valued. Of the lineup of wines, the annual production is: La Romanee-Conti 7,000 bottles, La Tache 24,000 bottles, Grands-Echezeaux 14,000 bottles, Echezeaux 18,500 bottles, Romanee St. Vivant 14,000 bottles and Le Montrachet 3,000 bottles. The numbers change each year and the production numbers have been down in recent years.
Asia Wine Drinkers Increasing According to drinksinternational. com, wine consumption in Asia is increasing at more than seven times the global average. Middle classes in India, Japan and China, in particular. are showing significant interest in wine. According to IWSR research, between 2006 and 2011 China's wine consumption will grow by almost 70%. Recent research from Vinexpo Asia Pacific indicated consumers worldwide spent more than $100 billion dollars on wine in 2006.
Burgundy Seminars at Scott Paul Scott Paul Wines in Carlton, Oregon has announced their 2008 calendar of Burgundy Seminars held in a relaxed and informal setting at the winery's tasting room. All classes are on Saturdays from 6-8 PM. Both Burgundy 101 and Burgundy: The Graduate Course seminars are given on multiple dates. The seminars are led by self-professed Burgundy geek, Scott Wright, owner of Scott Paul Wines. Tasting of wines will be accompanied by artisan bread, French cheese and charcuterie. For reservations: www.scottpaul.com or call 503-852-7300. Cost is $40-$55.
More Women Supertasters According to genetic studies, women are more likely to be supertasters than men. Also, there are more supertasters among the Asian, African and South American populations regardless of gender. Supertasters are more sensitive to bitterness and prefer sweetness.
Luc Morlet has Own Label Luc Morlet, the son of Pierre Morlet, who directs the family Champagne house, was the winemaker at Peter Michael for five vintages beginning in 2000. He has now started Morlet Family Vineyards which has debuted with the 2005 vintage. The lineup includes La Proportion Doree (Sauvignon Blanc and Semillon blend), Sonoma Coast Pinot Noir Coteaux Nobles ($75), Sonoma Coast Pinot Noir En Familie ($85), Sonoma Coast Pinot Noir Joli Coeur ($95), and a Syrah. I have sampled the Joli Coeur and found it stunning. Stay tuned for futher reviews. The website for ordering is www.morletwines.com.
Open Wine Without Corkscrew Thanks to the blog, www.redislife.com, I found a brief article in Esquire (June, 2007) titled, "How to Open a Bottle of Wine without a Corkscrew." The instructions were as follows. Wrap the base of the wine bottle in a towel. Hold the bottle horizontally and proceed to rhythmically pound it base-first against the wall. Be firm, not violent. As the wine sloshes forward with each impact, it will squeeze into the neck of the bottle, creating a primitive water hammer. The cork will eventually be driven out far enough that you can grab it and finish the job manually.
---
Say What?
This New Years you will undoubtedly be drinking a few glasses of Champagne and/or Pinot Noir. I'll bet you can't say the following after imbibing.
1 Thanks, but I don't want to have sex
2 Nope, no more wine for me
3 Sorry, but you're not really my type
4 I am not a pimp for the Prince of Pinot
5 Oh, I just couldn't. No one wants to hear me sing.
Northbay biz Vol 32, #13, 2007
---
Varietal Labeling
Alsace was the first region in the world to do varietal labeling, beginning in the early 20th century. Today, Alsace, like its neighbor Germany, requires that a wine must be 100% of the grape named on the label.
In America, varietal wines originally had to contain 51% of the grape named on the label. The Wine Labeling Act in 1982 changed increased the amount from 51% to 75%. Proprietary branding, for example that used on Meritage wines, developed shortly thereafter and allowed the use of any percentage blend of grapes on those wines.
Currently in California, a non-estate wine labeled with a county appellation (ie Sonoma) must contain 75% of the grape named on the label. For a sub-appellation like the Russian River Valley, 85% of the grapes must be the named varietal. For vineyard designated wines, 95% of the grapes must come from the named vineyard. For an estate bottled wine, 100% of the grapes must come from the appellation. In all cases, 95% of the grapes must come from the stated vintage (most other countries it is 85%).
Oregon was the first wine region in the United States to adopt labeling regulations. For many varietals such as Pinot Noir, 90% of the grapes must be the varietal named on the label. In New Zealand, 85% has to come from the varietal.
It is not unusual to add small amounts of other varietals to Pinot Noir. Syrah is often chosen to add color and structure. This may or may not be indicated on the label. Many producers prefer not to include this information fearing that the consumer will consider that Pinot Noir that is not 100% Pinot Noir is an inferior product. How the wine tastes is really the final arbitrator of quality and if a tiny percentage of Syrah adds interest or magic to the final wine, so much the better.