PinotFile: 9.43 July 19, 2014
Sips of Recently Tasted California Pinot Noir & Chardonnay & Outliers
Recent California Winery Visits & Tastings
Bacigalupi Family 50th Anniversary Celebration & 3rd Anniversary Vineyard Designate Tasting
Sips of Recently Tasted California Pinot Noir & Chardonnay & Outliers
I prefer not to simply list wine reviews without including context since wine reviews by themselves don't tell the whole story. However, lately, I have been inundated with wines to review, and have had a heavy wine region and wine event travel schedule. For that reason, this issue will be devoted to reviews only and the quality of the wines will have to speak for themselves. I have in the past written extensively about practically every producer whose wines are included here, so refer to the Winery Directory for more background information. Anderson Valley wines will be reviewed in the next issue which includes highlights from the Anderson Valley Pinot Noir Festival.
2012 Banshee Marine Layer Sonoma Coast Pinot Noir
13.0% alc., 200 cases, $50. A blend of the best Sonoma Coast vineyard sources including Coastlands, Rice-Spivak, Hellenthal, Emmaline and Jack Hill. Winemaking consultant is Ross Cobb. Aged 15 months in 10% new French oak. · Moderate reddish purple hue in the glass. Aromas of black cherry and coffee-scented oak. Satisfying mid weight core of dark red cherry and raspberry fruit with some finishing length. Impressive balance and harmony with good integration of oak and juicy acidity. Score: 89
2013 Bonny Doon Vineyard Central Coast Vin Gris De Cigare
13.0% alc., $12, screwcap. The pink analog of Le Cigare Volant. A blend of red and white Rhone varieties. · Light orange coral color in the glass. Aromas and flavors of strawberry, raspberry, peach and melon in a clean, crisp and dry style which is tasty and satisfying. This wine does what a Rosé should do: refresh Score: 88
Brick & mortar was established in 2011 in Napa Valley by friends Jordan Rasmussen, Matt Iaconis and Edward Brown under the MSix Wine Group LLC Company title. Matt Iaconis is the winemaker. This was my first exposure to the wines which were excellent.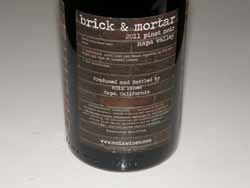 2011 brick & mortar Napa Valley Pinot Noir
13.3% alc., 84 cases, $44. Released on Oct 1, 2013. Extended cold maceration until native yeast began a spontaneous fermentation in open-top barrels. Some whole cluster. Aged 20 months in once-used French oak barrels. Bottled unfined and unfiltered. · Moderately light garnet color in the glass. Large scale aromas of cherry glaze with a compliment of smoky oak. Delicious core of spiced black cherries with a hint of clove and cola. Broad in the mouth and nicely balanced with suave tannins, integrated acidity, and a polished, aristocratic mouth feel. Score: 92
2012 brick & mortar Napa Valley Chardonnay
14.1% alc., 128 cases, $38. Released from MSix Wines on October 1, 2013. Whole cluster pressed, aged in 25% new French oak barrels in natural caves dug deep into the hills in Napa Valley. Primary and secondary fermentations lasted upwards of 4 months. Lightly fined and filtered. · Light golden yellow color and clear in the glass. Subdued, but pleasant aromas of lemon tart, pastry cream and nutty oak. Nicely composed with charming flavors of lemon, peach and pear with a kiss of oak. Silky in the mouth, with lingering fruit presence on the uplifting finish. Score: 90
Brooks Note is a Marin-based winery focusing on Pinot Noir. Winemaker Garry Brooks and his spouse Joanne, planted a small vineyard in Sonoma in 2002. Both were working in technology, but it soon became evident that their passion was with grapes. In 2004, Garry left the lucrative world of technology to pursue his dream of making wine. He worked part time at Ravenswood while earning a degree in viticulture and enology from University of California at Davis. He made his first Pinot Noir at Acacia in 2007 and later moved on to Kosta Browne, working with Michael Browne and Shane Finley for two years. He then joined Dutton-Goldfield as assistant winemaker working under Dan Goldfield. Dan introduced him to the unique vineyards of Marin County. Garry and Joanne launched their commercial label in 2011. Visit www.brooks-notewinery. myshopify.com to join the mailing list.
Kosta Browne wines are extremely popular. The winery does not have a tasting room since they sell all their wine direct to consumers and have nothing extra to pour. The winery is closed to the public. Large format bottles are for charity auctions only. The wines are sold twice a year (spring and fall) to a mailing list. Currently, there is an extensive waiting list, which comes with a 2 to 3-year wait for a spring allocation of appellation wines and a 5 to 6-year wait for a fall allocation of single vineyard designate wines.
Martin Ray Vineyards and Winery has been known for large production, reliable table wines at reasonable prices, under the Martin Ray, Courtney Benham, and Angeline Wines labels, often distributed to major high volume wine retailers. More recently, the Martin Ray label has taken on a more sophisticated redesign and the three 2012 Pinot Noirs reviewed here indicate there is a new commitment to ultra premium winemaking under the Martin Ray tag. The wines are more prestigious in presentation including a heavier bottle. Consulting winemaker Dan Goldfield brings experience in Burgundian varietals to the organization whose head winemaker is Bill Batchelor assisted by Lindsey Haughton.
Mike Sinor acquired his family's first vineyard property, the 112-acre Bassi Ranch and 30-acre Bassi Vineyard, in 2013, representing the culmination of 23 years of hard work in the local wine business currently with both Ancient Peaks Winery and Sinor-LaVallee. The vineyard, located just 1.5 miles inland at Avila Beach, was planted in 2000. The 2013 Pinot Gris and the 2012 Syrah (80% from Bassi Ranch Vineyard) are the first estate wines from Sinor-LaVallee. Starting with the 2013 vintage, Sinor-LaVallee will be producing a majority of wines from their Estate Vineyard including mostly Pinot Noir along with small volumes of Chardonnay, Pinot Gris, Albarino and Syrah. Mike has been a tireless promoter of the San Luis Obispo winegrowing region as well as significant contributor to the success of the World of Pinot Noir event. The Sinor-LaValle front label has Mike's thumbprint on the left and his spouse Cheri's on the right, and the kids' thumbprints are on the back label. The website is www.sinorlavallee.com.
Beginning with the 2012 vintage, Talbott is bottling all of its wines under screw caps. Winemaker Dan Karlsen is now focusing on more sheltered sites, where the wind doesn't toughen the Pinot Noir skins. He has also re-trellised the cordon arms of the vines to ensure even ripening and has eliminated all kicker canes. In the winery, Dan designed and built a room dedicated to open-top fermentation. He also built a custom punch down device. Dan does about 150 individual fermentations each vintage and then evaluates every lot blind.
---
Recent California Winery Visits & Tastings
Inman Family Winery, Russian River Valley
Kathleen Inman, CoProprietor & Winemaker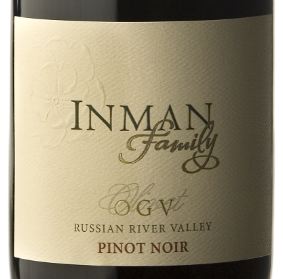 2010 Inman Family Winery Olivet Grange Vineyard (OGV) Estate Russian River Valley Pinot Noir
12.5% alc., pH 3.61, TA 0.55, 308 cases (40 cases left), $68, screwcap. Clones 114, 115, 667, 777 and "828." 50% whole cluster fermentation. · Moderate reddish purple color in the glass. Hi-tone scents of Bing cherry, baking spices, savory herbs and sandalwood. More savory and herbal than the 2011 vintage which is more fruit driven. Very elegant and smooth, with a delicious array of red cherry and berry fruits that offer good intensity on the mid palate and length on the broad finish. Score: 92
2009 Inman Family Winery Olivet Grange Vineyard (OGV) Estate Russian River Valley Pinot Noir
13.4% alc., $68. 4-day cold soak, 20% whole cluster native fermentation, aged 10 months sur lie in French oak. · Moderately light reddish purple color in the glass. Aromas of fresh Bing cherries, raspberry, and baking spice leap from the glass and persist over time. Great overall harmony, with a charge of delicious cherry and berry fruits accented with spice. The tannins are noble, and the fruitdriven finish is uncommonly persistent. Score: 93
2012 Inman Family Winery Russian River Valley Endless Crush Sparkling Brut Rosé
12.0% alc., pH 3.0, TA 0.81, 309 cases, $56. Disgorged March 14, 2014, released April 2014. Very slight dosage (1%). 100% OGV Estate fruit. · Light pink color with a good bead in the glass. Highly aromatic featuring aromas of fresh-picked strawberries, red cherries and peach. A special wine that offers intense strawberry and cherry flavor which embraces the mid palate and returns in waves on the dry finish. Score: 93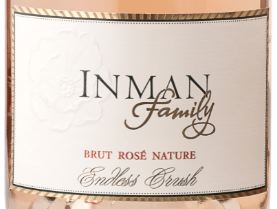 Inman Family Wines is open for tasting Thursday through Monday at 3900 Piner Road in Santa Rosa, CA. There is a charming farmhouse adjacent the winery available for rent. The website is www.inmanfamilywines.com.
Lynmar Estate, Russian River Valley
Shane Finley, Winemaker

Note: Some 2012 wines were vinified by Bibiana Gonzalez Rave (BGR), along with consulting winemaker Paul Hobbs. Rave left Lynmar in 2012. Some wines were vinified with both Rave and the current winemaker, Shane Finley (SF), and some were produced by Finley only. (The initials BGR and SF indicate the winemaker(s) for each wine)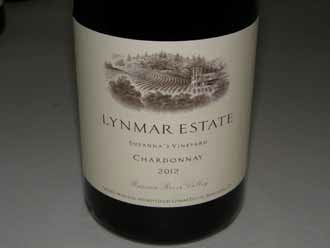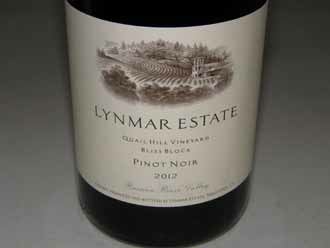 Dunstan Wines, Sonoma Coast
Kenneth Juhasz, Winemaker
2012 Dunstan Durell Vineyard Sonoma Coast Rosé of Pinot Noir
13.0% alc., 92 cases, $25 (sold out). Grapes picked a little earlier from a certain block in the Ranch House Block. Grapes were lightly crushed by foot before pressing to neutral French oak barrels for 6 months. Winemaker Kenneth Juhasz. · Light orange color in the glass. Lovely aromas and flavors of strawberry and blood orange with good body and intensity. Thoroughly enjoyable. Score: 89
2011 Dunstan Durell Vineyard Sonoma Coast Chardonnay
13.3% alc., $45. Aged 14 months in 40% new French oak barrels. No malolactic fermentation. · Bright yellow color and clear in the glass. Aromas of buttery pear, lemon curd and caramelized oak lead to a silky palate of pear, white peach lemon, and stony minerality. Bright and thirst quenching. Score: 90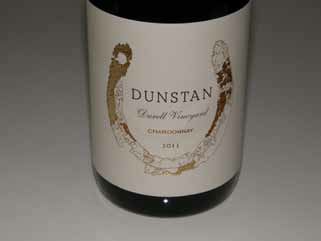 2012 Dunstan Durell Vineyard Sonoma Coast Chardonnay
14.1% alc., 400+ cases, $45. Release September 20, 2014. Aged in 30% new French oak barrels. No malolactic fermentation. · Very fresh nose redolent of lemon curd, nutty oak and salt air. Crisp and bright on the palate with good intensity of lemon, nectarine, pear and honey flavors Score: 93
2011 Dunstan Durell Vineyard Sonoma Coast Pinot Noir
14.5% alc., 316 cases, $55. Bottled 14 months ago and just released. Composed of 5 clones grown in volcanic soils. · Moderate reddish purple color in the glass. Endowed with hi-tone aromas of fresh cherry, strawberry, spice and a hint of oak. Rather exotic tasting with mid weight flavors of cherry, raspberry, other wild berries, red plum, and peppery spice. Silky with complimentary barrel management. Score: 90
2012 Dunstan Durell Vineyard Sonoma Coast Pinot Noir
14.2% alc., Unreleased. Same vinification as the 2011 vintage. Aged in 40% new French oak barrels. Bottled 1 month before this tasting. · Moderate reddish purple color in the glass. Subdued, but pleasant aromas of red cherry, loam and spice. Delicious with obvious potential, featuring vivid flavors of raspberry, cherry and spice. The oak is fully integrated and the fine-grain tannins are only modestly imposing. Terrific charm with a glorious cherry-driven finish. Score: 93
Photos below are of the Ranch House Block surrounding the owner's home at Durell Vineyard. Planted in 2005 by owner Ellie Phipps Price, it is located at the southern end of the vineyard on an east-facing slope. It is subjected to cool coastal fog in the morning and warm, breezy afternoons. The vineyard is more densely planted than other area of the vineyard. All Dunstan wines come from this 8.5-acre Ranch House Block at Durell.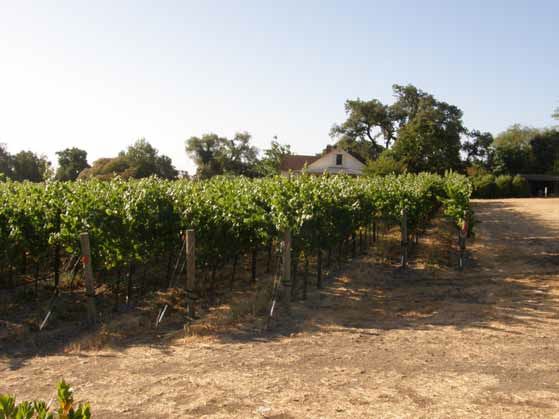 En Garde Winery, Sonoma Valley
Proprietor and Winemaker Csaba Szakal
It is a rarity to discover a winemaker of Hungarian origin crafting Pinot Noir along with other varietals in Sonoma Valley. Csaba grew up in a family that had made wine for four generations in Hungary. He successfully made Rosé and white wines in his garage using grapes from his grandfather!s vineyard, but yearned to seek a career in technology. He left Hungary in 1996 for work as a computer programmer in Silicon Valley. Csaba met his wife, Sandy Scott, a CPA who had grown up in Sonoma County, and because of her exposure to wine, urged him to make wine again.
Csaba began crafting wine again in his home garage in 2001, using Merlot grapes sourced from a Dry Creek vineyard in Healdsburg. The wine, which was aged in (surprise!) Hungarian oak barrels, won a gold medal in an amateur wine competition. By 2007, he had decided to start a commercial label, En Garde, in a leased space in Livermore. In 2010, the couple quit their jobs, with him crafting the wines and she managing the business side of the winery. Three years later, the family moved to Santa Rosa where he pursued fruit sources. A stylish tasting room was opened on Sonoma Highway in Sonoma Valley, and Csaba now makes his wines at the nearby Mayo Winery facility where I tasted barrel samples with him.
The first Russian River Valley Pinot Noir was released from the 2008 vintage and currently there is a Russian River Valley AVA blend and an AVA Reserve blend. The first vineyard-designated Pinot Noirs will be released from the 2012 vintage. Csaba crafts a number of other excellent varietals, including a 2012 Albarino ($28) that I am particularly fond of. His Cabernet Sauvignon and Bordeaux-blend wines have won numerous awards.
The 2010 and 2011 vintage Pinot Noirs have previously been reviewed in the PinotFile. The 2010 vintage wines are riper, with more purple and black fruits. The 2011 wines are brighter, with redder fruits and spice. I am particularly fond of the 2011 Reserve which is mellow with vivid red fruits, spice and a very long finish. The 2012 wines tasted from barrel will be released in the late fall 2014.
2012 En Garde Olivet Court Vineyard Russian River Valley Pinot Noir Barrel sample. Martini clone. Still tight with oak dominating, but good mid palate attack, long finish, fine-grain tannins, and the telltale dark chocolate of Martini clone.
2012 En Garde Starkey Hill Russian River Valley Pinot Noir 25% "828," 25% Pommard, 50% 23. Vineyard is owned by spouse's best friend. Invigorating nose offering aromatic cherries and spice. Very elegantly styled with refined tannins and a pleasing spice-driven finish. A winner.
2012 En Garde Reserve Russian River Valley Pinot Noir Martini and Starkey selections. A barrel selection. The biggest, most intensely flavored wine with a knockout nose of fresh stone and berry fruits and exotic spices. The oak is already nicely integrated. The finish is incredibly long and satisfying.
I don!t consider myself an expert when it comes to other red varietals, but the Malbec (10% Petit Verdot) and the Petite Sirah sourced from Livermore and aged in American oak were both great wines. Clearly, Csaba is a very talented and versatile winemaker.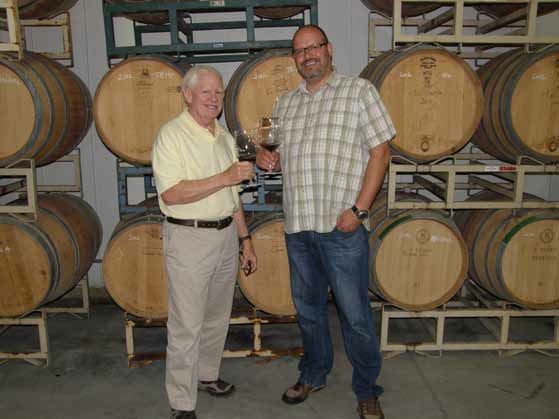 ---
Bacigalupi Family 50th Anniversary Celebration & 3rd Anniversary Vineyard Designate Tasting
Recently, the Bacigalupi family celebrated the 50th Anniversary of the planting of Pinot Noir and Chardonnay at Goddard Ranch in Healdsburg, a milestone in California winegrowing history that played an important role in the outcome of The 1976 Judgment of Paris Tasting. They also held a Bacigalupi Vineyard Designate Tasting adjacent their tasting room where fifteen wineries poured Chardonnay, Pinot Noir, Zinfandel and Petite Sirah from Bacigalupi vineyards. I thoroughly enjoyed this opportunity to taste wines from various producers and mix with the delightful Bacigalupi family.
Fifty years ago, prunes took precedent over wine grapes in the Russian River Valley and grapevines were relegated to the poorest ground. The Italian fore bearers who had settled the region had planted field blends of Zinfandel, Petite Sirah and Carignane, but there were also extensive plantings of white wine grapes including French Colombard, Golden Chaslis and Mission. These white varieties are nearly extinct today in the region. Locals had little interest in or knowledge of Pinot Noir and Chardonnay, the two grape varieties that now dominate the Russian River Valley landscape.
John Bacigalupi, the son of Charles and Helen Bacigalupi, who grew up on the family ranch, tells the humorous story of the time his father called Foppiano Winery in Healdsburg to tell him that his crop of Pinot Noir and Chardonnay was ripe and ready to pick. The winery told him they could not be bothered, as they were too busy processing prunes.
When Charles and Helen Bacigalupi put the early plantings of Pinot Noir and Chardonnay in the ground on Westside Road in 1964, most locals thought it folly to plant grapes that nobody wanted.
Charles Bacigalupi, who was born in Santa Rosa, became a successful dentist in Healdsburg, and his spouse, Helen, was trained as a pharmacist. They had always wanted a ranch in the country, and in 1956 they acquired the 121-acre Goddard Ranch on a bench on Westside Road in Healdsburg. The ranch had some plantings of Zinfandel, Golden Chaslis, Mission and Muscat, as well as prunes and cherries.
The Bacigalupis had no farming experience but their scientific backgrounds served them well and both had a green thumb. The white grapes on the property brought in little income, so they decided to pull out those vines and replant. Upon the advice of Paul Heck, a patient of Charles' who was a partner in Korbel Champagne Cellars, and Bob Sisson, the University of California at Davis farm advisor for Sonoma County, they planted Pinot Noir and Chardonnay instead of the popular Zinfandel. The Bacigalupis had scarce knowledge of Pinot Noir and Chardonnay and only vaguely realized that the two varieties grew in France.
Karl Wente supplied the Bacigalupis with Wente selection budwood from his Livermore plantings. 6 acres of Wente selection Chardonnay and 6 acres of what was thought to be Pommard clone Pinot Noir were planted on St. George rootstock in 1964 and field budded in 1965.
In 1973, Mike Grgich of Chateau Montelena came to the Bacigalupi's house and asked to buy some Chardonnay. He made 1,800 cases of the 1973 Chateau Montelena Chardonnay using 20 tons of grapes from Henry Dick in Alexander Valley, 14 tons from the Bacigalupis, and the remaining 5 tons from Napa Valley growers John Hanna and Lee Paschich. The original weight tag from 1973 is displayed in the Bacigalupi's tasting room.
Grgich's 1973 Chateau Montelena Chardonnay won The 1976 Judgment of Paris, a blind tasting organized by British wine merchant Steven Spurrier, where the top French wines were squared off against California wines. The shocking victory by two California wines put California wine on the world wine map and changed the global wine market dramatically.
According to Grgich, nine of the best judges in France were chosen, but they couldn't obtain media coverage because California wines commanded little respect at the time. George Tabor, a journalist based in Paris, came over to the tasting because he had nothing better to do that day. When the judging ended, the Chateau Montelena Chardonnay received 132 points, more than any other French or California Chardonnay in the competition. When the results were revealed, some judges tried to correct their scores, but Tabor was said to have prevented that.
In the afternoon, the judging panel tasted the Cabernet Sauvignons, and a 1973 Stag's Leap Napa Valley Cabernet Sauvignon came in first place. It received 127 points, so the Chateau Montelena Chardonnay was the overall champion of The 1976 Judgment of Paris. Tabor would later publicize the results and wrote a book about this seminal event, Judgment of Paris. A 2008 popular movie about the event was titled 'Bottle Shock.'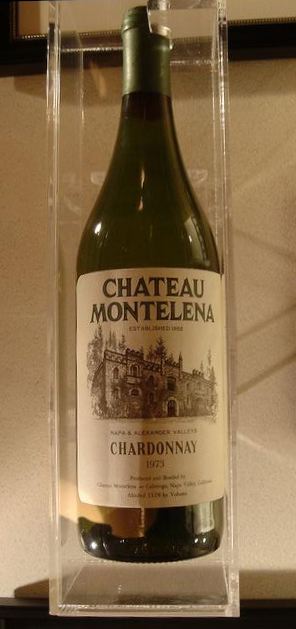 The 1973 Chateau Montelena Chardonnay that Grgich crafted is currently included in a Smithsonian exhibition "101 Objects That Made America," along side Abraham Lincoln's hat, Alexander Graham Bell's telephone, and Neil Armstrong's space suit.
The 4-acre Paris Tasting Block of Chardonnay on the Bacigalupi Ranch is still thriving and the grapes are sold exclusively to Rudd Winery in Oakville where they are bottled under the Edge Hill label. Established in 1867, Edge Hill was the first significant gravity-fed winery built in Napa Valley, and by 1880, it was one of the four wineries responsible for over half of Napa Valley's wine production. In 1999, this legacy inspired Edge Hill's new steward, Leslie Rudd, to begin the historic restoration of the estate, and return Edge Hill to the prominence it had in the 19th century. Wines bottled under the Edge Hill label pay homage to California's historic vineyards and the rich history of California viticulture. In my opinion, the Edge Hill Chardonnay is unquestionably one of the top Chardonnays produced in California, or even in the world.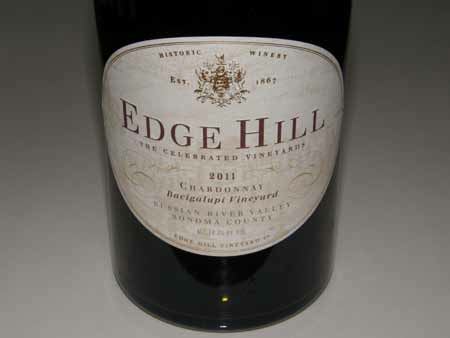 Although the results of The 1976 Judgment of Paris eventually were widely publicized, the vintners in Napa Valley downplayed the fact that most of the Chardonnay grapes in the winning Chateau Montelena wine came from Sonoma County. The label on the 1973 bottle underlies the attempt to promote Napa Valley, state the source as "Napa and Alexander Valley," without reference to Sonoma County.
Through the years, the Bacigalupi family added other vineyard sites and how has three Russian River Valley estate vineyards: Goddard Ranch, Bloom Ranch and Frost Ranch. Until 2002, the Bacigalupis sold all their grapes to numerous Napa Valley and Sonoma County wineries. Today, Bacigalupi estate grapes are part of many winery bottlings, and the Bacigalupi Vineyard is often designated. The aerial photograph below shows the location of the three vineyards and lists the wineries that source grapes from each vineyard site.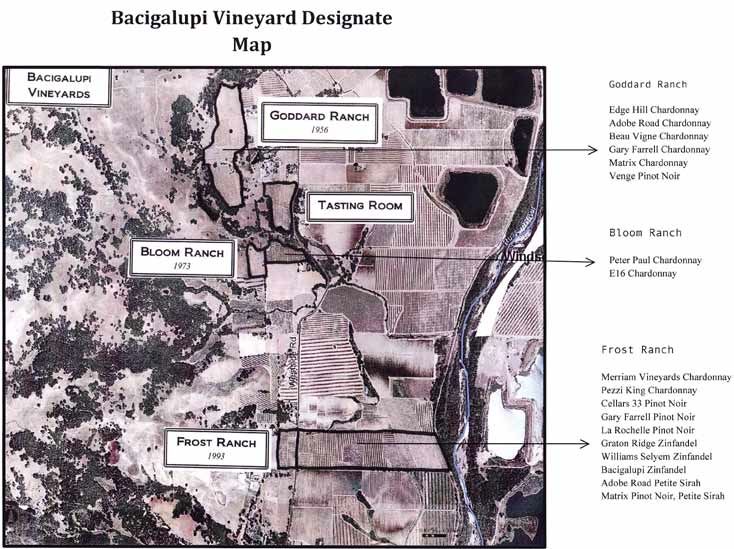 Beginning in 2002, the Bacigalupi family bottled their own wines using estate grapes under the John Tyler label (an amalgam of John Bacigalupi and winemaker Tyler Heck's first names). A tasting room was built on the Goddard Ranch property and opened in June 2011. With the launch of the John Tyler Wines label and the opening of the John Tyler Wines tasting room, John and Pam's fraternal daughters, Katey and Nicole, became the face of the winery, sharing in the management of the winery's business, direct sales, marketing, and staffing the tasting room.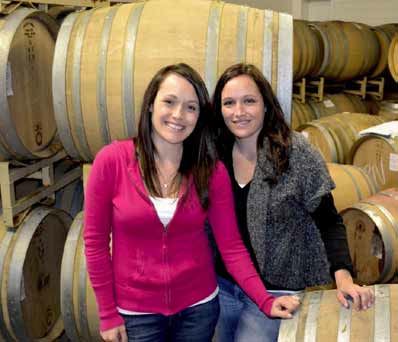 In 2013, the name of the winery began transitioning from John Tyler Wines to Bacigalupi Wines to honor the legacy of winegrowing of the Bacigalupi family. The first releases bearing the Bacigalupi label were from the 2011 vintage and were vinified by the new consulting winemaker, Ashley Hertzberg. The 2012 Bacigalupi Chardonnay, Pinot Noir and Zinfandel are superb.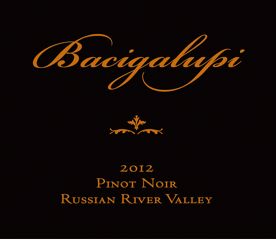 Visit the Bacigalupi Wines website at www.bacigalupivineyards.com for more information and to acquire the wines. Better yet, stop in at the informal and welcoming tasting room in Healdsburg where you can view photos depicting the history of Bacigalupi Ranch and The 1976 Judgment of Paris.