Ted Lemon's story is quite unique among California winemakers. The origins of his interest in wine can be traced to a study-abroad program at the University of Dijon in Burgundy while still a high school student. The director was so impressed with Lemon, he offered him a job if ever decided to take up winemaking. After graduating from Brown University, he was awarded a fellowship to return to France in the fall of 1980 to study viticulture and enology. He apprenticed in several famous Burgundy domaines including Dujac, Roumier, and Bruno Clair. When funds ran dry, he returned to the United States where he worked with Josh Jensen at Calera Winery.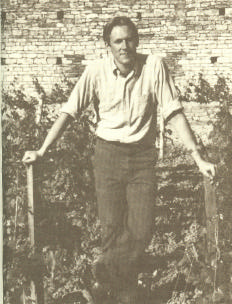 In 1982, while at Calera Winery, he was surprised by a phone call from Jacques Seysses of Domaine Dujac who asked him, "How would you like to make Meursault?" At Domaine Guy Roulot in Meursault, one of the oldest and most traditional wineries in Burgundy, Guy Roulot had died and his family was searching for another winemaker. The Roulot family sought the advice of Jacques Seysses. "Of all the apprentices I have had, and I have had many," Jacques Seysses told Madame Roulot, "none have been as bright and as capable as Ted Lemon. He has so many fine qualities, but there are two problems. He is 25-yearsold, and he is American." Although Madame's first reaction was "impossible," after consulting with Aubert de Villaine, Patrick Bize, and others, she offered to make him the first (and to this day, the only) American winemaker and vineyard manager in Burgundy's history. Lemon arrived at Domaine Roulot in 1983 (photo right).
Because lemon spoke French fluently, he was able to assimilate and overcome the initial surprise and skepticism of the village people. He said, "At first I had to prove myself physically to the cellar and field help. I had to prune as quickly, drive a tractor as well, and work as hard as they could. And I had to prove to Madame Roulot, who was so devoted to Guy, that I could keep up the reputation of his wines." Lemon made very good wines and quickly became accepted by the locals.
After two years at Domaine Roulot, he was lured back to the United States by a French family that had purchased a vineyard on Howell Mountain above the Napa Valley. Their intent was to produce a French-style Chardonnay in California. The land here had been first planted in 1877 with vines from the Medoc region of France. Jean Adolphe Brun and W. J. Chaix were the original French owners and they built the Howell Mountain Winery on the property in 1866. It became Chateau Woltner in the mid-1980s and it was here, in 1985, that Lemon oversaw renovations of the aging winery and became the vineyard manager as well as winemaker. Chateau Woltner's Chardonnays soon became a favorite among American wine connoisseurs.
With his winemaking skills honed and assured, Lemon and his wife Heidi founded Littorai in 1993. The first two wines released in 1993 were a One Acre Vineyard Anderson Valley Pinot Noir and a Mays Canyon Russian River Valley Chardonnay. Ted and Heidi had spent a summer with his wife driving up and down the Pacific Coast tasting local wines and learning about the soil and history of the local vineyards. Lemon had a firm belief in terroir inspired by his years in France. According to Lemon, "I believe soil is of major importance in a wine's character. It's clear there are tremendous differences between wines made from vineyards right next to each other even if they are vinified and treated exactly the same way." Finally, Lemon settled on sourcing his grapes from vineyards in western Sonoma and western Mendocino counties. He believed the finest Pinot Noir and Chardonnay were grown along the true coastal zone of the continent. He was convinced that the geology and mesoclimates of the extreme western portion of the continent north of San Francisco were diverse enough to create a series of unique terroirs, each with its own characteristics. He named his new venture Littorai which is a pleural noun formed from the Latin word litor-, which means the coasts. The word Littorai, with its reference to geography, reminds us that wine, the noblest agricultural product, arises from the weave of place (vineyard), time (vintage), and man.
His vineyard sources are all carefully supervised by Ted who is a strong believer in sustainability and biodynamie. Pinot Noir vineyards include Summa, B.A.Thieriot, Pratt, The Haven and Hirsch on the Sonoma Coast, Mays Canyon in the Russian River Valley, and Savoy, One Acre, Cerise, and Roman in the Anderson Valley. (Summa and Cerise were sold in 2010 so they may not be future sources). He is developing a couple of vineyards himself as well, including an estate vineyard adjacent the winery, The Pivot Vineyard.
Lemon has established a biodynamic farm on his estate property in Sebastopol. He says, "We believe that wineries will only be sustainable in the future as wine farms." Lemon plans to introduce cattle to his 30-acre biodynamic farm with the ultimate aim of making the farm as self-sustaining as possible with minimal input and output. Lemon dates his California biodynamic plantings to 2001 and considers biodynamic farming essential to his winemaking philosophy. "You can justify biodynamics without talking about the spirituality of it; you can simply justify it as an excellent method for sustainable farming. It forces you to think long-term, and it makes you react more slowly. You try to create as stable an environment as possible for the vines, with the right kind and amount of nutrients, without depending on nitrogen, phosphorus and potassium fertilizers and other tenets of Western agronomy." Lemon largely keeps to himself about his winemaking except to say he modifies his whole cluster inclusion depending on vintage and vineyard, sometimes completely de-stemming, and sometimes using up to 60 percent whole cluster. The wines have enough flesh to be appealing when young, but show best after several years in the cellar. Littorai Pinot Noir typically have between 13 and 14 percent alcohol. A new hay-bale walled gravity-flow winery was opened in 2009 and future plans call for barrel storage caves. The winery is simple and functional, with no signage. Lemon says, "This is not an indulgence." Tasting is carried out on a table in the winery which has a notable absence of tee shirts, hats or other wine-related paraphernalia for sale.
Lemon's Pinot Noirs and Chardonnays are highly lauded and age worthy. They are only sold through a mailing list and to restaurants. I consider some of the Pinot Noirs among the finest I have ever drunk from the New World. Ted now accepts visitors to his 10,000 case winery by appointment (707-823-9586). A thorough tour of the property and winery with a tasting takes well over an hour. Production is about 4,000 cases annually. The wines are allocated through a mailing list, with limited restaurant distribution and no retail availability.