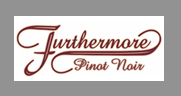 Two lifelong friends and partners produce single vineyard Pinot Noirs from several cool-climate growing regions in California. An estate vineyard, Nevina's, located in the Sonoma Coast town of Occidental, was added in 2011. The winery began in 2006 at Crushpad, with production shifting to an urban winery in San Francisco for recent vintages.
In January 2016, Furthermore bought Russian River Valley's Graton Ridge Cellars including the label, tasting room, winery and estate vineyard. The tasting room will offer Furthermore's single vineyard-designate Pinot Noirs and Graton Ridge Cellars Russian River Valley Pinot Noirs.
Also in January 2016, Furthermore added Erica Stancliff as head winemaker. She is the winemaker for her own Trombetta Family Wines label and was formerly part of the winemaking team at Paul Hobbs CrossBarn, Rudd and Vina Cobos.
The wines are available online and through a few select restaurants and wine shops in the San Francisco Bay area. The tasting room at Graton Ridge in Sebastopol will be open daily.