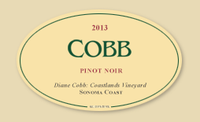 A Pinot Noir specialist established in 2001, producing wines sourced from carefully-chosen vineyards in West Sonoma County.
Coastlands Vineyard was founded by Ross and Stephen Cobb and their parents David and Diane. David Cobb, a marine biologist and environmental scientist, and his wife Dianne, planted a vineyard originally in the backyard of his Mill Valley home and took viticulture classes at night at Santa Rosa Junior College. He made wine at home as a hobby. Eventually David sold his Mill Valley home and moved to Occidental and planted 5 acres of Pinot Noir on a hill overlooking Bodega Bay in 1989. The first five vintages were purchased by Williams-Selyem. Meanwhile, son Ross was attending University of California at Santa Cruz and began to take an interest in wine.
After graduation, Ross worked for Whole Foods and a few days on and off at Williams-Selyem during harvest. He subsequently spent four years at Ferrari Carano, then Bonny Doon Vineyard when he got a call from Burt Williams who needed a lab tech for his winery. Apprenticing under winemaker Bob Cabral, he developed his Pinot Noir love affair working as an assistant enologist and viticulturist. In 2000, he traveled to Burgundy and returned to a job working at Flowers Winery. He became the winemaker from 2004 to 2008.
In 2006, he had a breakthrough. A small vineyard, Emmaline Ann, was producing very low yields and was picked at a relatively low Brix. The wine turned out to be 12.8% alcohol and a pH of 3.3 and was the first wine in his career where he felt he was achieving something unique for New World Pinot Noir. In 2008 he left Flowers, started his own label, Cobb Wines, and became the winemaker for David Hirsch. He assisted his farther in the farming of the 15-acre Coastlands Vineyard and managed all of other the vineyards from which the Cobb Wines winery sourced grapes.
Ross picks at modest Brix levels, employs whole clusters, and ferments entirely with native yeasts for primary fermentation. The wines are unfiltered.
Six distinct Pinot Noirs are produced: Coastlands Vineyard and Coastlands Vineyard: Diane Cobb (Sonoma Coast), Rice-Spivak Vineyard (Sebastopol, Sonoma Coast), Joy Road Vineyard (near Coastlands Vineyard), Jack Hill Vineyard (Sonoma Coast), and Emmaline Vineyard (western margin of Sebastopol, Sonoma Coast).
The wines are sold primarily through a mailing list and are available online. Annual production is about 1,000 cases of Pinot Noir and Chardonnay.