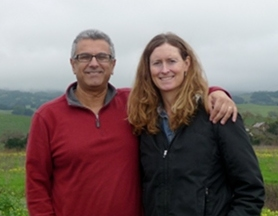 A small family owned and operated producer specializing in small lots of Pinot Noir. The owners and winemakers, Uzi and Kathryn Cohen, were inspired to start their own winery by their family's three generation winemaking history. The name honors Uzi's winemaking grandmother, Esther, his sister who stomped the grapes, and the "stomping girls" (the Cohen's daughters) who worked in the cellar. The Cohens began making wine at home in 2003 from the Las Brisas Vineyard in Los Carneros, enlisting the help of the family and friends.
Stomping Girl was founded in 2008, with the production of 100 cases of wine. They now soure grapes from the Russian River Valley, Carneros and Sonoma Coast. Winemaking was at a shared winery in Berkeley, California in 2009 and 2010 where production grew to 500 cases. Here they were members of the East Bay Vintners Alliance. In 2011, they moved to a shared facility in Sebastopol, where they produce close to 1000 cases annually, while maintaining their outpost in Berkeley.
The wines are available online. A Chardonnay from Hyde Vineyard was released in 2011 in addition to two vineyard-designated Pinot Noirs. Follow the winery's blog at blog.stompingirlwines.com.