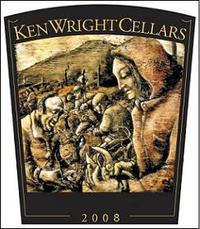 Ken Wright is a long-time and much-respected winemaker in the Willamette Valley working out of his winery in Carlton to craft twelve single-vineyard Pinot Noirs from several appellations. There is also a small amount of Chardonnay and Pinot Blanc produced.
Wright left a position at Talbott Vineyards in California and found his way to Oregon in 1985 with his family and 10 barrels of California Cabernet Sauvignon and Merlot. He set up business in a warehouse in McMinnville and although gaining attention for the Pinot Noirs he crafted at Panther Creek through the late 1980s and early 1990s, the 10 barrels that he brought from Talbott turned out to be the 1984 debut offering of his Panther Creek Winery. The first Panther Creek Pinot Noir was released from the 1986 vintage and the wines steadily improved thereafter. Wright lost Panther Creek Winery and left to start his own namesake winery in Carlton with the 1994 vintage, starting out in an old brick building (a former glove factory) in Carlton, and later building a new winery in Carlton in 1999. Panther Creek Cellars was sold to Ron and Linda Kaplan, who sold it to Elizabeth Chambers, and most recently Bacchus Capital Management.
Wright received his education at UC Davis and while working his first full-time job as assistant winemaker at Ventana Vineyards in Monterey County, he met a number of California Pinot Noir pioneers including Dick Graff. Josh Jensen, Stever Doerner, Richard Sanford, Larry Brooks and Steve Kistler. The group met regularly as the Small Winery Technical Society to discuss winemaking techniques.
Wright was a pioneer of single-vineyard Pinot Noir, beginning early on to make as many as a dozen single-vineyard Pinot Noirs each year which earned him the title of "terroirist." His knowledge of Oregon geography allowed him to be instrumental in gaining approval of the six landmark sub-AVAs in the northern Willamette Valley in 2005. He has continued with long-term leases of many vineyard sites and also planted some estate vineyards.
Wright is known for commitment to quality and he spares no expense or effort. He is known to discard a large percentage of his harvest as substandard, to employ merciless triage and sorting, and to disassemble and toast his own barrels to meet his stringent standards. Other wineries followed his lead of using dry ice to cool grapes before the onset of fermentation. As early as 1994, he paid growers by the acre instead of by the ton, so he could farm for quality instead of high yields. He was among the first in Oregon to use vertical shoot-positioning to expose grape bunches to sunlight.
Ken Wright Pinot Noirs are polished enough to drink early, but they will easily age ten years. He prefers not to use stems in his fermentations although he likes whole cluster in other producer's wines. He has cut back on the use of new French oak barrels.
The Wrights own 36 acres of vines including Canary Hill Vineyard and Svoya Vineyard, and they purchase grapes from other vineyards (Guadalupe, McCrone, Carter, Bonnie Jean, Tanager, Shea, Nysa, Freedom Hill, Meredith Mitchell, Bryce, Angela and Abbott Claim) Wright not only manages his own vineyards, but also several other vineyards with which he has long term leases.
In 2000, Wright bought a 200-acre parcel in the Yamhill-Carlton District and planted half of it. Named Abbott Claim Vineyard, he sold the other half to Tony Soter, who planted his Mineral Springs Ranch Vineyard there. Businessman Anthony Beck eventually bought Abbott Claim Vineayard and had Wright plant 34 acres named after his wife, Angela. Wright manages both vineyards, buying Abbott Claim grapes for his own label and makes Angela Pinot Noir for the Becks.
Ken Wright Cellars produces 13,000 cases per year under the Ken Wright label, primarily vineyard-designated Pinot Noirs. A second label, Tyrus Evans, offers warmer climate varietals made with fruit from Washington and southern Oregon.
Wright is a proponent of Normacorc, avoiding cork because of cork taint and "scalping" - the removal of aroma and flavor from wines by cork closures. He switched to Normacorc in 2002.
Wright is co-founder of ¡Salud!, a noted charitable event in Oregon that provides free medical and dental care to Oregon's vineyard workers. He was also instrumental in founding A Walk in the Park, a festival that raised funds for local food banks, preschools and after-school programs in the town of Carlton.
The wines have widespread retail distribution. The winery offers futures a year in advance of release, a practice that is unique among Oregon Pinot Noir producers. The winery's tasting room is located at 120 N Pine St in Carlton and is open daily. The winery is not open to the public except the Friday and Saturday after Thanksgiving every year.