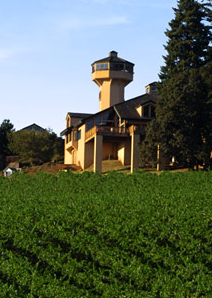 Jim Bernau founded Willamette Valley Vineyards in 1983, planting Pinot Noir, Pinot Gris and Chardonnay in the heart of the Willamette Valley in Turner, Oregon. He cleared the blackberry vines and remnants of a plum orchard himself and remembers watering the fledgling vines with a garden hose by hand. Initially he sold his grapes to Dick Erath. The winery quickly grew into Oregon's leading producer of wines selling at $15 and above only three years after its first release of Pinot Noir.
Today, Willamette Valley Vineyards is the third largest Oregon Winery by brand and production releasing an estimated 111,700 cases of wine each year. About half of the production is Pinot Noir. The winery now has over 4,500 owners, a result of the nation's first successful self underwritten public offering (1989, Nasdaq WVVI). Jim Bernau was named Purveyor of the Year in 2007 by the Oregon Restaurant Association for his tireless lobbying for the Oregon hospitality industry.
The Estate Vineyard consists of 50 acres planted to Pommard and Wädenswil clones. The winery and underground cellar are carved into the top of an ancient volcanic flow. In 1997, Willamette Valley Vineyards acquired Tualatin Estate, near Forest Grove and plantings there have been increased using new rootstocks and Dijon clones of Pinot Noir. Both the Estate and Tualatin Vineyards are certified LIVE and Salmon Safe.
The winemaker was Forrest Klaffke, who was brought in from California by former winemaker Dean Cox. Forrest was promoted to winemaker several years later after Joe Dobbes, the winemaker who followed Cox, started his own Oregon winery in late 2001. Forrest worked in wineries for over 28 years. He spent a considerable amount of time attending to every detail in the vineyards. Forrest Klaffke passed away in late 2011 from complications of throat cancer. In 2015, Christine Collier is the director of winemaking and leads the vineyard operations.
Vineyard Manager Efren Loeza began his career at Tualatin in 1979 at 17 years of age and has worked in the vineyard and in the cellar there ever since. Efren lives on the estate in the farmhouse built by the original owners of the property. He now has nearly 300 acres under his supervision.
This is an innovative and progressive winery. In 2005, they were the first winery to include resveratrol levels on their wine labels. More recently, they became the first winery to use cork stoppers harvested from forest lands certified by the Rainforest Alliance to Forest Stewardship Council (FSC). The company has launched a cork recycling initiative with Amorim and also recycles used bottles. In the past the winery made its own fuel and now use bio-fuel from a potato chip plant.
Sustainable practices: Salmon-Safe (Jim Bernau has won "Hero of Salmon" award), 10 Cent Recycling Fund (10 cents for each bottle returned to tasting room ), FSC Certified Cork (first winery in the world to use cork certified through the Rainforest Alliance to Forest Stewardship Council standards), Cork Recycyling Program, Biodiesel Fuel Program, and Carbon Neutral (solar energy, green energy).
Willamette Valley Vineyards was named "Winery of the Year" in 2011 by Wine & Spirits magazine.
Veteran Oregon winemaker Bill Fuller, who co-founded Tualatin Vineyards west of Forest Grove in 1973 and operated his highly successful winery for 26 years, came out of retirement in 2012 to partner with Jim Bernau to produced limited bottlings of Pinot Noir and Chardonnay from selected blocks in the 40-year-old Tualatin Estate Vineyard. The wine is called Willamette Valley Vineyards Vintage 40 PInot Noir and Willamette Valley Vineyards Vintage 40 Chardonnay.
Several Pinot Noirs are offered with the Willamette Valley AVA blend a consistent performer. Total production is almost 69,000 cases of Pinot Noir in 2014 spread among 18 different bottlings. A Whole Cluster Pinot Noir accounts for more than 40 percent of the total.
Willamette Valley Vineyards address is 8800 Enchanted Way SE, Turner. The phone is 503-588-9463. The wines are widely distributed on the United States and sold on the winery's website. A tasting room is open from 11-6 daily. Tours are by appointment.
In September 2015, Willamette Valley Vineyards broke ground on a new winery in the Eola Hills of West Salem on the 50-acre Elton Vineyard. Willamette Valley Vineyards has contract-managed the family-owned Elton property since 2007 for owners Dick and Betty O'Brien. The O'Briens have willed the vineyard to Willamette Valley Vineyards with proceeds going to support viticulture and winemaking programs at Oregon State University and Chemeketa Community College. New plantings will soon total 230 acres of Pinot Noir and Chardonnay.