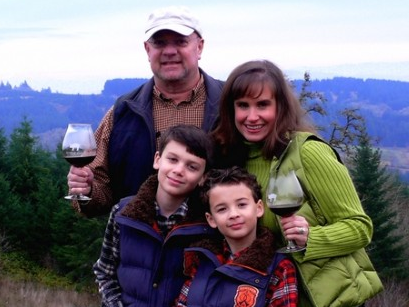 Noble Pig Winery was established in 2008 by winemaker Cathy Pollack and her physician spouse Henry. The couple spent most of their life in Southern California where Henry had a successful practice. Health problems cut Henry's career short, and they change direction. They moved to Davis, California and Cathy enrolled in the school's enology and viticulture program. For her thesis, Cathy formulated a plan for a marketing and promotional program for a hypothetical winery she dubbed Noble Pig. She was inspired by the story long ago in the 19th century when the English king presented the Japanese emperor a prized Berkshire pig, strengthening their relations.
The Pollacks found a home in the McMinnville AVA where they bought 88 acres and planted the first 4 acres of Pinot Noir in 2010. They sourced grapes for their first releases while the estate vineyard matured. They plan to slowly increase production to about 5,000 cases.
Pinot Gris, Pinot Blanc and Pinot Noir are offered. The wines are sold through the website. A tasting room is shared with J Wrigley Vineyards in a small cottage in Carlton.
The Pollacks also have a terrific food blog with mouth watering recipes and photography at www.noblepig.com.