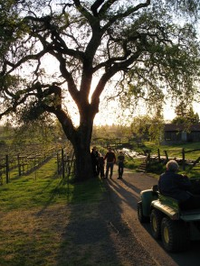 Ken Moholt-Siebert and spouse Melissa Moholt-Siebert farm the Siebert Ranch, a 31-acre ranch on the edge of Santa Rosa, California that was a sheep farm for many years owned by Ken's grandparent's, Henry and Elizabeth. There are now 15 acres of Pommard 4 clone Pinot Noir planted by the Sieberts family, including Henry who initiated the plantings when he was 80 years old. A big ancient oak marks the center of the property, and provided the inspiration for the name of the winery which was launched in 2006
Both a Russian River Valley Pinot Noir from estate and purchased grapes and an estate grown Siebert Ranch Pinot Noir are produced. A second, value-priced Pinot Noir is called 47 Friends. The winemaker is veteran Kent Barthman. Check the website for ordering information.
Ancient Oak Cellars opened a tasting room in downtown Santa Rosa in October, 2012. Located in Corrick's Stationary Store, the tasting room is open daily 11:00 to 5:00 (11:00 to 6:00 on Fridays).