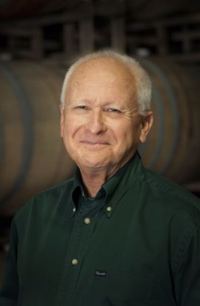 A boutique producer of Chardonnay, Pinot Noir, Syrah and Merlot from Carneros and Sonoma Coast fruit. Estate grown Pinot Noir comes from the Wildcat Mountain Vineyard and a second Pinot Noir is offered from Carneros vineyards.
Steve MacRostie has had a winemaking career spanning over 35 years and is one of California's most respected veteran winemakers. He left University of California at Davis to become the inaugural winemaker at Hacienda Winery in Sonoma County where he spent twelve years. He founded MacRostie Winery and Vineyards in 1987, mastered the Carneros region, and developed a strong following. A winery was created in 1998. The winemaker since 2004 has been Kevin Holt, with MacRostie still engaged in blending decisions.
Wildcat Mountain Vineyard, bought by MacRostie and his partners, Nancy and Tom Lilly in 1997, straddles the Carneros and Sonoma Coast appellations. It produces his most distinctive Pinot Noir, Syrah, Merlot and Chardonnay.
Tastings at the winery at 21481 8th Street East #25 in Sonoma are available Saturdays from 11:00 to 4:30 and by appointment. Private estate tours and tastings are also offered by appointment.