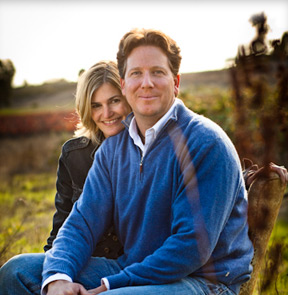 The newest project of Pamela and Pax Mahle, formerly of Pax Wine Cellars. Wind Gap Wines was founded in 2006. Grapes are sourced from vineyards throughout California, most of which are planted along or are directly influenced by one wind gap or another. These geological breaks in the coastal hills funnel wind inland and strongly influence the growing and ripening of wine grapes. The name, Wind Gap, celebrates this force of nature that shapes the wines.
Low yields, natural yeast fermentations and some whole cluster inclusion in certain varieties. Fermentation and aging is carried out in a selected combination of concrete, stainless steel, and old neutral French oak. Grapes are picked at lower brix keeping alcohols on the low to moderate side, and the wines are less extracted ("gob-less") than the Pax wines.
The lineup includes Chardonnay, Grenache, Trousseau Gris, Syrah and Pinot Noir (one from Woodruff Vineyard in Santa Cruz Mountains in 2008 and one from Gap's Crown and Griffins Lair Vineyards in Sonoma County). The wines are sold through a mailing list.
Charles Banks, former owner of Screaming Eagle, and an investment group he formed (Terroir Selections) bought a stake in Wind Gap in early 2013. The sale included a 50 percent share in Wind Gap. Pax Mahle continues to produce the wines while Terroir will handle sales and marketing. Additional vineyard sources will be sought. Mahle also plans to relaunch Pax Wine Cellars