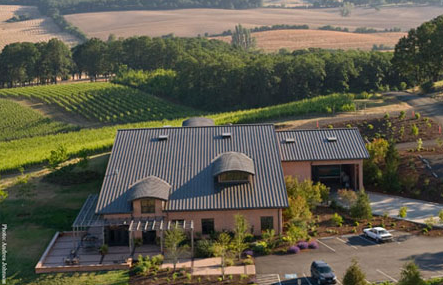 Located on a hillside in Oregon's southern Willamette Valley, the scenic vineyard here benefits uniquely from the blessings of the gentle west wind which blows through the Van Duzer Corridor to the interior Willamette Valley. Van Duzer Vineyards chose a Zephyr, the gentle west wind of Greek mythology, to grace its label.
In 1998, Carl Thoma, managing partner of Chicago-based Thoma Cressey Equity Partners and his wife Marilynn bought the run-down Van Duzer Vineyards property which had been established in 1987. The couple had developed an enthusiasm for wine when they both attended Stanford University to study for their MBAs. Thomas had been a managing partner in Parducci Wine Estates in California, and like so many Oregon wineries before, Van Duzer benefited from an enthusiastic outside investor. Jim Kakacek was hired to upgrade the estate's 65 acres of vineyards, manage the winemaking, and direct construction of a new winery. New plantings of Pinot Noir were complemented by field grafting of Dijon clones to 15-year-old established Pinot Noir vines. Vineyard plantings now total 82 acres and include Pommard, Wädenswil, and Dijon 113, 115, 667 and 777 clones. Two clones of Pinot Gris are also planted. The vines have 9' x 4' spacing and VSP trellising which improves light penetration spray coverage, disease resistance and induces moderate stress in the vines.
By 2001, the efforts began to show in the wines and success has followed. The new winery was finished in time for the 2006 harvest, increasing capacity to 20,000 cases when the entire estate is producing. The old winery was a source of Brettanomyces in Van Duzer wines and was part of the Van Duzer 'style' in the 2002, 2003 and 2004 vintages. The problem was curtailed by 2005 and eliminated beginning with the 2006 vintage when all wine was vinified in the new winery.
In 2010, a new winemaker, Jerry Murray, replaced Jim Kakacek. Murray, who has a stellar reputation for producing Pinot Noir at Patton Valley Winery since 2005, is a veteran winemaker with years of experience in wineries in Oregon, New Zealand and Germany. His first Van Duzer wines from the 2010 vintage were released in May 2011.
Florent-Pierre "Flo" Merlier became the winemaker with the 2011 vintage. Flo is a native of Burgundy who obtained a degree in physics and chemistry, but was captivated by winemaking while assisting a good friend run a 40-acre family domaine in Burgundy. He decided to pursue winemaking and met his wife, Krista, an Oregonian, while interning at the same winery in Burgundy. Florent then obtained his Diploma of Viticulture from the University of Dijon before relocating to Oregon in 2009.
Pinot Noir offerings include both estate and block-designated limited production wines. Total production is 14,000 cases of Pinot Noir and Pinot Gris.
The modern tasting room at 11975 Smithfield Rd in Dallas is open 11-4 during March-December. Tours are by appointment. 800-884-1927. The site is a great spot to picnic with expansive views of the Baskett Slough Wildlife Refuge. A little out of the way and not along the main Willamette Valley winery trail, but well worth an extra effort to visit.