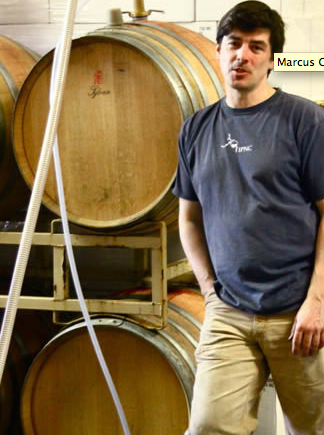 Proprietor and winemaker Marcus Goodfellow has always had a thing for jesters and fools, and thus the name Matello, which is Italian for "little fool." Goodfellow focuses on sommelier-friendly wines, particularly Pinot Noir from family owned and non-irrigated vineyards. The first vintage was 2002 (186 cases of Pinot Noir produced at Westrey where he was mentored by Amy Wesselman and David Autry) and production reached 3,300 cases in the 2012 vintage.
Goodfellow grew up in the mid-Santiam Valley near Silverton, Oregon, attended Pepperdine University in Southern California where he majored in kinesiology, and worked in restaurants in the Los Angeles area where he was first introduced to wine. He was able to meet well-known people in the wine business and taste a wide range of wines. In 1994, he returned to Oregon and began work at the Heathman Hotel in Portland. He rose through the ranks to become the wine buyer for the hotel and restaurant. Oregon Pinot Noir captured his attention and led him to begin making wine.
After crafting wine at Westrey through 2005 and ADEA Wine Co. in Gaston through 2010, he found his own winery in McMinnville's Granary District.
Wines are sold through the website and wine club. Tasting is by appointment only.