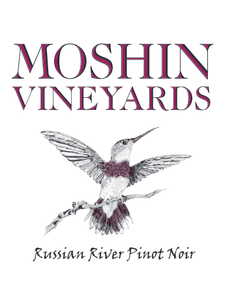 Moshin Vineyards and Winery are located in the Russian River Valley in Northwest Sonoma County. The winery began with a big dream by Rick Moshin and the purchase of a 10-acre Pinot Noir vineyard in the Middle Reach of the Russian River Valley 1989. The Pinot Noir there is grown in the rich soil of the valley floor. The vines are comprised of many different clones, including Dijon 115, Rochioli, Swan and Romanée-Conti. Vines are hand pruned in the winter and hand harvested in the summer.
Harvest is based on maturity and acidity, ensuring the full spectrum of flavors in the final product. In addition to the ten-acre Pinot Noir vineyard, two acres have just been planted adjacent to the winery. This little vineyard, farmed biodynamically, lies in a swath of sandy red, iron- rich, famed "Goldridge" soil. A third small vineyard of Pinot Noir and Merlot is farmed in the southern Dry Creek Valley, which has been in production since 2003.
Rick Moshin's dream to have his own winery came true when the first grapes were crushed in September 2005. More than 20 years in the planning, Rick Moshin's winery is a four-tier, solar-powered, gravity-flow production facility. Built on five acres, the cement and steel building encompasses a winemaker's dream and a family's unity. There, the careful movement of Pinot Noir from crush pad to press to barrel to the bottling room is possible without the use of abrasive pumps. Several other prominent Russian River Valley Pinot Noir specialists craft their wines here as well.
Insatiable thirst for fantastic Pinot Noir inspired the math instructor to decide to "retire" and make great wine. Rick Moshin brings with him more than 30 years of winemaking experience along with a vision of fruit-forward balanced wines. He carefully monitors and oversees the pruning and training of the vineyards as well as the harvest. Rick believes in small-lot, hand-crafted wines and strives to maintain the individuality of each vineyard. Rick gleaned the most important aspects of making Pinot Noir from years of working with Gary Farrell and Davis Bynum.
Multiple varietals are produced besides Pinot Noir including Pinot Gris, Sauvignon Blanc, Chardonnay, Merlot, Zinfandel and dessert wines.
The tasting room on Westside Road's "Rodeo Drive for Pinot Noir" is open daily from 11-4:30. Tours by appointment (707-433-5499). The wines are sold on the website and there is limited retail distribution.