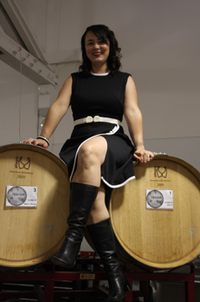 Owner and winemaker Kristie Tacey specializes in Russian River Valley Pinot Noir. Her initial career path was biotechnology and in 2000 worked on the Human Genome Project. While living in the San Francisco Bay area, she become intrigued by wine and winemaking. After working as an assistant winemaker at the former East Bay winery, Lost Canyon, and later as part of the winemaking team at JC Cellars, she launched her own label in 2009. She now has a Certificate in Winemaking from University of California at Davis. Her husband, Jason Wilinski, is her Brand Manager, support and mind behind.
The name, Tessier, is the original French version of Kristie's last name, Tacey. The Tessier label depicts a photograph through a microscope of yeasts budding (a clever depiction since yeasts are the work horses in winemaking). The winery's tag line is catchy: "Science as Art."
The Tessier wines are available through the winery's website store, and can be found at several San Francisco Bay retailers and restaurants. Tasting is by appointment. I was particularly impressed by the appealing textures of all three of the 2010 Pinot Noirs.