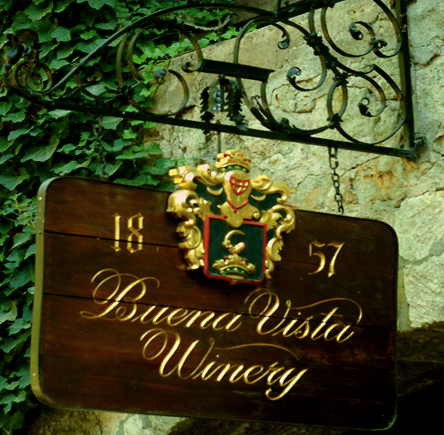 In the 1990s, Buena Vista, California's first premium winery, was turning out 300,000 cases of ho-hum wine. They certainly were not on the pinotphile's radar. Their best wine had become a Sauvignon Blanc made from grapes in Lake County, not from the winery's extensive vineyard holdings in Carneros.
There began a dramatic remaking of the brand when the winery was acquired by Beam Wine Estates and then Ascentia Wine Estates who have contributed the corporate financial backing that has made it possible. The winemaking facility was built in the 1970s, one of the first wineries in Carneros. It was completely modernized and equipped with 62 5 to 10 ton open-top fermenters which were installed in the former barrel room. This gave the winery the capability to have all of the wine from the estate, which arrives usually over a two week period, fermenting in unison. The estate Ramal vineyard underwent replanting with different rootstocks and clones matched to suitable sites on the estate property. The East Ramal Vineyard had 3 to 9 year old vines of Chardonnay, Syrah, Pinot Gris, Merlot, and Pinot Noir. The West portion of Ramal Vineyard is mostly all new plantings, expected to deliver fruit in 2006 for the first time. Here there is Chardonnay, Merlot, Syrah, and Pinot Noir. Pommard is the workhorse clone here with other clones adding interest such as 115 (spice), 667 (structure), 777, 828, 583 (cherry) and Swan. They all contribute something to the mix. There are a total of 167 different blocks on the property, in essence, many different small vineyards within a large vineyard. Out of a total of 1,000 acres, 800 are planted or replanted and the last phases of replanting was completed in 2008. Sophisticated viticulture technology was instituted including airplane-view (called "Vine View") infrared mapping of vine vigor which can be used to guide irrigation.
Winemaker Jeff Stewart arrived at Buena Vista in 2003 after crafting cool-climate varietals at La Crema Winery in the Russian River Valley for five vintages. Prior to that, he made wine at Robert Keenan, Laurier, De Loach, Mark West and Kunde. Noted winemaker Chuck Ortman was one of his earliest mentors. Jeff is like a big friendly bear - a burly guy with a winning smile and an unrelenting enthusiasm for his work. His mantra is balance and he says, "As with many winemakers, I believe in balance, both in the vineyard and in the wines. I like to see power and elegance working together." In early 2004, management made the decision to discontinue the previous California Classic and Grand Reserve lines of wines, and reduce production to 45,000 cases. The two new lines of wines included: The Carneros Series, varietal bottlings of Chardonnay, Merlot, Pinot Noir and Syrah ($19-$21) and The Estate Vineyard Series (EVS) of limited release wines featuring select clonal material and/or blocks from the property ($37). New packaging and labeling created a modern and sophisticated tone.
In early 2011, it was announced the winery was in significant financial difficulties, and the winery was acquired in May 2011 by Boisset Family Estates Collection. Jean-Charles Boisset is returning Buena Vista to its original glory with a complete restoration and re-opening of the champagne cellars, which have been unavailable to the public for over 20 years. These cellars will become home to a museum dedicated to California wine history.
Boisset will continue to focus on the same varietals and has secured long-term contracts for the Ramal Vineyard Estate in Carneros perpetuating the estate-driven philosophy that guided Buena Vista to prominence. Besides Pinot Noir, Chardonnay and Merlot, for which the winery has become known for in recent years, new varietals will be added, a line of high-end wines will be offered, and a sparkling wine will be produced. The lineup will include several tier designations: "Sonoma" (multiple varietals), "Carneros" (Chardonnay, Pinot Noir, Merlot, Syrah and Sparkling Brut), "Private Reserve" (Chardonnay, Pinot Noir, Cabernet Sauvignon, and Zinfandel), and "Viticultural Society" (multiple, limited, unique bottlings of Chardonnay, Pinot Meunier, Pinot Noir and Zinfandel only available at the winery).
The existing winery in Carneros received a makeover and the historic 1857 winery in Sonoma will remain a tasting room. The historic stone building housing the tasting room just northeast of downtown Sonoma has been updated.. The tasting room is in a historic 1862 press room. In early 2012, a "Taste with the Count" experience was added where a costumed gentleman decked out in clothes reminiscent of those of founder Agoston Haraszthy of the 19th century. He leads visitors on a 45-minute tour into the cellars, followed by a tasting.
The historic champagne cellars and caves on the property, which had been closed to the public since 1989, have been renovated and were unveiled in a 200th birthday celebration.
Winemaker Jeff Stewart left to become winemaker at Hartford Family Winery. Brian Maloney, who makes the DeLoach wines, oversees the 42,000 case production with the help of winemaker consultant David Ramey. The winery is not open to the public. The tasting room is open daily 10:00 - 5:00 at 18000 Old Winery Road in Sonoma. 800-926-1266. Gundlach Bundschu, Ravenswood Winery and Sebastiani Vineyards are nearby.