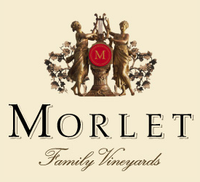 Luc Morlet grew up working on his family's domaine, Pierre Morlet & Fils, in Avenay-al-d'Or, Champagne. His father, Pierre, is apart of a fifth generation winegrower family. Luc worked in Champagne, Burgundy and Bordeaux before moving to the Napa Valley in 1994 where he worked at Newton Vineyard. Five years later, Luc was hired as head winemaker at Peter Michael Winery where he worked from 2000 to 2005. In 2005, his brother, Nick Morlet replaced him at Peter Michael, and he embarked on his own label in 2006 with his wife Jodie.
Luc's winemaking approach is New World, crafting wines less in the French style and more in the California rich and intense mode. At Morlet Family Vineyards, he started with Pinot Noir, Chardonnay, Syrah and a white Bordeaux blend, then added Cabernet - some of it from Napa and some from his own property in Knights Valley and a Cabernet Franc. He also began producing a late-harvest Semillon, particularly for wine dinners, where they serve their family's Morlet Champagne as an aperitif.
In 2010, the Morlets sold their house and bought two adjacent parcels totaling 12 acres north of St. Helena. The property had been the home to an 1880 stone winery built by German immigrant William Castner. A Victorian farmhouse and 2 acres of Cabernet Sauvignon vines remain from what was originally a 35-acre vineyard. The property is located in the vicinity of Grace Family, Vineyard 29 and Colgin's Tychson Hill Vineyard. The Morlets bought the winery from Bryant Morris, who had the Flying Horse Winery brand and was working on restoring the ghost winery. Luc and Jodie set out to return the old winery to its original use, renovating it for structural integrity and modern needs while retaining the historic character.
No expense is spared in the crafting of his Pinot Noirs. He sources fruit from carefully situated vineyards in he Sonoma Coast, all hand picked and sorted. Following hand sorting, he uses a special machine he patented called "The Sorter" to further select out only the finest berries. The wines are coopered in 100% French oak and bottled in very heavy glass with long, expensive corks. Morlet's wines are known for their superb aromatics and he has been called "an olfactory genius."
The premier release of Morlet Family Vineyards wines included three Pinot Noirs (Ma Douce, Ma Princesse and Coup de Coeur, all from the Sonoma Coast), one Bordeaux-styled white wine ("La Proportion Doree") and one Syrah ("Bouquet Garni") from the 2006 vintage. Subsequently, three additional vineyard-designated Sonoma Coast Pinot Noirs were added: En Famille, Coteaux Nobles and Joli Coeur.
The wines are sold through a mailing list which as of 2014 had a waiting list. Tours and tastings are available on a limited basis by appointment only ($100 tasting fee for non-members of mailing list, waived with the purchase of six bottles at the conclusion of the tasting).