Aiken Wines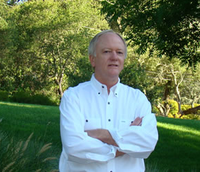 Owner and winemaker Joel Aiken operates Aiken Wine Consulting (Chase Cellars, Rarecat Wines, Amici Cellars, Palisades Wine Co.). He has 30 years of winemaking experience with large and small premium wineries throughout California. Holding a master's degree in enology from University of California at Davis, he became VP of Winemaking at Beaulieu Vineyard where he oversaw winemaking for Beaulieu and the many wineries of Beaulieu's parent company, Diageo, throughout California.
His inaugural release was a 2009 Sonoma Mountain Pinot Noir from the 12-acre Silver Pines Vineyard located on the western edge of Sonoma Mountain at 1,000 feet. An Oakville and Rutherford Cabernet Sauvignon are also offered.
The wines are sold through a mailing list and the website store.
Articles About Aiken Wines
Reviewed Wines

2013 Aiken Fiddlestix Vineyard Sta. Rita Hills Pinot Noir

14.7% alc., 146 cases, $55. A blend of clones 777 and Pommard 5. 100% de-stemmed, 4-day cold soak, aged in 33% new French oak barrels. · Moderate reddish purple color in the glass. An array of dark red and black berry aromas infused with graphite and woodland scents greet the nose. The middleweight flavors of dark red and purple berries are framed by wellhoned tannins and judicious oak. Noticeably vigorous on the attack with a welcome intensity on the finish that offers gratifying length. Very similar to the Sonoma Mountain Pinot Noirs in style, but this wine has its own cachet. Still redeeming the following day when tasted from a previously opened and re-corked bottle. Score: 91. Reviewed February 26, 2016 ARTICLE&nbsp»

2013 Aiken Sonoma Mountain Pinot Noir

14.8% alc., 173 cases, $55. Sourced from Silver Pines Vineyard situated at 1000 feet elevation on Sonoma Mountain. A blend of clones 23 and Pommard. 100% de-stemmed, 4-day cold soak, aged in 33% new French oak barrels. · Moderate reddish purple color in the glass. Conservative aromas of black cherry, blackberry jam and toasty oak lead to plenty of ebullient black cherry and blackberry fruit flavors backed by matched fine-grain tannins and a waft of oak. More ripeness, sappiness, oak imprint and generosity on the finish compared to the 2012 vintage of this wine. Score: 92. Reviewed February 26, 2016 ARTICLE&nbsp»

2012 Aiken Sonoma Mountain Pinot Noir

14.4% alc., 280 cases, $55. Sourced from Silver Pines Vineyard situated at 1000 feet elevation on Sonoma Mountain. A blend of clones 23 and Pommard. 100% destemmed, 4-day cold soak, aged in 33% new French oak barrels. · Moderate reddish purple color in the glass. Very enticing aromas of Bing cherry and spice cabinet holding up over time in the glass. Deep flavors of black cherry, black raspberry and blackberry dance on the palate, accented with floral intricacy and complimentary oak, finishing with purpose. The healthy mountain tannins are nicely concealed and the overall impression is one of great harmony. Score: 93. Reviewed February 26, 2016 ARTICLE&nbsp»