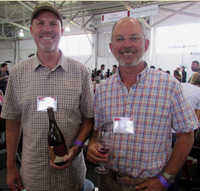 Once in awhile a new producer seemingly comes out of nowhere and really impresses me. Four bottles of 2009 Bailiwick Pinot Noir recently showed up on my wine locker doorstep with no explanation attached. I was drawn to the attractive labels and the interesting sources for the wines. All the wines turned out to be stellar: it was like a gift from heaven.
After consulting the website, I found that brothers Paul and Bryan Vais, natives of the San Francisco Bay Area, are the founders and vintners. They have been making wine in their basement and various garages for 25 years, acquiring the knowledge to launch a commercial venture. They had successful careers in engineering, high technology and finance, but longed to enter the wine business. In 2009, they founded Bailiwick Wine Company, intent on sourcing from specially chosen vineyards across multiple appellations.
The four 2009 Pinot Noirs and a 2010 Vermentino are the inaugural releases and are available through the winery's website store. This is definitely a winery to keep tabs on.