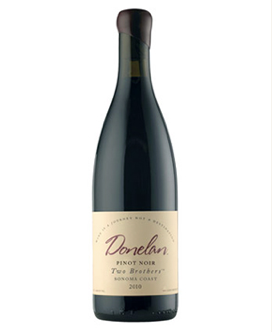 A boutique family owned and operated winery from Sonoma County producing Pinot Noir, Chardonnay and Rhone varietal wines.
Joe Donelan was a partner with winemaker Pax Mahle in the early 2000s specializing in Syrah (Pax). Their partnership went a long way toward giving California Syrah an identity. They emphasized site-specific wines from Northern California. Unfortunately an ugly fallout occurred in 2008. More recently, Donelan has forged ahead with Donelan Family Wines after hiring a new winemaker, Tyler Thomas. Thomas' assistant, Joe Nielsen eventually took over.
Syrah is the focus of this winery, but Chardonnay, Viognier, and white Rhone blends are offered. The singular Pinot Noir, "Two Brothers," is from an unnamed vineyard in the Sonoma Coast. The fruit had never previously been sold to another producer. 50% whole cluster inclusion, indigenous yeast fermentations, aged 18 months in only 25% new French oak. The wine is named "Two Brothers" after Joe Donelan's two sons and the 2009 vintage is the first offering of Pinot Noir.
The wines are sold through a mailing list.