Willful Wine Co.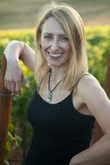 Aron Hess and his spouse Pam Walden launched Daedalus Cellars in 2000 and released wines from purchased grapes for ten years. They split up in 2009. Originally, he was to keep the Daedalus label and she was going to keep the Jezebel label, but just before harvest 2010, she bought him out of both labels. At about the same time, a 7-acre vineyard that they had planted to Pinot Noir was starting to bear fruit, so she opted to create a new label to replace Daedalus that would center around the estate vineyard rather than purchased fruit. Willful Wine Co. was formed in 2012.
Pam manages the vineyard herself with the assistance of talented vineyardists. She is one of the few female winemakers in Oregon who also own their own vines. Aron helped out with the first harvest in 2011, her first fully taking over the winemaking, but the fifth harvest she has worked in the cellar. Since then, she has turned to advice from friends and colleagues in the wine industry and taken classes to flesh out some of what was less familiar to her. She had a harvest assistant help with some of the Jezebel lots, but she did all the work herself for her estate wine. As the name of the label implies, she is determined and pertinacious.
375 cases of the 2011 Willful Pinot Noir were produced and is sold at the Dundee tasting room (Wednesday through Sunday, 990 Highway 99W), and online. The Jezebel brand offers fruit forward, value priced Pinot Noir and white wine. Cabernet Franc and a Brut Rosé will be released in late 2012. Pinot Noir production is expected to increase to 1,500 cases within three or four years.
A tasting room opened in 2015 in Urban Crush facility in Southeast Portland's Hosford-Abernethy neighborhood where Pam also crafts her wines.
Reviewed Wines

2012 Willful Dundee Hills Willamette Valley Pinot Noir

14.2% alc., 411 cases, $35. From a 7- acre densely planted estate vineyard that includes 12 different clones of Pinot Noir. A blend of Pommard and Dijon clones. Native yeast fermentation. · Moderate reddish purple color in the glass. A suave, mid weight wine with pleasurable aromas and flavors of black cherry, red berry, and plum fruits, and complimentary oak seasoning. Easy to like, with lively acidity, mildly firm tannins and some finishing length. Score: 89. Reviewed August 15, 2014 ARTICLE&nbsp»

2012 Willful Winemaker's Cuvèe Dundee Hills Willamette Valley Pinot Noir

14.2% alc., 200 cases, $45. A blend of eight select barrels. 100% Pommard clone with 95% from the estate vineyard in the Dundee Hills and 5% from Northridge Vineyard in the Eola-Amity Hills. Native yeast fermentation. · Moderate reddish purple color in the glass. The nose satisfies with bright aromas of berry pie filling, rose petals and toasty oak. Very tasty on the structured palate featuring an array of dark red, pomegranate, and purple berry flavors enhanced with subtle oak. Very harmonious and smoothly textured with a racy finish of good intensity. Even better the next day from a previously opened and re-corked bottle when the finish was filled with plenty of sweet cherry goodness. Score: 91. Reviewed August 15, 2014 ARTICLE&nbsp»

2011 Willful Dundee Hills Willamette Valley Pinot Noir

13.5% alc., 370 cases, $35. Released September 2012. First vintage from a 7-acre estate, densely planted, vineyard of 12 clones. 100% de-stemmed. 2-week cold soak. Native fermentations and minimal use of new French oak. · Moderately dark reddish-purple color in the glass. Perfectly ripe black cherries and cranberries are the theme here. Aromatically fresh and well-perceived on the palate, with a generous fruit core and a refreshing spark of lemon peel acidity on the finish. This wine grows on you over time in the glass. The firm tannins are supportive rather than dominating, but will benefit from some time in the cellar. Still solid the following day from a previously opened and re-corked bottle. Very good. Reviewed November 24, 2012 ARTICLE&nbsp»