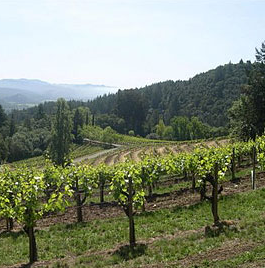 Fred McCrea established Stony Hill's vineyard on 600' to 1,200' elevation slopes on Spring Mountain overlooking the Napa Valley in 1948. The existing Chardonnay vines were replanted through a process of in-house selection by Mike Chelini, who presides over Stony Hill's winemaking and vineyard management since taking over from founder McCrea in 1973.
The Chardonnays from the original vines were famous for taking 20, even up to 40 years, to develop. Chardonnays from the newer 1970s and 1980s plantings are more like 10- to 12-year wines. The Chardonnays are closer to Old World than New World in style.
Stony Hill does not produce "unoaked" Chardonnay. They ferment in 60- and 130-gallon French oak barrels. They never throw the barrels out, preferring to use them over and over again until their staves can no longer hold together.
Tours and tasting are offered by appointment.