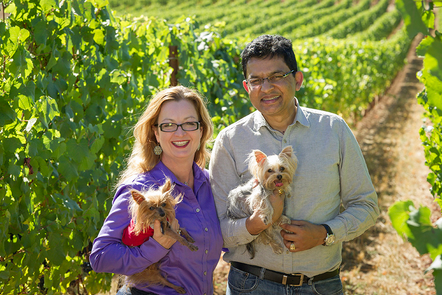 Owned by Dr. Angela Summers and Sanjeev Lahoti, both chemical engineers, hail from Houston, Texas. They became wine enthusiasts and made their first trip to the Willamette Valley in 2003, not knowing much about the area other than the fact that Oregon was a great place for Pinot Noir. They met with a realtor to look for properties with vineyard potential and found a grass seed farm on Laughlin Road in Yamhill. Four months later, they bought the property which is located close to WillaKenzie Estate, Lenne and Deux Verts Vineyard.
While they developed the property, they made trips a few times a year and stayed in a small shack on the vineyard. They planted their first 12 acres of Pinot Noir (Pommard) in 2007, and 12 additional acres in 2009 (Dijon 777, 115 and 2A).
The initial grapes were purchased by winemaker Tony Rynders who became their winemaker. The vineyard is managed by Results Partners LLC.
The historical Laughlin Dairy barn on the property was taken apart and the wood salvaged. Half the wood was used in the construction of a tasting room. The tasting room opened in September 2013. Named the Jewel Box, it contains the owner's personal collection of contemporary art and will house art exhibits as well. A Japanese-style garden was created, in addition to two ponds, extensive decking, an orchard, vegetable garden and sculpture garden.
Case production has increased from 50 to 900 cases in 2012. The wines are sold on the website. Two acres of Chardonnay were planted in 2012. Grapes are sold to Roots and EIEIO wineries.
The tasting room is open daily at 18748 N.E. Laughlin Road in Yamhill.