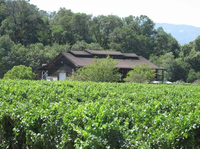 A winery with an Italian heritage, making wine in California for the past 100 years. Antonio Perelli-Minetti immigrated from Italy in 1902 and was the first winemaker in California to hold a winemaking degree. His daughter, Conchita Perelli-Minetti, had a son named William Harrison, who carries on the tradition of winemaking, now in the Napa Valley.
William Harrison grew up at his grandfather's winery in the San Joaquin Valley. In 1985 he established an estate in Rutherford which is the location of the winery. In 1993, after years of selling grapes from his Rutherford estate, he released the first wine under his own label.
The winery specializes in Rutherford Cabernet Sauvignon, but also offers a Sonoma Coast Pinot Noir. The winemaker that works along side William is Jim McMahon, who previously worked at Kenwood Winery and Luna Vineyards.
The tasting room at the winery is open daily at 1443 Silverado Trail S in St. Helena.