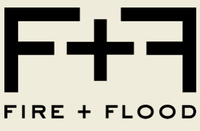 Mark Tarlov, the former owner of Evening Land Vineyards launched this winery in 2012 with 4,200 cases of Willamette Valley Pinot Noir. Tarlov brought on Burgundian vigneron Louis Michel Liger-Belair as consultant to work with winemaker Mike D. "Mikey" Etzel, the son of Beaux Freres winemaker Michael Etzel. Vineyard sources include Patricia Green Estate, Hyland Estates, Shea Vineyard, Lachini Vineyard, and Nysa Vineyard.
Chapter 24 has a marketing partnership with Patricia Green Cellars and the two wineries will collaborate on a joint entry level project, Two Messengers, which will feature a barrel selection of Patricia Green Cellars Pinot Noir from the 2011 vintage. A mid-range label, Fire+Flood, offers The Fire and The Flood, priced in the $60 range, that explore the two main soil types in the Willamette Valley, Jory (Fire) and Willakenzie (Flood). The highest end release is Last Chapter, priced at $90, is named for the final scene in "The Odyssey."
Fire + Flood tasting room is located in Newberg where you can taste other guest producers as well (Thursday-Monday).
Tarlov plans to build a winery and acquire one or two vineyards in the Willamette Valley while signing long-term contracts with several other vineyards.