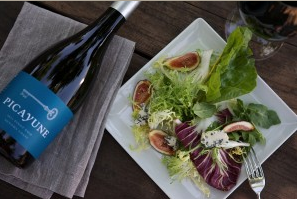 Picayune (pi-ka-'yun) refers to a Spanish coin worth half of the value of a "real." The idea is that when buying Picayune wine, you are buying a prestigious wine at half price.
Jennifer Roberts and Claire Weinkauf are the owners who met through their love of food and wine. Jennifer's husband is Nathan Roberts who co-owns Arnot Roberts Winery and Cooper, and Claire's husband Aron Weinkauf is the vineyard manager and winemaker at Spottswoode Winery. Jennifer and Claire "rescue those odds and ends from cultish wineries."
The wines include a Sonoma County/Napa Valley Sauvignon Blanc, a Sonoma Coast Pinot Noir, and a Paso Robles Grenache. The wines are sold by email through the website and are reasonably priced.