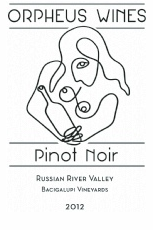 Winemaker Marc Krafft is on his third career, after working in the military and in medical research labs. He began working at a winery in Illinois, moved to California and eventually became the enologist at Hess Collection. He joined with Rachel Summer Claire Friedman, a family physician, to launch his own label.
Pinot Noir is sourced from Bacigalupi Vineyards in Healdsburg.
Tasting is by appointment at a shared winemaking facility in Santa Rosa.