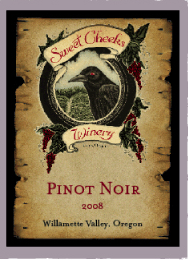 The vineyard, located in the southern Willamette Valley, consists of 65 acres planted to Pinot Noir, Pinot Gris, Chardonnay and Riesling. For 30 years, grapes were sold to other wineries, but in 2005 Smith decided to make his own wine and founded the Sweet Cheeks Winery.
The founder, Dan Smith, was sitting on a porch overlooking the vineyard that he and a colleague were planning to plant when he noticed the land had a curious double swell. The name "Sweet Cheeks" came to him and the name stuck.
Along with Pinot Noir, a "Pinot Fusion" wine is offered composed of 61% Pinot Noir, 21% Syrah and 18% Merlot. The wines are inexpensive and sold on the website.
The tasting room is housed in a 50-year-old building originally built in Junction City but transported by Smith to its current hilltop spot overlooking the vineyards and Crow Valley below. It is open daily at 27007 Briggs Hill Rd in Eugene, OR. The winery offers picnic grounds, live music, weddings and corporate events.