Cosa Obra Wines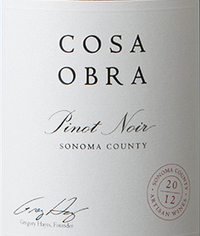 Sometimes a pleasant surprise shows up unannounced in my wine locker. This was the case with Cosa Obra Pinot Noir, from a producer I had not known about.
The name Cosa ("thing") Obra "a hand-crafted body of work") refers to the winery's thing, what they do, their hand-crafted body of work. Owner Gregory Hayes has over two decades of experience in the wine industry who has chosen to produce small amounts of exceptional wines from unique terroirs.
The consulting winemaker is Kent Humphrey (Eric Kent Wines). The winery offers a Pinot Noir sourced from the best blocks of vineyards in the Russian River Valley and Bennett Valley regions.
A Proprietary Red Blend and a Sauvignon Blanc are also offered.
The wines are sold through a mailing list and the winery's online store.
Reviewed Wines

2014 Cosa Obra Sonoma County Rosé of Pinot Noir

14.1% alc., pH 3.49, TA 0.70, 101 cases, $18. Sourced from Sangiacomo Vineyard in Sonoma Carneros. 100% Pommard. This is a saignée, fermented in neutral barrels. · Moderate salmon color in the glass. Generous aromas of fresh strawberry, cherry and garden bouquet. Soft and smooth on the palate, with a tasty array of fruit flavors including strawberry, watermelon and peach. Very satisfying, with perfect balance, and an uplifting, vibrant finish. Score: 90. Reviewed April 20, 2015 ARTICLE&nbsp»

2013 Cosa Obra Sonoma County Pinot Noir

14.2% alc., pH 3.70, TA 0.58, $28. Sourced from vineyards in the Russian River Valley (44%) and Carneros (56%). Yields 2.5-4.0 tons per acre. Whole berry fermentation, 5 to 7-day cold soak, delestage and pumpovers, extended maceration of 3 to 4 weeks. Aged 12 months in 100% French oak barrels, 30% new. · Moderately dark reddish purple color in the glass. Nicely perfumed with aromas of crushed black cherries and spice. Good attack and finishing intensity that is cherry-driven. Very approachable, with modest tannins, some oak seasoning, and a slight sense of heat on the finish. Score: 89. Reviewed April 20, 2015 ARTICLE&nbsp»

2012 Cosa Obra Sonoma County Pinot Noir

14.2% alc., pH 3.70, TA 0.53, 294 cases, $27. After rigorous hand sorting, 100% de-stemmed with whole berries to tank. A 5 to 7-day cold soak was followed by fermentation managed with a combination of delestage and pumpovers. Extended maceration ranged from 3 to 4 weeks. Aged 12 months in 25% new French oak barrels. · Moderate reddish purple color in the glass. Lovely aromas of Bing cherries, raspberry coulis and spice. The nose is literally intoxicating and persistent in volume even when sampled later in the day from a previously opened bottle. Bright, refreshing and light on its feet, with a delicious core of light to mid weight Bing cherry fruit accented with notes of tobacco, mocha, sassafras and sweet oak. The combination of balance and a light touch is hard to resist in Pinot. Score: 94. Reviewed March 29, 2014 ARTICLE&nbsp»