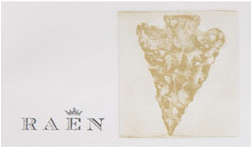 Wines from the Sonoma Coast by fourth generation winegrowers, Carlo and Dante Mondavi who were born and raised in the Napa Valley. They learned the wine business from grandfather Robert and father Tim. When Robert Mondavi Winery was sold in 2004, the brothers joined their father Tim, Aunt Marcia and grandfather Robert, to help found Continuum in 2005.
In 2014, Carlo and Dante founded RAEN (Research in Agriculture and Enology Naturally) winery with the goal to produce world class Pinot Noir from coastal vineyards in Sonoma County. The founders are proponents of whole cluster fermentation with Pinot Noir.
The wines are sold through a mailing list.