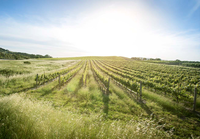 Located at 1,000 feet on the northwestern shoulder of Sonoma Mountain, the Belden Barns site has a long history of farming dating back to the late 1800s. Dave Steiner, one of the first to plant wine grapes on Sonoma Mountain, established the estate vineyard in the early 1970s. He originally planted Cabernet Sauvignon, but over time the site proved too cool to consistently produce high quality Cabernet Sauvignon. Rod Berglund of Joseph Swan convinced Steiner to plant Pinot Noir instead. As a result, Steiner Vineyard became a source of Pinot Noir beginning in the early 1990s.
The current owners acquired the site in 2005, and began re-developing the vineyard to bring it back to historic standards. About 10 of the original 30 acres under vine are still standing, but most vines were virused and impacted by phylloxera. The new owners were able to save a 1.5-acre block of Pinot Noir clone 667 planted in 1998. The remainder of the 19.5 acres developed to date are planted to Pinot Noir, Syrah, Grenache, Grüner Veltliner, Chardonnay, Sauvignon Blanc and Viognier. Fruit is sold to Argot, Carlisle, Cold Heaven, Donelan Family, Eric Kent, Holdredge and Morgado and vineyard designated.
Chris Bowland is the vineyard manager and Justin Harmon is the winemaker. Current offerings include several varietals including an Estate Pinot Noir and Serendipity Block Pinot Noir.