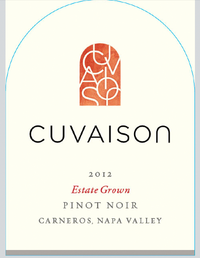 Cuvaison's historic winery is situated on the historic Silverado Trail in northern Napa Valley. In 1969 Thomas Cotrell and Thomas Parkhill, both Silicon Valley engineers, founded Cuvaison with a 27-acre vineyard at the winery's Calistoga location. New York publisher Oakleigh Thorne purchased the winery in 1974 and then appointed the Swiss-born Philip Togni as Winemaker. In 1979, the Schmidheiny family of Switzerland purchased Cuvaison as well as 400 acres of prime vineyard land in the Carneros region in southern Napa Valley. The Fall of 1998 marked the purchase of the historic 170-acre Brandlin vineyard on Mt. Veeder. Today Cuvaison has the historic winery in Carneros as well as a new facility in the heart of the Carneros estate.
Known for its Cabernet Sauvignon in the past, Cuvaison is now equally adept at Pinot Noir and Chardonnay. Cuvaison has been producing Pinot Noir from their estate vineyards in Carneros since 1987. With a renewed commitment to quality and a new winery in the vineyard specifically constructed for the production of Pinot Noir, the wines have gone from good to great. Cuvaison farms 315 acres of the 400-acre Carneros estate, mainly to Pinot Noir (55 acres) and Chardonnay. Winemaker Steve Rogstad crafts 4,500 cases of Pinot Noir annually, divided into three estate grown bottlings - Carneros, Mariafeld, and Block F5.
Total annual production is 48,000 cases with 100% of wines estate grown. There are tasting rooms in Calistoga (North Napa Valley) and Carneros (South Napa Valley), both open daily.
Cuvaison has tasting rooms in Calistoga and Carneros. The Carneros tasting room is new and airy with large windows offering views of Milliken Peak. Much of the wine is widely distributed and is sold on the website.