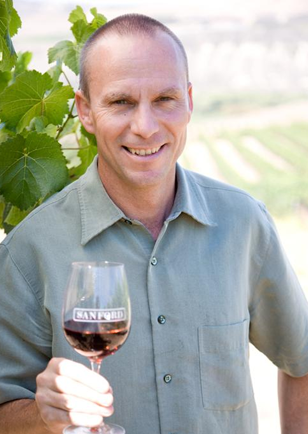 Sanford Sanford Winery was started in 1981 by Richard Sanford, but financial and corporate issues led him to leave the winery a few years ago. Sanford has chosen to expunge all mention of Richard on their website. The focus of Sanford, now owned by the Terlato Wine Group since 2002, still remains Pinot Noir and Chardonnay. Terlato invested in the winery and property including equipment upgrades.
The winery has 260 planted acres on distinct properties at Sanford. La Rinconada was planted in 1997 and Sanford & Benedict is the oldest vineyard in the AVA, planted in 1971.
Sanford opened a new tasting room at the La Rinconada Winery and Vineyard at 5010 Santa Rosa Road in Lompoc (open 11-5), and now also has a satellite tasting room in downtown Santa Barbara.
The winemaker and general manager since 2006 has been Steve Fennell.
This is a superb vineyard and Pinots I have had from Sanford & Benedict Vineyard and La Rinconada Vineyard have been outstanding and very age worthy.
The Sanford wines are sold through the website. 805-688-3300.