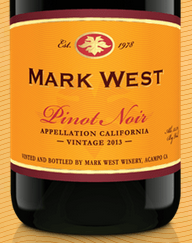 Alex Cose's spent six years at Napa's Peter Michael Winery under Mark Aubert working as production manager and oversaw the release of high-end Chardonnays costing up to $150 a bottle. He then made wine for the Purple Wine Co. which produces Mark West Pinot Noir priced closer to $14. Cose's background was in finance and he worked in the banking industry before a cellar rat job at Monticello Cellars in Napa Valley sent him on a path to pursue formal training in winemaking at Fresno State.
The Purple Wine Co. was started by Derek Benham, who founded Blackstone Winery with his brother, Courtney Benham. Blackstone was begun on a shoestring with 400 cases of Merlot and grew into a wine industry giant that was sold to Constellation Brands for $144 million. After selling Blackstone, Benham knew that Pinot Noir was the next hot wine. The current version of Mark West Pinot Noir debuted in 2001. Constellation Brands also acquired Mark West Wines in 2012.
Cose is an innovator. He was searching for more oak notes in the Mark West Pinot Noir and decided to add a small amount of amply oaked Chardonnay. This did the trick and now the Mark West Pinot Noir contains 2% Chardonnay. 13% Syrah is also added to the Pinot Noir for structure and color. The wine is sourced from multiple producers and includes both grapes and press wine. Foreign sources of Pinot Noir might include Corsica if availability is tight in the States. Oak staves are utilized instead of expensive new French oak barrels. Alcohol is kept below 14% so consumers can comfortably drink more than one glass. The goal is not to craft wines that will achieve high scores, but to produce readily accessible and drinkable wine that people can enjoy now. Part of the winery's manifesto is "Get affordable Pinot into as many hands as we can." The slogan, "Pinot for the People," is a extension of this goal.
The current winemaker is Jason Becker, who has degrees in winemaking, viticulture and agricultural business from Cal Poly San Luis Obispo.
Most of Purple Wine Co. production (they also make Mark West Chardonnay, Avalon Cabernet Sauvignon, Rock Rabbit Syrah, Rock Rabbit Sauvignon Blanc and Bex Riesling) is sold to restaurants and Mark West Pinot Noir is the Marriott Hotel chain's house Pinot Noir. There is wide retail availability.
In 2015, Mark West offered Pinot Noirs from California and Monterey County regions, and under the Appellation Series, Russian River Valley, Santa Lucia Highlands, Carneros and Willamette Valley appellations. Starting with the 2014 vintage, a "Black Pinot Noir" sourced from Monterey County was introduced that was touted as having "deep flavor, rich and full bodied, dark color, smooth finish," reminiscent of the Meiomi brand.