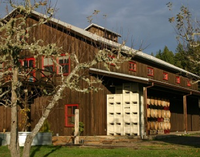 Jason Drew has been making wine since 1991 when he helped out his uncle plant a vineyard in the Napa Valley. He received his formal winemaking training in both California and Australia. In California he obtained an Agro-Ecology degree with an emphasis on Viticulture from the University of California at Santa Cruz. In Australia he received a Graduate degree in Oenology from the University of Adelaide in South Australia. His on-the-job winemaking experience came at Joseph Phelps, Luna, Corison and Babcock. He served as Vineyard Manager at both Carmenet and Navarro.
In 2000 he founded the Drew label with his wife Molly while he was associate winemaker at Babcock Vineyards & Winery in the Santa Rita Hills. In 2002, he left Babcock to concentrate on his own label, and in 2004, purchased a 26-acre ridge top property that was a noted dry-farmed apple orchard overlooking the Anderson Valley to the east and the Pacific Ocean three miles to the west in the Mendocino Ridge appellation. The couple lived in an Airstream trailer for the first year with their two sons before building a combination winery and home on the property Vineyard land was eventually cleared around the apple trees and 7.5 acres of Pinot Noir was planted (Blossom Tree Vineyard). Drew's new vineyard will be one of the most westerly vineyards on the north coast and the question of ripening of Pinot Noir here will be proven by Drew one way or another.
Currently the winery's Pinot Noir grapes are sourced from the Anderson Valley (Fog Eater, Monument Tree Vineyard, Morning Dew Ranch Vineyard), Sonoma Coast (McDougall Ranch Vineyard), Mendocino Ridge (Perli and Valenti Vineyard) and the Yorkville Highlands (Weir Vineyard). Vineyard sources have changed as vineyard ownership changes have ensued over the years, and Jason seeks out the best possible sites that he deems suitable. I really like Jason's style and both his Fog Eater and McDougall Ranch bottlings have been included in my North American All-Americans. His minimalistic wine making translates into wines with considerable verve and focus as well as balance for age ability.
The wines are sold on the website, through retail channels and at the tasting room at 9000 Hwy 128 in Philo, just northwest of the Goldeneye Winery (Thursday - Monday 11:00-5:00). I recommend joining the mailing list and the Pre-Release Wine Club to insure you obtain the wines. Production of Pinot Noir and Syrah is 1,800 cases annually. An Albarino white wine is also appealing. A star in the making.