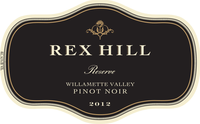 Located in Newberg, Oregon, this family-owned winery has a legendary history of fine Pinot Noir dating back to its founding in 1982. There have been a number of winemakers, but the wines have always been very good. In 2006, the founders retired, passing the winery to the two Oregon winemaking families of A to Z Wineworks.
Rex hill is one of the original particpants in Low Input Viticulture and Enology (LIVE) and has several wines labeled Oregon Certified Sustainable. The estate vineyards are dry farmed using biodynamic principals.
A tasting room is open daily at the winery. Located at the gateway to Oregon's Willamette Valley, the winery building dates to the 1920s. The old fruit and nut dryer has been converted to the winemaking facility and tasting room. The wines are sold on the website. There is a Willamette Valley blend, a Willamette Valley reserve, and a Dundee Hills blend.